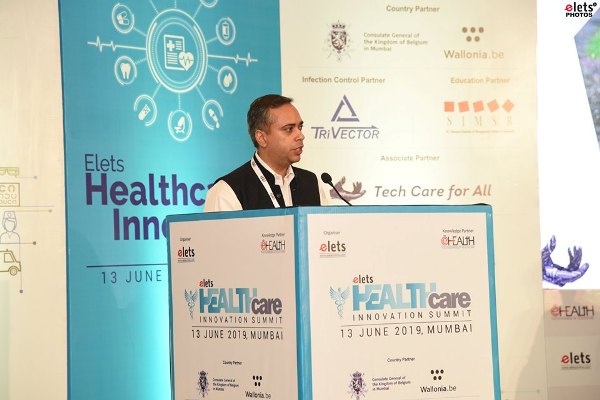 Digital technology helps in accessing better quality care and in a more efficient manner. In the current scenario, digital technology is drastically changing the healthcare sphere with new emerging health tech startups, providing clinical solutions with better outcomes. And not just limited to clinical outcomes, there are startups that aspire to deliver social and economic outcomes jointly, in the healthcare ecosystem.
Founded in December 2018, Tech Care for All (TC4A) is a digital health technology company focused on sustainably transforming health outcomes in Africa & Asia. Headquartered in Belgium, Tech Care for All has a group based in United States with country offices and operations in Kenya and India.
"It is a very interesting global operating system", said Dr. Sachin Malhotra, CEO, TC4A India, while speaking at the Healthcare Innovation Summit, Mumbai.
Sharing insights on how this company works in different ways to measure the clinical outcomes, he said, "Not only we work in strategic partnerships with healthcare institutions across the globe, governments and private healthcare sectors facing tough conditions or very complex structures and machineries are also brought in place."
With a unique approach, emerging startups have the ability to act fast on new technologies which helps them to achieve strategic objectives. Commenting on the same, Dr. Malhotra said, "Our behavioral approach to analyse and understand growth vision of an organisation is firstly human centric. At the end we understand that the technology is an enabler, a facilitator and not a change bearer. Its humans first, that's our overall approach."
On one hand, Dr. Malhotra continued, "We have strategic partnership with organizations where we aggregate technologies from across the globe and provide the best in class outcomes with a high social impact. Similarly, we have several technologies which we believe has an added value in increasing the social impact as well.
Highlighting the 'Miracle Learning Application', which is a blended learning management system especially tailored for the medical industry, Dr. Malhotra said, "It accelerates cost effective development which can be used for training staff doctors and nurses that also allows training, developed as your intellectual property."
"As a product company we have deployed propetiary solutions that serve common healthcare practice and management problems. TC4A's Medical Learning Hub, an online global medical marketplace accelerates cost effective talent development. It is a platform for healthcare institutes and professionals to deploy and administer internal trainings as well as accept payments from training's marketed regionally or internationally", said CEO, TC4A India.
Tc4a also offers data rich clinically validated and customized telemedicine and fragile EMR platforms that solve healthcare access problems and provide solutions to manage the clinics or institutes.
"We are committed to providing the best in digital health innovation from around the help and professionals and organizations reach the next milestones and achieve better outcomes", added Dr. Malhotra.
Moving forward, he underlined the various healthcare hurdles ranging from attrition of staffs to management of remote centres through leadership trainings. "The first approach was to understand whether it is an internally driven change or a more systematic and aligning vision of the management. So we undertook a discovery stage approach, mapping out the whole network of clients with more than 3600 centres, 600 hospitals within its network which include small clinics in remote areas to large hospitals and well known medical colleges of the country", Dr. Malhotra continued.
In response to the challenges, Dr. Malhotra shared the mapping techniques to have a better understanding of the programs. He said, "We mapped the complex problems that existed in each segment of healthcare, trying to align it in a common structured vision which can be provided to all of the autonomous centres."
So, if we want such an organizational change of magnitude, Dr. Malhotra concluded by saying, "We have to help in an advocacy and fund raising capacity. So at TC4A India, we bring together several philanthropists and institutes to raise millions of dollars, ensuring a sustainable organization within the country that is serving at the remote places.

Follow and connect with us on Facebook, Twitter, LinkedIn, Elets video