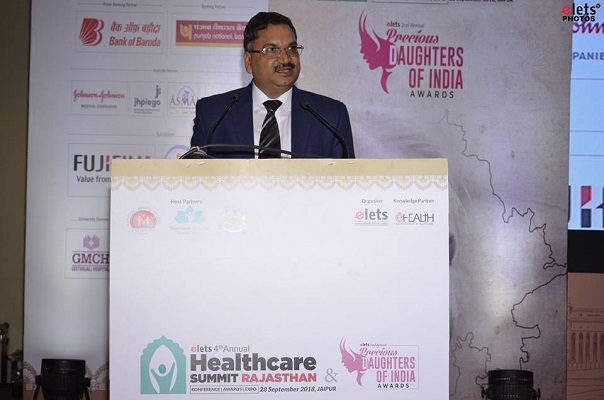 Speaking at the 4th Healthcare Summit Rajasthan on 'Best Healthcare Practices & Innovations across the Nation', Dinesh Kumar Goyal, Former ACS, Rajasthan enlightened us on how to make the medical facilities accessible to the people, especially to those residing in the rural areas of the country.
With a stint of 35 years in the government sector, Dinesh Kumar Goyal was of the opinion that we in spite of not having any expertise in any area, we can make observations and policy changes to make healthcare accessible, affordable and sustainable for the people.
In the medical field, there are a lot of things a country and the State like Rajasthan desires. Biggest challenges is to make healthcare delivery accessible to people especially to rural population. Despite having facility of all kinds of infrastructures like PHCs and CHCs, the very availability of doctors, medicines, equipment and timely delivery is still in poor state. PPP is the hope with which infrastructure and facilities could reach in rural areas. Successful model should be replicated across country.
Further highlighting on how to make the medical facilities affordable to all, Goyal said, "In the present scenario, there is a lot of interventions by the state government. With the availability of medical facilities, the expenditure seems to be decreasing. Comparing the out of pocket expenditure of the people to the expenditures made by the government, it is disappointing and poor."
"While the facilities should be as cheap as possible, there should be a quality standard prescribed by WHO that should be adhered in situations which are pathetic, particularly in rural areas", added Goyal.
Talking about maintaining the health facilities, created with respect to the equipments, Goyal said, "The models which are being developed by the private sector or by the governments, must be replicable. When small experiments tend to be successful, the challenge lies in scaling them to a large extent. Along with scaling, maintaining the experiments is also required.
There is no denial that maintenance in the government hospitals particularly, has not been able to do tremendous justice."
Talking about making things technology friendly, Goyal stated, "Most of the things in the healthcare are becoming IT friendly. The challenge lies in how to make the IT solutions reach to the rural areas. State governments are coming up with models which are under the NHM by the government of India where states are making their own changes and interventions. Private sectors too, are making a great contribution in the market."
"Going by the present scenario, it is a dire need to train the insurance companies in order to make the benefits available to the patients", added Goyal.

Follow and connect with us on Facebook, Twitter, LinkedIn, Elets video