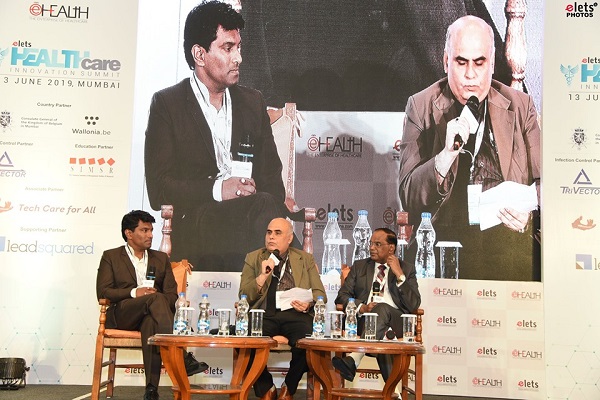 Hospitals around the world are under increasing pressure to improve outcomes – whether because they are operating in a fee-for-performance or value-based care environment, or simply because today's increasingly informed patients are deliberately pursuing treatment at facilities with a reputation for superior care.
Speaking at the Healthcare Innovation Summit, experts shared their insights on how to increase the patient footfall and revenue of the hospitals. Moderating the session on 'Ensuring Profitability Through Optimum Patient care', Dr. Neeraj Uttamani, Medical Director, Holy Family Hospital said, "There are several factors which would increase your patient footfall and hence your patient's confidence would finally lead to increase footfall in your organisation. This would also indicate real good revenue and totality with real increase in the revenue."
Also read: IT solutions playing crucial role to strengthen patient care, says Sunil Kumar Bhushan, NIC
Adding to which, he pointed out the 7 crucial factors by a US survey which led to increased patient revenue by way of increased patient footfall. Firstly he highlighted that how promoting well known diagnostics, is an important factor, where the maximum lawsuits in foreign countries are related to diagnostics failure, improper medical history, lab examination and especially imaging.
"If your hospital is fighting with illegal cases all the time, chances are less of being profitable and drawing negative publicity instead of getting better patient footfalls becomes high", added Dr. Uttamani.
Having said this, Dr. Uttamani further highlighted about support optimal treatment planning. "The best use of imaging is to have all the professionals on the same platform and make them aware of the treatments going on. Also, it is important to take good care of your clinicians", said Medical Director, Holy Family Hospital.
Talking about improving outcome though greater transparency, Dr. Uttamani meant that more patients and their relatives should be involved in decision making so that they are well informed, aware of the treatment and also well informed about the cost.
Ensuring continuity of care, Dr. Uttamani continued, "It means the care given at home, follow up treatments and warning signs which are given to the patients to come back to the healthcare facility when need arises. This also involves engaging and supporting your patient after discharge. The post discharge followup is crucial in retaining your patient base and getting the business revenues better."
Joining hands with him on the panel, Dr. H K Sale, Executive Director, Nobel Hospitals laid down his opinion on how to increasing patient footfall in hospitals. He said, "Quality services in healthcare delivery is directly proportional to the propoganda. The increase in patient's footfall is possible only when you start giving quality services right from the entry till the patient exits. The interaction of the hospital staff with the patient is also important which also depends on the transparency of the things which are going to happen."
Highlighting on digital grounds, Dr. Sale said, "In today's era, right from the website, to how comfortable it is for the patients to use it, each and very aspect which is given in our delivery system should be accepted and this will determine the patient footfall in a hospital."
Another eminent panelist Nishant Tikekar, Head Healthtech, Symbiosis International University further highlighted his thoughts on the current healthcare scenario.
Talking about patient care, he said, "We need to take a multi pronged approach which will ensure that the hospital is running very efficiently, keeping costs to the minimum, maximum quality and winning the patient's trust.
Stressing further on personalising patient care he continued, "It is important to identify every patient individually, helping help him/her feel special enough and build a relationship with the doctor or the hospital so that not only does he go out as a satisfied patient but also spread the word."
Tikekar was of the opinion that this can be achieved by personalising services which automatically becomes a part of improved quality of any hospital or healthcare.
Having said this, Tikekar mentioned about innovation, and most specifically indigenous innovation, where the products and the services and solutions should be developed by Indian professionals within India.
"According to statistics, we import 80% of our medical devices that runs into thousands of crores every year", Tikekar added.
Follow and connect with us on