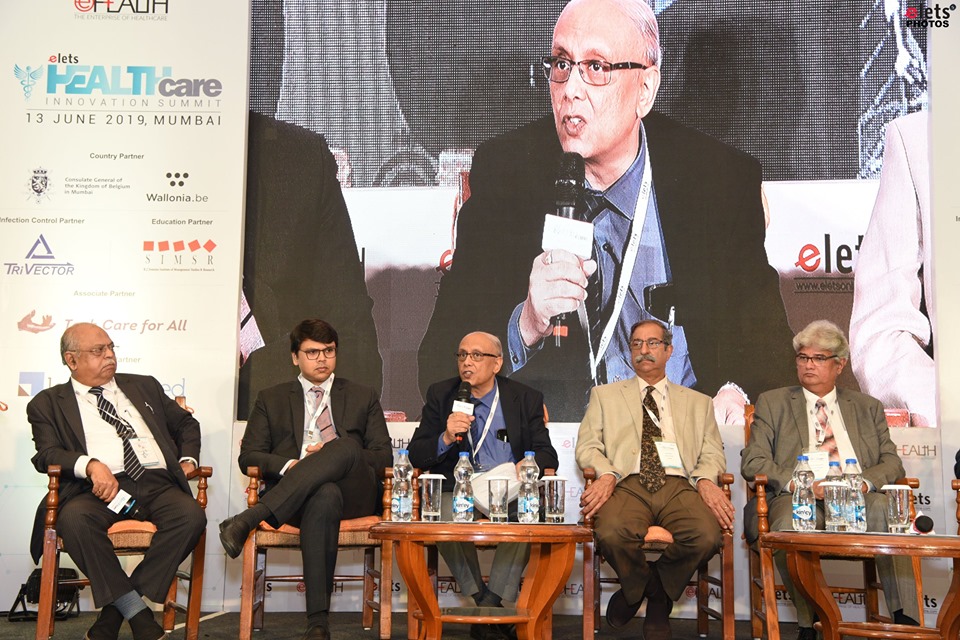 Affordability has become one of the glaring issues of Indian healthcare. As patients have become better informed and hence more demanding, healthcare providers chalk out ways how to deliver affordable care without compromising quality level.
But it is easier said than done as to make a balance between affordable care and living up to patients' expectations at times become really difficult. There is no standardisation of affordable care and cost. Moreover, affordable care is subjective matter.
Exploring above aspects and dichotomy of affordability, recently healthcare experts congregated at the Healthcare Innovation Summit in Mumbai.  They delved into a panel discussion on 'Ensuring Affordable Quality Treatment and Meeting up with Patients' Expectations'.
"Affordable care and patients' expectation both are subjective in nature which depends upon what value is being offered in lieu of money charged by providers. While cost may be differing in nature in terms of overall affordability, the cost of care that goes into providing the care remains consistent," Santosh Marathe, COO, Apollo Hospitals said.
"We don't differentiate in cost of care which goes across the hospital. It is same for scheme patient, insurance patient or any general poor patient. Standardizing cost and quality are need of the hour," he further said.
Talking about insurance and Government initiatives, Marathe said, "Most of the Indians are least bothered about the health insurance and slow penetration is the proof. Many of the government schemes have associated with co-morbidities.  While government schemes are fantastic in terms of reach element and giving access to private care but unless or until we get into screening programme to ensure the comorbidites are treated first, things will not improve substantially.
Highlighting contour of affordability and patients' expectation, Dr Sujit Chatterjee, Chief Executive Officer, Dr L H Hiranandani Hospital, said, "There are new diseases and disorders coming to fore and we require high-end treatment for the same. At the same time we need more of secondary and primary level of care.
Also read: Hiranandani plans hospital chain; invest INR 500 cr
"The problem is we expect to work like industry when things are not streamlined like an industry in healthcare sector. Exiting technology can be very sustainable business in India. In addition, regulation of reuse can improve things," he said.
Ravindra Karanjekar, Chief Executive Officer, Kiran Super Multispecilaty Hospital, Surat, belives that basic facilities must be given to every patients whether he or she can afford it or not.
"Baseline expectations have to be met in every hospital. There are additional expectations which at times are based on one's perception which could be linked with cost part. Routine expectations can't be clubbed with the cost. A particular hospital could deliver affordable care despite making some profit. But proper strategy is needed for the same," he said.
"When a regulator, who is also making policies, tries to roll out schemes, expectations have to be in line with realties.  Unrealistic expectations from any stakeholder can't sustain in long run. Exiting technology could be very helpful which can be commercially viable. Indian healthcare industry needs to be matured in terms of planning, strategy and execution part," Dr Ankit Thakker, Chief Executive Officer, Jupiter Hospital said.
"We are in the healthcare delivery space. It's our prime responsibility and duty to deliver first class care irrespective of patients' economic condition. In our hospital, clinical people have full responsibility to cure a person. We don't differentiate among patients in providing care. Disease specific cure decides the line of treatment at Ruby Hall Clinic," Bomi Bhote, Chief Executive Officer, Ruby Hall Clinic
We need to change the way we are managing the healthcare business, to make it both affordable and profitable, he said.
"Problem is healthcare business works on cost plus model. Due to our inefficiency in running business, we don't make profit in the healthcare business. We need to be efficient managing each and every aspect in pre-decided budget of healthcare running model. It would help to deliver quality care despite making handsome profit. At our hospital we budget every small things including parking.  There should be cap on equipment manufacturers in healthcare business," Bhote said.
Dr Hiren Ambegoakar, Chief Executive Officer, S L Raheja Hospital, supports Bhote, stating that quality healthcare is a right of every citizen.
"When one starts a hospital, it's his duty to provide quality medical facilities. Clinical care in terms of quality should be the same for every class of citizens–lower, middle, upper, and super rich. Poor people may not afford luxury facilities but that don't make a difference in line of treatment.  Complementing the service is important rather than replicating the service," Ambegoakar said.
He emphasizes on legalizing resterilization process.
"The Government needs to legalize the resterilization process so that bio-medical equipment can be reused.  This will be really effective in bringing down the cost. In India, currently, there is no law to deal with such things," Ambegoakar further stated.
"If we want to reduce the cost, we need very strong regulation on single use items. It holds huge importance in case of angiography and angioplasty. If octopus can't be used multiple times in coronary artery bypass graft (CABG) then its cost will go up by 100 percent. Our hospital is conscious of quality and we have quality managers to ensure the same," Manpreet Sohal, Chief Executive Officer, Suastha Hospital said.
Shedding light on affordability, he said, "Indian healthcare is very much affordable. Only a section of people, including farmers, and small time traders can't afford. They neither work for corporate nor with the Government. For them anything is expensive even Rs 1,000 consultation fee. For them, affordable healthcare means getting treatment under the Government schemes."
Dr Pravin Swamy, Chief Executive Officer, Godrej Memorial Hospital, said, "Affordability and patients' satisfaction don't go hand in hand. Disease spectrum and technology growth is not going to stop and meeting those two ends is a big challenge. Mindset of hospitals as well as patients matters a lot."
"Insurance companies should conduct health checkups of a person before renewing the policies. And the insurance companies should incentivise those having good health or increase the premium according to disease they ail with," he further stated.
Follow and connect with us on