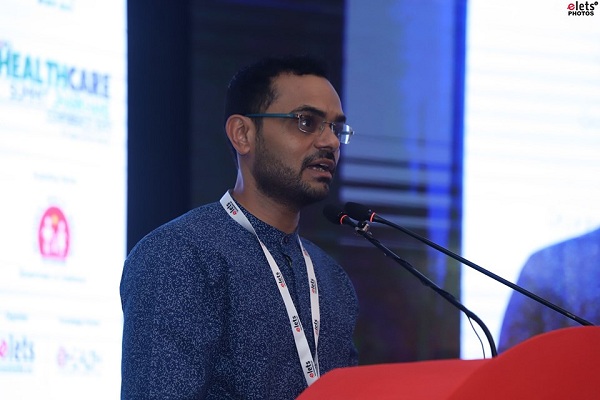 The state of Jharkhand has made significant improvements in healthcare delivery through its careful planning and execution of healthcare programmes. These important changes are fuelling Jharkhand's giant leap in healthcare.
Speaking at the Healthcare Summit – Jharkhand, Dr. Nitin Madan Kulkarni, Secretary, Department of Health, Medical Education & Family Welfare, Govt of Jharkhand, said, "In an effort to highlight the initiatives and developments taking place in the state, 'The Healthcare Summit – Jharkhand' is one of a kind congregation, being organised by Elets Technomedia in association with the Government of Jharkhand."

Dr. Kulkarni added, "We are going through a major transition in the healthcare sector, and that necessitates making significant changes. Our systems and our arrangements are archaic. We're dealing with new ailments every day, along with the ones that have always been there. The health sector is facing innumerable challenges. The systems need to be adapted and brought in contact with new age knowledge and technology."
Highlighting the importance of technology in healthcare, Dr. Kulkarni further said, "With the advent of technologies like Artificial Intelligence in the healthcare space, we have to update ourselves with the changes and embrace them. Befriending technology is the only way we're going to be able to serve people better. It involves proper healthcare facilities, and making them accessible."
Talking about the vision behind 'Healthcare Summit – Jharkhand', Dr. Kulkarni added, "This Summit aimed to initiate discussions and foster partnerships between different segments of the healthcare sector like diagnostics services, tele-medicine, initiatives taken up at different levels and in different regions, and the role of IT in healthcare; the stakeholders discussed it all. We're coming out more informed about several initiatives taken up by the Jharkhand Government in the health space."
According to the NITI Aayog Health Index, three states stood out in terms of overall health performance, due to their innovative initiatives in the health sector. Jharkhand was one of them. All the eminent doctors and specialists have dedicatedly worked hard to make this happen. Eradication of diseases like Tuberculosis was one such achievement of the doctors in the state.
Dr. Kulkarni also spoke about the health insurance scheme, 'Ayushman Bharat', Prime Minister Shri Narendra Modi's initiative, which was launched in Ranchi, Jharkhand.
Also read: Bill Gates lauds Modi Govt's Ayushman Bharat Scheme
"Owing to this massive initiative, the state has successfully managed to treat about 2 lakh 20 thousand patients till now. The Prime Minister is also taking measures to provide golden cards to each of the households in the state, which would prove beneficial to the people," he said.
"But there is still a long way to go, as we have 19 aspirational districts and reaching out to them is the biggest challenge for us, and we're constantly looking for ways to meet it," Dr. Kulkarni concluded.

Follow and connect with us on Facebook, Twitter, LinkedIn, Elets video