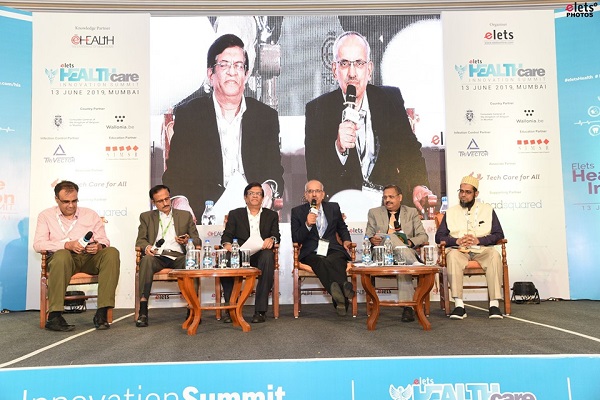 Many industries have been disrupted by the influx of new technologies in the Information Age. Healthcare is no different. Particularly in the case of automation, machine learning, and artificial intelligence (AI), doctors, hospitals, insurance companies, and industries with ties to healthcare have all been impacted – in many cases in more positive, substantial ways than other industries.
Speaking at Healthcare Innovation Summit, Mumbai, on 'Artificial Intelligence and Machine Learning in Healthcare', panelists enlightened on how Artificial Intelligence and Machine Learning can disrupt the healthcare industry in India.

Moderating the panel on how technology is going to scale the health space in a big way, Dr. Deepak Patkar, Medical Director & Radiology, Nanavati Hospitals said, "Many of us have mastered the use technology to improve our efficiency. In the coming years, we will be constrained to learn artificial intelligence because it will take over a lot of functions and processes that we are doing manually today in our hospitals."
As a radiologist, Dr. Patkar is keenly focused on what Artificial Intelligence is effecting radiologists. "These technologies which are getting dramatic day by day were once unheard of. It will be surprsiong to see how the healthcare industry will evolve in the next 15 years. It will probably change the way we function today. From improving our efficiency and productivity to scheduling of patients, record keeping, image acquisition, diagnosing and communicating, Artificial Intelligence is going to take over the healthcare space within a short span of time", added Dr. Patkar.
Artificial Intelligence is considered to be the biggest disruptor in the field of radiology and it is supposed to have bigger disruptive potential than what X-rays did when they were invented.
Highlighting on whether Artificial Intelligence and Machine Learning will compete with humans or will the humans focus on servicing and leveraging the artificial intelligence, Girish Koppar, GM-IT, Wockhardt Hospitals shared his opinion on the same. He said, "Artificial Intelligence should not be a threat to humans. In fact, it has taken healthcare to another level where the industry has become more predictive and reactive. Secondly, it is assisting doctors to use more of the analytical abilities than the judgmental abilities. It changed the way medicines are practiced today."
Joining hands on the panel was Dr. Aloke Mullick, Group CEO, Omni Hospitals underlined on whether Artificial Intelligence will completely replace radiologists or not. Talking about Artificial Intelligence disrupting the healthcare space, he said, "A large bunch of radiology reporting is happening today with the help of AI but then it will not completely replace radiologists. The way we practice medicine, treat our patients, there is a change in our clinical pathways. The way we anticipate or predict a patient's health, it is done efficiently with the help of AI.
Globally, Artificial Intelligence has taken over in almost all the industries. Dr. Mullick firmly believes that it is an exciting time for Artificial Intelligence but due to the lack of data, India is missing out on the buzz.
"We have data on papers but it is not machine readable", Dr. Mullick further added.
Joining hands on the panel was Vikas Sood, CIO, Clove Dental, who gave his inputs on the challenges that lie ahead in the healthcare sector. He said, "To have good compliance, you require the systems to be easy. Cost is one of the biggest challenges that stands straight with certain limitations for the hospitals. There is a lot of cost involved with AI as a technology, dedicated people to develop models and leverage both the technologies to arrive at the much awaited decisions."
When asked about whether India has have enough workforce in the healthcare sector, Sood said, "Theoretically speaking, we have a good amount of workforce but apart from the theoretical aspect, we need practical experimentation happening in the industry."
Moving forward with the discussion, Rajendra Kshirsagar, CIO, Holy Family Hospitals said, "With respect to people losing jobs due to Artificial Intelligence and Machine Learning, I dont think its true. Earlier, with technology hitting the market, some specific skill sets was needed. Today, technology is readily accepted and widely used by people. Rather than the fear of losing their jobs, people are happily accepting it."
In a sense, Kshirsagar continued, "Artificial Intelligence is something where a machine is prompting you to do a corrective action. ML is a human being who is programming the machine to understand a particular set of instructions or how to react on certain criteria. Though artificial intelligence, we can monitor a patient's well being and avoid any further mistakes."
Concluding the discussion on how Artificial Intelligence and Machine Learning will help in cutting down the cost in hospitals, Huzefa T Merchant said, "Artificial Intelligence and Machine Learning is still an ongoing journey after so many years. Undoubtedly, it helps in bringing down the cost but it also brings in the complexity of the task with the time involved in developing certain measures. In order to conceptualise and develop certain tasks, time is needed."
"When we talk of Artificial and Machine Learning as of today, we have talked it based on the context of what we have learnt in these past years", Merchant added.

Follow and connect with us on Facebook, Twitter, LinkedIn, Elets video