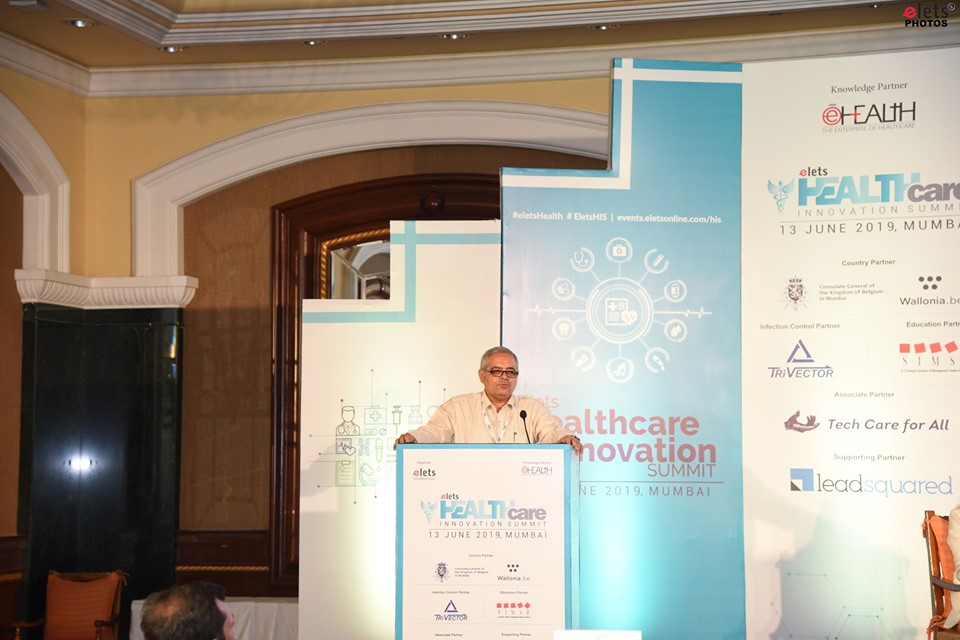 We have developed IT solutions at National Informatics Center which play a crucial role to augment healthcare delivery system in India, says Sunil Kumar Bhushan, DDG and Head Health Sector, National Informatics Center, while delivering speech at the Healthcare Innovation Summit held recently in Mumbai.
"Health & well-being for all and continuum of care are being kept inside the mind while developing IT solution for the country. Some of the IT solutions which have been implemented in hospitals across country include ehospital, online registration system, and reproductive & child health system."
Elaborating more about how IT solutions have given boost to patient care, he further said, "We have ehospital which is aimed at computerisation of internal functioning of any hospital primarily public hospital, Online Registration System–a patient centric portal, and eblood bank which is primarily for computerisation of internal work flow of any blood bank whether it is of hospital or any independent one."
ehospital
Our ehospital product comprises OPD registration, causalities, and appointment, admission, discharge and transfer, billing, clinics, pharmacy, and Operation Theatre management. These modules are for private hospitals across country. Based on meta data, it is unified inter-operable HIMS which has been implemented in many hospitals across the country.
Also read: Top Private Hospitals in North India- Ranking
Hospitals don't need to procure any server. Everything is available on cloud. They have to make it on board and configure applications as per their requirement. ehospital software has been implemented in 321 hospitals across the country.
Online Registration System (ORS)
This has been basically integrated with ehospital solution but it is meant for services to patients. Primarily we provide three services under ORS including booking of appointment. It can be integrated with any HIS solutions. There are 200 hospitals which are on board where patients can book appointment using Aadhar authentication. Approximately 3,000 appointments are being booked through ORS currently.
Reproductive and Child Health System
Reproductive health of any woman is monitored through Reproductive and Child Health System. Three services are provided to eligible couples, expecting mothers and children. We have computerised the system since 2014 where we cover basically the rural areas. ASHA goes to every village in the country and identifies the beneficiaries. ANC, delivery, and PNC services are provided. Children are monitored for immunisation. Benefits given through Janani Suraksha Yojna (JSY) are made available to people through this portal. SMS messages are also sent to concerned persons if ANC is due, delivery is expected or immunisation is due. We have 16.65 crore women registered with the system. About 14 crore children are being tried through this system. We also have 15.3 crore ANMs and ASHAs who provide services to pregnant women and children.

Follow and connect with us on Facebook, Twitter, LinkedIn, Elets video