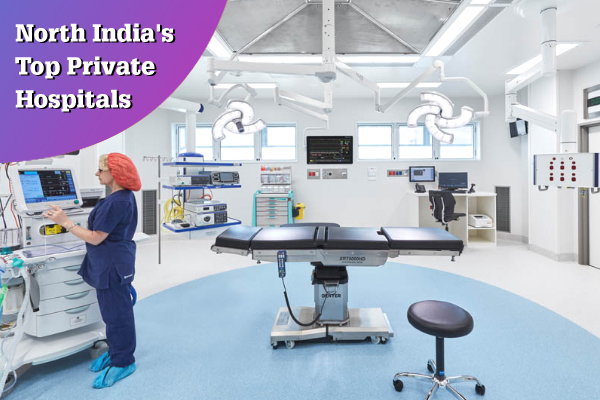 Ranking of North India's Top Private Hospitals
India is facing a double whammy of non- communicable and communicable disease burden. With the increasing burden of non-communicable diseases like stroke, cardiovascular and cancer, quality patient care is in huge demand. A large section of the Indian population, especially neo-middle class, wants to avail the best medical facilities from the best healthcare service providers.
In recent years, the Indian healthcare industry has witnessed tremendous growth. It is expected to reach US$ 280 billion by 2020 (Source: India Brand Equity Foundation).

The Government has also underscored the need to provide affordable healthcare facilities to the people. A slew of recent measures and initiatives like Ayushman Bharat speak volumes about the Government's intent to create a healthier India. Around 10 crore vulnerable families will be provided an annual health coverage of Rs 5 lakh under Ayushman Bharat, the National Health Protection Scheme. As many as 100,000 jobs are expected to be created from the scheme (As per IBEF data).
India has also emerged as a global destination for medical tourism. People across the world are flocking to avail best medical facilities in their budget. As per the estimation, the hospital industry in India stood at Rs 4 trillion (US$ 61.79 billion) in FY17 and is expected to reach Rs 8.6 trillion (US$ 132.84 billion) by FY22.
Many world class hospitals with best infrastructure have been set up by top corporates to offer world class medical facilities. These hospitals are equipped with best diagnostic tools, cutting-edge technologies, trained doctors, medical staff and infrastructure, enabling people to avail best possible treatment.
Against this backdrop, many options have come up for patients. However, they find it difficult to decide which hospital to choose for which ailment.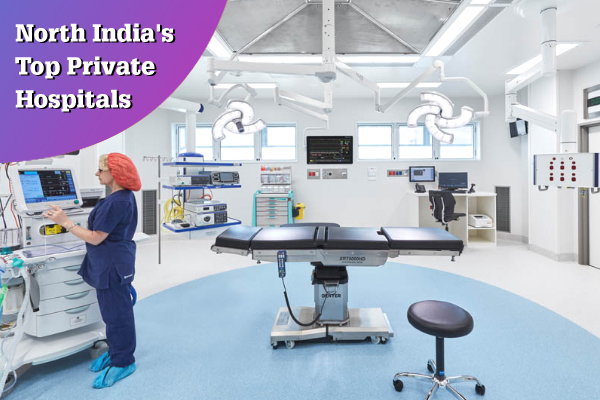 All the aforesaid facts inspired us to take the initiative to rank "Top Hospitals in North India" in various specialities. The objective is to make people aware about the hospitals and their specialities so that they could make informed choices while availing treatment facilites. The ranking also serves as a motivating factor for various hospitals to further enhance the quality of their facilities and care, resulting into an augmented healthcare delivery system in India.
RANKING METHODLOGY
In this exercise, we have tried to select and rate the top hospitals located in metros and tier-1 cities in North India Zone. The ranking has been conducted on the basis of data collected through primary, secondary, and perception based research.
This mammoth exercise was spread over 20 days where we covered public and private hospitals including multi-speciality, super speciality hospitals in North India.
We hope this exercise to help our readers to make informed decisions to choose best hospital as per the treatment required. It is hoped that eHealth's ranking edition will be beneficial for hospitals as well in improving on various parameters concerning the delivery of health care.
In our perception based, leading hospitals of North India were ranked on various parameters. The private hospitals have been ranked based on analysis of available data. We have provided list of top private hospitals of North India on various parameters. The grading provided to every hospitals is done as follows:
RANKING PARAMETERS
Infrastructure
Infrastructure of a hospital is the basic premises upon which the delivery of quality health care is based. Infrastructure is directly tied to the treatment outcomes and plays a major role in providing top quality medical facilities to the patients visiting the hospital. Infrastructure basically means a number of facilities for patients which directly or indirectly have a bearing on the overall treatment process. It includes bed count, OTs, OPDs, IPDs, consulting rooms, pharmacy, patient rooms, critical care units, hygiene practices, kitchen facility, canteen for visitors, etc.
Why eHealth considered "Infrastructure" as a parameter for Top Hospitals-North India Ranking?
As infrastructure is directly linked with quality of patient care, it is among the first criteria for people to consider while selecting a hospital to avail treatment facilities. eHealth considered following factors under infrastructure parameter for acquiring detailed information of a hospital before ranking it:
Bed count
Bed count is an important aspect which determines the capacity of the hospital to treat number of patients. Bed count gives an insight about how many patients the hospital can sustain at a given time.
Patient centric facilities
It includes neat and clean rooms for patients with all the facilities including air conditioning, patient bed, wash room, attendant's couch; availability of 24×7 pharmacy; timely visit of doctors and well-mannered nurses. These factors play a key role in offering best patient care.
Technology for advanced care
Technology is the biggest enabler in improving the overall healthcare delivery. Continuous technological developments in healthcare have saved countless lives and improved the quality of life for even more. Not only has the technology improved experience for patients and their families, but also made a huge impact on medical processes and the practices of healthcare professionals.
Why eHealth considered "technology for advanced care" as a parameter for ranking top hospitals in North India?
Considering the rising number of non-communicable diseases, the relevance of technology has gained utmost importance in healthcare sector. eHealth has considered this parameter to acknowledge the efforts of the hospitals in adopting high-end facilities like availability of cutting-edge diagnostics equipment, radiotherapy, etc, to provide advanced level of treatment in case a patient suffers from some serious diseases like cancer or cardio vascular disease. Having this parameter holds significance as people will have clear idea whether a particular hospital has the technology to provide them advanced level of care in case of an emergency.
Online presence/Social media
Internet has revolutionised the way people access information and today almost every service we avail, from buying groceries to ordering food from a restaurant, has migrated online to make possible their delivery on our doorsteps. But when it comes to availing healthcare facilities, people still bank on offline mode. Though telemedicine has emerged as a boon for patients residing in remote corners of India, most people still prefer to go to a doctor's office for their health needs. Doctors, too, acquire new patients as a result of being a part of the health network or through referrals from other doctors, but reports suggest that it's important for healthcare providers to have a strong online presence to keep the patients informed about the kind of medical services they can avail.
According to Google, 97 percent of consumers use the web to search for local businesses. There are about 79,000 hospitals in the public and private sector in the country and therefore having a good online presence is one of the most important differentiating factors for them.
Having a strong online presence is a crucial component of marketing strategy to make people know about the treatment options available, services and specialities a hospital or nursing home offers to the patients. Social media is an important factor which improves the chance of generating additional revenue and establishing customer loyalty. It allows potential customers and other interested parties to engage easily via a channel that plays an important role in their everyday lives.
Why eHealth considered "Online presence/ Social media" as a parameter for Top Hospitals-North India Ranking?
An online presence is important because it reinforces your brand and what you offer to your target market. Once you've communicated with your audience, you'll need to have a web presence that helps portray why your product or service is so great – because that's the next stop for the majority of your potential patients.
We chose this as one of the parameters because through this medium patients can get a better picture of what is it like to be admitted to any particular hospital or health centre through the feedback they get from other patients online. What kind of specialities the particular hospital or health centre offers? How was the experience for majority of the patients? Reviews on the various facilities a hospital offers—these are some of the answers a patient can easily access from the comfort of their home.
Imagine how easy it would be for the people to choose from a long list of healthcare providers in India, if they have proper credible info online about hospitals. Social media presence is also an important aspect, as how quickly a hospital responds to a patient's query plays a crucial role in establishing a good rapport and credibility in the long run.
Certification Standards
The demand for quality healthcare services has risen considerably owing to various market forces such as medical tourism, insurance, corporate growth and competition. As a result the expectations of the consumer have also changed in terms of quality care. This led to the emergence of several national and international accreditation bodies to put in place a quality assurance mechanism, thus enhancing patients' access to better healthcare services.
Why eHealth considered "Certification Standards" as a parameter for Top Hospitals-North India Ranking?
Quality of care in health services has been identified as one of the key elements on the path to Universal Health Coverage (UHC), and is fundamental towards achieving the health related goals.
One of the pathways to improve QoC in any health system is via the accreditation route. Accreditation has been accepted globally as a regulatory intervention to set standards, and monitor quality of care. The idea behind an accreditation programme is to evaluate a health care organisation via self and external assessment, against predetermined optimal standards, to improve and set standards of care.
In the wake of India emerging as global hub of medical tourism, accreditation bodies like National Accreditation Board for Hospitals (NABH), that emphasis on patient safety aspects and stringent quality assessment norms, is the need of the hour.
Patient Friendly Technologies
It's amazing to look back and see just how far the world has come technologically in a short span of time. What was in vogue 10-15 years ago has become obsolete in present times. As an enabler, disruptive technologies have given a fillip to every sector, including healthcare. From improved operational efficiency to standards in patient care, the healthcare transformation has enhanced the entire experience for both patients and medical professionals. Digital tools such as iPads, mobile applications, online portals are gaining popularity in hospitals, as many seek to better engage patients, improve outcomes and reduce healthcare costs.
Why eHealth considered "Patient Friendly Technologies" as a parameter for Top Hospitals-North India Ranking?
Health Information Technology (Health IT) which includes health record systems, smart devices and apps, plays a crucial role to provide better care for patients. It supports recording of patient data to improve healthcare delivery and increases patient safety, decreases medical errors, and strengthens the interaction between patients and healthcare providers.
Technologies should be patient friendly so that they could be handy and easy to use. For an example if patient or their families don't get proper information on hospital's website, or their mobile app is not user friendly, then they won't avail facilities from that particular hospital. Similarly, if the EHR system is complicated, that dissuades patients to avail facilities from them. Technologies only serve its purpose if they are not riddle like and general public easily understand every facet of it to get benefitted it to the maximum.
Bariatric
| | | | |
| --- | --- | --- | --- |
| Hospital Name | City/Area | State/UT | Rank |
| Apollo Obesity and Metabolic Surgery Centre | Sarita Vihar | New Delhi | AAAAA |
| Fortis Hospital | Mohali | Punjab | AAAA+ |
| Max Super Speciality Hospital | Saket | New Delhi | AAAA+ |
| BLK Super Speciality Hospital | New Delhi | New Delhi | AAAA+ |
| Sir Ganga Ram Hospital | New Delhi | New Delhi | AAAA+ |
| Fortis Memorial Research Institute | Gurugram | Haryana | AAAA+ |
| Medanta The Medicity | Gurugram | Haryana | AAAA+ |
| Fortis Flt Lt Rajan Dhall Hospital | New Delhi | New Delhi | AAAA+ |
| Primus Super Speciality Hospital | New Delhi | New Delhi | AAAA+ |
| Max Super Speciality Hospital, Patparganj | New Delhi | New Delhi | AAAA+ |
| Bhatia Global Hospital and Endosurgery Institute | New Delhi | New Delhi | AAAA+ |
| Max Hospital | Gurugram | Haryana | AAAA+ |
| Asian Institute of Medical Sciences | Faridabad | Haryana | AAAA |
| Artemis Health Institute | Gurugram | Haryana | AAAA |
| Jaypee Hospital | Noida | Uttar Pradesh | AAAA |
| Fortis Hospital | Noida | Uttar Pradesh | AAAA |
| Max Balaji Hospital | New Delhi | New Delhi | AAAA |
Cosmetic & Plastic Surgery
| | | | |
| --- | --- | --- | --- |
| Hospital Name | City/Area | State/UT | Rank |
| Indraprastha Apollo Hospitals | New Delhi | New Delhi | AAAAA |
| Fortis Hospital | Mohali | Punjab | AAAAA |
| BLK Super Speciality Hospital | New Delhi | New Delhi | AAAA+ |
| Medanta The Medicity | Gurugram | Haryana | AAAA+ |
| Max Super Specially Hospital | New Delhi | New Delhi | AAAA+ |
| Fortis Memorial Research Institute | Gurugram | Haryana | AAAA+ |
| Sir Ganga Ram Hospital | New Delhi | New Delhi | AAAA+ |
| Fortis Hospital, Shalimar Bagh | New Delhi | New Delhi | AAAA |
| SIPS Superspeciality Hospital | Lucknow | Uttar Pradesh | AAAA |
| Alchemist Hospital | Panchkula | Punjab | AAAA |
| Artemis Hospital | Gurugram | Haryana | AAAA |
| Fortis Flt Lt Rajan Dhall Hospital | New Delhi | New Delhi | AAAA |
| Asian Institute of Medical Sciences | Faridabad | Haryana | AAAA |
| Max Super Speciality Hospital | Patparganj | New Delhi | AAAA |
| IVY Hospital | Mohali | Punjab | AAAA |
| Shekhar Hospital | Lucknow | Uttar Pradesh | AAAA |
Orthopedics
| | | | |
| --- | --- | --- | --- |
| Hospital Name | City/Area | State/UT | Rank |
| Indraprastha Apollo Hospitals | New Delhi | New Delhi | AAAAA |
| Medanta The Medicity | Gurugram | Haryana | AAAAA |
| BLK Super Speciality Hospital | New Delhi | New Delhi | AAAAA |
| Indian Spinal Injuries Centre (ISIC) | New Delhi | New Delhi | AAAA+ |
| Sir Ganga Ram Hospital | New Delhi | New Delhi | AAAA+ |
| Max Super Speciality Hospital | New Delhi | New Delhi | AAAA+ |
| Fortis Memorial Research Institute | Gurugram | Haryana | AAAA+ |
| Fortis Flt Lt Rajan Dhall Hospital | New Delhi | New Delhi | AAAA+ |
| Asian Institute of Medical Sciences | Faridabad | Haryana | AAAA+ |
| Fortis Hospital, Shalimar Bagh | New Delhi | New Delhi | AAAA |
| Artemis Health Institute | Gurugram | Haryana | AAAA |
| Shekhar Hospital | Lucknow | Uttar Pradesh | AAAA |
| Moolchand Hospital | New Delhi | New Delhi | AAAA |
| Paras Hospital | New Delhi | New Delhi | AAAA |
| Max Hospital | Gurugram | Haryana | AAAA |
| Fortis Hospital | Noida | Uttar Pradesh | AAAA |
Diabetology
| | | | |
| --- | --- | --- | --- |
| Hospital Name | City/Area | State/UT | Rank |
| Indraprastha Apollo Hospital (Apollo Sugar) | New Delhi | New Delhi | AAAAA |
| Max Super Speciality Hospital, Saket | New Delhi | New Delhi | AAAA+ |
| Medanta The Medicity | Gurugram | Haryana | AAAA+ |
| BLK Super Speciality Hospital | New Delhi | New Delhi | AAAA+ |
| Sir Ganga Ram Hospital | New Delhi | New Delhi | AAAA+ |
| Fortis Memorial Research Institute | Gurugram | Haryana | AAAA+ |
| Fortis Hospital, Shalimar Bagh | New Delhi | New Delhi | AAAA+ |
| Max Super Speciality Hospital, Patparganj | New Delhi | New Delhi | AAAA |
| Fortis C-Doc Hospital, Nehru Place | New Delhi | New Delhi | AAAA |
| Fortis Hospital | Mohali | Punjab | AAAA |
| Fortis Hospital | Noida | Uttar Pradesh | AAAA |
Skin & Derma
| | | | |
| --- | --- | --- | --- |
| Hospital Name | City/Area | State/UT | Rank |
| Indraprastha Apollo Hospitals | New Delhi | New Delhi | AAAAA |
| BLK Super Speciality Hospital | New Delhi | New Delhi | AAAAA |
| Max Super Speciality Hospital | New Delhi | New Delhi | AAAA+ |
| Fortis Memorial Research Institute | Gurugram | Haryana | AAAA+ |
| Sir Ganga Ram Hospital | New Delhi | New Delhi | AAAA+ |
| Medanta The Medicity | Gurugram | Haryana | AAAA+ |
| Fortis Hospital | Mohali | Punjab | AAAA+ |
| Alchemist Hospital | Punchkula | Punjab | AAAA+ |
| Moolchand Hospital | New Delhi | New Delhi | AAAA |
| Max Super Speciality Hospital | Patparganj | New Delhi | AAAA |
| Paras Hospital | Gurugram | Haryana | AAAA |
| Max Hospital | Gurugram | Haryana | AAAA |
| Asian Institute of Medical Sciences | Faridabad | Haryana | AAAA |
| SIPS Superspeciality Hospital | Lucknow | Uttar Pradesh | AAAA |
| Shekhar Hospital | Lucknow | Uttar Pradesh | AAAA |
Trichology
| | | | |
| --- | --- | --- | --- |
| Hospital Name | City/Area | State/UT | Rank |
| Fortis Hospital | Mohali | Punjab | AAAAA |
| Max Super Speciality Hospital | New Delhi | New Delhi | AAAAA |
| BLK Super Speciality Hospital | New Delhi | New Delhi | AAAA+ |
| Apollo Indraprastha Hospital | New Delhi | New Delhi | AAAA+ |
| Artemis Hospital | New Delhi | New Delhi | AAAA+ |
| Moolchand Hospital | New Delhi | New Delhi | AAAA+ |
| Medanta The Medicity | Gurugram | Haryana | AAAA+ |
| Max Super Speciality Hospital | Patparganj | New Delhi | AAAA+ |
| Sir Ganga Ram Hospital | New Delhi | New Delhi | AAAA |
| Alchemist Hospital | Panchkula | Punjab | AAAA |
| Columbia Asia Hospital | Gurugram | Haryana | AAAA |
| Max Hospital | Gurugram | Haryana | AAAA |
Ophthalmology
| | | | |
| --- | --- | --- | --- |
| Hospital Name | City/Area | State/UT | Rank |
| Shroff Eye Center | New Delhi | New Delhi | AAAAA |
| Indraprastha Apollo Hospitals | New Delhi | New Delhi | AAAAA |
| Max Super Speciality Hospital | Saket | New Delhi | AAAAA |
| BLK Super Speciality Hospital | New Delhi | New Delhi | AAAAA |
| Center for Sight | Delhi | Delhi | AAAA+ |
| Fortis Memorial Research Institute | Gurugram | Haryana | AAAA+ |
| Max Super Speciality Hospital | Patparganj | New Delhi | AAAA+ |
| Fortis Flt Lt Rajan Dhall Hospital | New Delhi | New Delhi | AAAA |
| Eye Q Super Speciality Eye Hospitals | Gurugram | Haryana | AAAA |
| Fortis Hospital | Mohali | Punjab | AAAA |
| Bharti Eye Foundation | New Delhi | New Delhi | AAAA |
Dentistry
| | | | |
| --- | --- | --- | --- |
| Hospital Name | City/Area | State/UT | Rank |
| Max Super Speciality Hospital | Saket | New Delhi | AAAAA |
| Fortis Memorial Research Institute | Gurugram | Haryana | AAAAA |
| Kailash Hospital Research | Noida | Uttar Pradesh | AAAAA |
| Primus Super Speciality Hospital | New Delhi | New Delhi | AAAA+ |
| Fortis Hospital | Mohali | Punjab | AAAA+ |
| Fortis Flt Lt Rajan Dhall Hospital | New Delhi | New Delhi | AAAA+ |
| Sir Ganga Ram Hospital | New Delhi | New Delhi | AAAA+ |
| BLK Super Speciality Hospital | New Delhi | New Delhi | AAAA+ |
| Medanta the Medicity | Gurugram | Haryana | AAAA+ |
| Shekhar Hospital | Lucknow | Uttar Pradesh | AAAA |
| Max Super Speciality Hospital | Shalimar Bagh | New Delhi | AAAA |
| Moolchand Hospital | New Delhi | New Delhi | AAAA |
Emerging Hospitals
| | | |
| --- | --- | --- |
| CK Birla Hospitals RBH | Jaipur | Rajasthan |
| Amrit Hospital | Delhi | Delhi |
| Era Lucknow Medical College and Hospital | Lucknow | Uttar Pradesh |
| QRG Health City | Faridabad | Haryana |
| Kalra Hospital Srcnc Pvt Ltd | New Delhi | Delhi |
| National Heart Institute | Delhi | Delhi |
| Aakash Super Speciality Hospital | New Delhi | Delhi |
| SPS Hospitals | Ludhiana | Punjab |
| Anand Hospitals | Beawar | Rajasthan |

Follow and connect with us on Facebook, Twitter, LinkedIn, Elets video