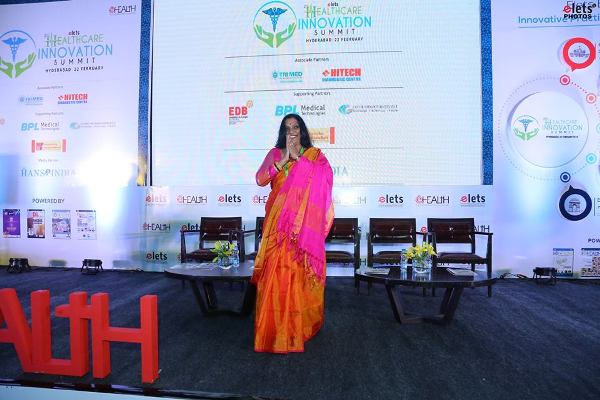 In order to address the challenges of increasing demand, escalating costs and quality of the care delivered, healthcare service providers are increasingly looking towards digital innovation to address these issues.
Delivering a speech at the Healthcare Innovation Summit, Hyderabad, Dr. Anuradha Medoju, Senior Regional Director, Andhra Pradesh and Telangana States, Ministry of Health & Family Welfare, Government of India, said, "Earlier innovations have left an impact in the healthcare sector. In 2005, the GDP in the healthcare sector was 1%, regardless of which our expenditure was also very less. The health sector has seen an unprecedented development for the last 10 years, especially in Hyderabad, which has become a medical hub for the international passengers. This was made possible due to public and private partnerships and then our doctors."
Elaborating further on the role of doctors in enhancing the healthcare sector, Dr. Medoju said, "The dedicated doctors, specialists and super specialty hospitals along with the government has also taken a lot of initiatives in the last 10 years."
"We are working towards quality medical education and skilling of Asha workers across Andhra and Telangana," said Dr. Medoju, while delivering a speech at 2nd Healthcare Innovation Summit in Hyderabad.
When asked about the public private partnerships in the health systems, Dr. Medoju said, "I would focus more on public component because we are working with government and we trying to strengthen the healthcare system in aspect of technology and medical aspects so that they can deliver more."
While education is gaining its prime focus on every child's life, Dr. Medoju continued, "With every child studying and the increase in social economic status, education has become a priority in almost all the states. We prefer our children to study. We are becoming economically strong day by day. Talking about PPC, she said, "In healthcare systems, the government has to manage everything on its own. The services provided by the organizations have to go to the poor people."
Emphasizing few of the programmes initiated by the government, Dr. Medoju said, "The biggest challenge is the communicable diseases for which the government is making initiatives to control it. To control diseases like tuberculosis, free investigations and medications along with promoting free mobile clinics. When the patients are not coming to us, why can't we go to them?"
The Ministry of Family and Welfare has devotion towards developing the healthcare system.  Talking about new vaccines and medicines, Dr. Medoju highlighted that the pharmaceutical companies should come up with latest medicines and vaccines to cure such unavoidable diseases."


Follow and connect with us on Facebook, Twitter, LinkedIn, Elets video