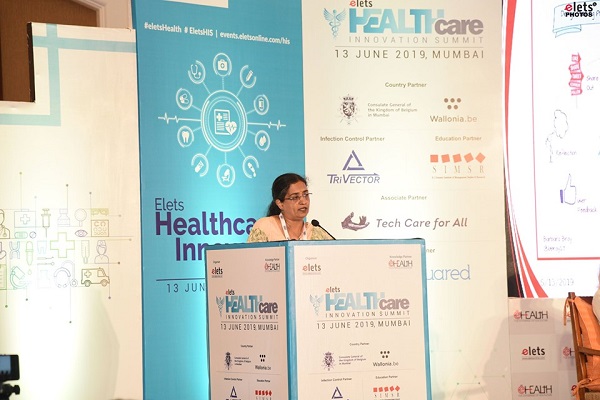 Speaking at the Healthcare Innovation Summit, Mumbai, Dr. Prema Basargekar, Program Coordinator, SIMSR shared her insights on Design thinking and the importance of using it by the healthcare organisations to bring out creative solutions. Also, she highlighted the mannerism of bringing design thinking in the course curriculum to initiate a change in the healthcare services.
Talking about inclusive healthcare, Dr. Basargekar said, "Everybody understands that inclusive healthcare indicates affordable, easy and quick access to all the healthcare services. But it is easier said than done. Even with the presence of healthcare policies like Universal Healthcare, Ayushman Bharat etc. there are obstacles which can be further classified under economic and social barriers."
Further stressing on the economic barriers, Dr. Basargeker said, "Spending less than 2% of our GDP on public healthcare, is one of the main economic barriers, which is also very low in terms of international comparisons."
"There is a huge urban and rural divide in healthcare services. Most of the private investments in private healthcare is taking places in cities or urban areas and accordingly rural areas are devoid of all these opportunities", added Dr. Basargekar.
Shedding light on the social barriers in healthcare, Dr. Basargekar said, "There is a severe scarcity of skilled manpower, medical equipment's and other facilities, particularly in rural areas. The social barriers are gender biased or prejudices which hinder the access of healthcare services to many women. There is a lack of health awareness, related to health services, with a strong hold of social custom norms which acts as a barrier for access to the healthcare services."
This shows, she added, "Even though there are modern technologies which are happening, we have to find out some creative solutions to penetrate deep down the access of healthcare services. This is where the technique of methodology or technique of design thinking might play a very important role."
Having said this, she laid the implementation of design thinking in the curriculum. She further said, "Design thinking or design methodology provides a human centric solution based approach to solve the healthcare problems. Rather than designing the technology or the service within the organisation, it is important to go to the patient, find out the surrounding circumstances, the challenges they are facing using the existing healthcare services and find out a solution based approach to that."
Understanding the problems in an empathetic way from an end user perspective, she said, "Design thinking helps in understanding whether the ultimate solution is user friendly or not. With different phases, it emphasizes and defines the problem in a very innovative manner. Also, defining the problem, helps in challenging the existing challenges and ultimately finding out innovative solutions to it."
She further shared her insights on the importance of design thinking in healthcare. She said, "Design thinking is very relevant in healthcare as it takes bottom up approach rather than top down approach which is helpful in understanding the needs and requirements of the end users. It provides deep insights about the end users or patients. It helps in understanding of the culture, values, beliefs of the end users required for successful health interventions. It also helps in bringing patient centric innovations in products and services."
She concluded by sharing few inputs on how design thinking is imbibed in the curriculum in her organisation. She said, "Design thinking plays an important role in our healthcare management programs. With that thought in mind, we imbibed a course of design thinking in our management program. We have collaborated with Imperial Health College, United Kingdom to make world class global technology easily available to our students."

Follow and connect with us on Facebook, Twitter, LinkedIn, Elets video