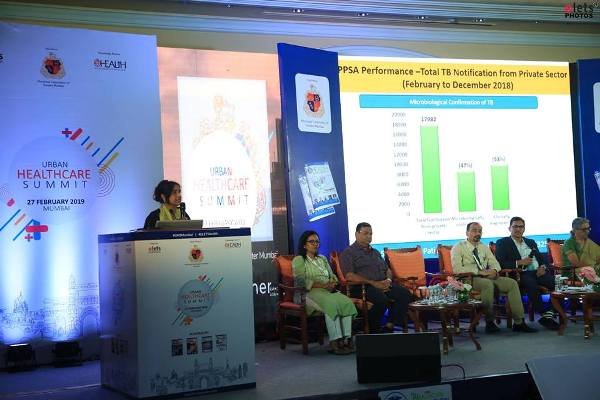 With 2 big campaigns, Jaan Bachao Campaign & Ek Chammach Kam under her belt, Dr. Daksha Y Shah has very effectively aligned with many NGOs into these programmes, focusing completely on the control of non-communicable diseases like Tuberculosis.
Speaking at Urban Healthcare Summit, Mumbai, Dr. Daksha Shah, Mumbai's City TB Officer said, "We are aware that the government of India has declared end of tuberculosis by 2025."

Highlighting on how she has used PPP models with a concept of controlling tuberculosis in Mumbai, she said, "Mumbai consists of 14% of total MDR cases and 3% drug sensitive cases in India. The reason behind this is the high defaulter rate, poor nutrition and irregular functioning of the private sector", said Dr. Daksha Shah.
"The National RNTCP programme rolled out DST guided treatment guidelines in March 2016.  MCGM has already rolled out DST guided treatment in 7 Districts of the city in 'A to G' wards. It will be extended to other parts of the city in a phase wise manner. Working in partnership with MSF will facilitate the rollout in Govandi area and offer treatment as per latest guidelines in addition to supporting early case detection." said Dr. Daksha Shah.
Furthermore, underlying the challenges behind the control of tuberculosis, she said, "The biggest challenge is that we are not aware of how the patients are treated in the private sector. With a million of missing cases, notifying these cases posed as a big challenge until in 2015, where we have had a systematic project called private sector engagement and were able to notify more than 20,000 cases in a year from the private sector."
Any partnership or support from the private sector needs to be integrated and sustained into our system. Speaking on the same, Mumbai's TB officer Dr. Daksha Shah said, "Nearly 70% doctors from the private sector are now notifying cases. We have also upgraded our diagnostic facilities, due to which detection has gone up substantially. That explains the rise." Dr. Shah said the Brihanmumbai Municipal Corporation (BMC) is doing its best as far as detection and treatment is concerned. "But aspects like living conditions and migration have to be tackled too."
She said the rise in drug-resistant cases was because many patients taking treatment in the private sector were shifting to the public sector for free treatment. "Therefore, new drug-resistant cases get added to our list." On an average, drug resistant TB treatment costs ₹2 lakh. If one counts the loss of wages, cost of travel and other expenses, it is more than ₹3.60 lakh.
Mumbai continues to provide quality free diagnostic and treatment services to private sector TB patients through PPSA. As a result, in 2018, the total TB Notification for Mumbai improved from 269/lakh in 2015 to 421/lakh in 2018.


Follow and connect with us on Facebook, Twitter, LinkedIn, Elets video