The shortage of health professionals like doctors and nurses has been plaguing the Indian health system for quite some time now. Even with the current pace of addition of human resource to the national pool is likely to leave the issue more or less unresolved and the real solution may lie in bolstering the mid-level health professionals to improve health outcomes, says Arun Singhal, Joint Secretary, Ministry of Health and Family Welfare.
"Today, people are more secure about the chances of surviving. Life expectancy has gone up and many things have improved. But along with that the number of deaths attributable to non-communicable diseases has gone up. Therefore, when we talk about health outcomes the paradigm has to change. Prevention, early identification and management of diseases are very important today," said Singhal while speaking at the 7th Healthcare Leaders Forum (HLF) in Delhi recently.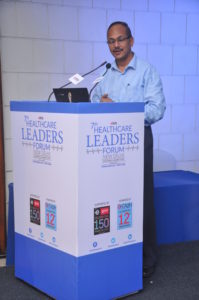 "Having an excellent secondary and tertiary healthcare is very important, but it will never suffice until we focus on primary healthcare and delay the incidence of diseases," he pointed out.

However, focus on primary healthcare will require human resources, which is presently a luxury in India. "Presently, we have 8.5 lakh doctors in our country. The World Health Organisation (WHO) norm is one doctor per thousand population, but India has one doctor for 1,600 population."
The distribution of doctors in the country is very skewed. In urban areas the availability of doctors is much higher, while in rural areas and remote areas their availability is much much lower as compared to the national average.
"Doctors, therefore, is a scarce resource at the moment. Today we have about 67,000 MBBS seats in the country and there is only about 40 years of span during which a doctor works. So, for doctors the replenishment period works out to be 20,000 a year. Given the situation, may be in 10 years time we will be able to come up with the number of doctors required as per the WHO norm. But even then the distribution of doctors will be very skewed," Singhal said.
Today, just seven states in the country have 65 per cent of the medical colleges in the country. Moreover, the Ministry of Health and Family Welfare has found that people tend to stay in the states where they study.
The solution may come in the form of middle level service providers, who are playing a crucial role in healthcare sectors of many countries around the world.
Citing the example of China, Singhal said, "In China, there was a system of people's commune. They (the Chinese government) decided that one of the farmers in the commune would become a 'barefoot doctor'. This person would get a training of only two months and start prescribing medicines. After the commune system ended, these barefoot doctors became village doctors and today there is a village doctor for every 500 population."
Today, there are 5.5 million doctors in China. Of these 5.5 million over half have never passed any licentiate exam. However, the system has delivered health outcomes — improving healthcare scenario in China vastly.
In Western countries like the UK and Scandinavian countries, nurses and middle level professionals have been playing an important role in delivering healthcare.
"The question Indian healthcare industry faces today is that do we need a model where every doctor should be a post graduate? or we adopt a model where a family doctor, who is an MBBS, takes care of most of the health problems? The other question we need to ask ourselves that if we adopt a post graduate doctor model then should that doctor be sent to a remote village for screening tuberculosis patients," asked Singhal.
"Today, a PG doctor is expected to stay and work in an area which is even smaller than the block level, which is not practically possible. The day we recognise that it is practically not possible, then the medical community has to think of what kind of physician assistants, nurse practitioners and other such service providers can be groomed in this country," he added.
This is a matter of policy for the government and efforts are on to find an apt solution, Singhal informed. "Some attempts have been made recently. We have introduced some curriculum for nurse practitioners-basic and nurse practitioners-tertiary care, wherein we are trying that nurse practitioners-tertiary care should be able to take away some of the loads of the doctors posted in the ICU. This is one small beginning," he said.
Follow and connect with us on Facebook, Twitter, LinkedIn, Elets video