Availability of doctors for delivering quality and affordable healthcare in rural and remote areas is a major challenge in India, but "we can always find a way out" to get around such problems, said Dr Jitendra Singh, Union Minister of State (Independent Charge) for Development of North Eastern Region and Minister of State PMO, while speaking recently at the 7th Healthcare Leaders Forum (HLF) Delhi as he shared his novel vision on air clinics to take doctors to the doorsteps of the people in remote areas.
"Health is too serious an issue to be left to the government alone. In the context of serving patients in far flung areas like in the Northeast India, if you (service providers) have to make your services meaningful, you'll have to reach out to those who have been left out," said Dr Singh while addressing the who's who from the healthcare sector.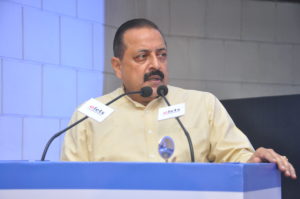 "One area where we can do some reinforcement is the tele-medicine. You may not have a doctor, but you may have mobile and the internet everywhere. I have also mooted an idea of air clinics or air OPD. I would not call it an air ambulance because it has a different connotation," he added.

According to the minister, on the one hand India has a huge mushrooming private sector in healthcare space while on the other hand one-third of India's population is still not having access to a decent hospital bed.
"This is because most of this mushrooming of private hospitals is happening in the cities, urban or semi-urban areas," he said.
His solution to meet this challenge is to leverage the technological advancements. "In areas like hilly regions of northeast, Uttarakhand or Jammu and Kashmir, if you could have a helicopter well-equipped with instruments and a doctor then that one doctor can spend his time in three different places in rural or remote area and on his way back he can carry one or two patients who require hospitalisation."
He said that by leveraging the advantage of "hi-tech provisions we have an opportunity to overcome constraints of not being able to reach out to the patients in remote locations".
The minister also pointed out that in the last 20 years India has moved from communicable to non-communicable diseases. "The implication of this is that we have to now manage diseases in a sustainable way, which involves life-long followups and lifelong spending on healthcare," he said.
Follow and connect with us on Facebook, Twitter, LinkedIn, Elets video