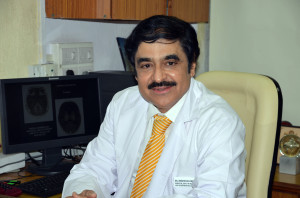 Dr. Shrinivas B. Desai, Director of Imaging and Interventional Radiology at Jaslok Hospital, Mumbai shares interesting insights about the latest technology in ultrasound. Dr. Desai is the first doctor in India to perform surgeries with MRgFUS. In conversation with Nikita Apraj, ENN.
Anaesthesia, incisions, sutures and scars may soon be a history in the field of surgery. Here arrives the MRgFUS " MR Guided Focused Ultrasound, a new non-invasive technique of performing surgeries. The technology which is no less than a magic allows a doctor to see inside the patients body, find the tumor and treat it without incisions. Its no wonder that the technology has revolutionised the traditional approach to different diseases. It is a novel treatment alternative for treating tumors.

No scars, no incisions
It is a totally new revolutionary technique where the patient lies in the MRI machine. The tumor or part of the body to be treated is mapped under MRI. Under the MRI table, placed is a High Intensity Focused Ultrasound (HIFU) source. After mapping the tumor under the MRI, it is destroyed by the HIFU by focusing it on the tumor. This is done without touching the patient, without any general anaesthesia, radiation, scar or incision.
The HIFU source burns the tumor; it focuses the ultrasound energy to a small peanut-sized spot inside the tumor and heats the spot sufficiently to cause cell death. During the treatment, MRI enables the physician to see the tumor and its surrounding organs in 3D, obtain real-time feedback about temperature changes in the treated areas and observe what has been treated, in a totally non-invasive manner.
New module will enable us to perform brain surgeries without even touching the patient. Different surgeries of the brain can be performed using MRgFUS without opening the skull.
Fibroids, cancer and even brain tumors
At present, Jaslok Hospital performs surgeries of uterine fibroids, adenomyosis, prostate cancer, bone metastasis with MRgFUS.  25-30% of Indian women suffer from Uterine Fibriods. Until now, treatment for Uterine Fibroid would often include a surgery. However, for the first time, women now have the option of choosing a nonsurgical, outpatient method of ablating fibroids using MRgFUS that preserves the uterus and enables them to return to normal activity within one or two days. MRgFUS is FDA (Food & Drugs Authority) approved modality for treatment of uterine fibroids. We are also planning to start treatment of breast cancer with this revolutionary technology, says Dr. Srinivas Desai.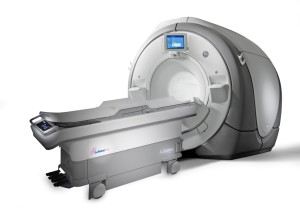 Jaslok is aiming high with planning to install a brain module on the machine which certainly will be a milestone in Indian Healthcare. It will enable us to perform brain surgeries without even touching the patient. Different surgeries of the brain can be performed using MRgFUS without opening the skull. MRgFUS brain module will perform surgeries of brain tumors, Parkinsons Disease tremors, curing epilepsy, debunking, inoperable tumors, and psychotic disorders, Dr. Desai informs proudly.
It just takes a lunch time!
Dr. Desai cites an interesting case of uterine fibroids. An employee of Jaslok Hospital was suffering from uterine fibroids for many years. She was advised to undergo the regular surgery to get rid of the condition. The lady was not ready to undergo the surgery and was avoiding it. When she learnt that Jaslok has started the MRgFUS procedure, she visited the department during her lunch hours with a hope to find a solution. It took only two hours to complete the treatment and after the procedure, she even went back to her job. It just took a lunch time to get rid of the problem! We can say this is an out-patient surgery, however we keep the patient overnight in the facility under observation, says Dr. Desai.
Features of MRgFUS:

Non-invasive out-patient procedure
Does not require anaesthesia
Suitable for patients who cannot undergo regular surgery
Applications can be extended to cancer treatment, osteoporosis, arthritis and even brain tumors

 
Fit for unfits
As Dr. Desai tells, theoretically there is no contradiction in this surgery. On the contrary, a patient who cannot undergo a regular surgery is an ideal candidate for this technology. MRgFUS procedure does not require general anaesthesia. It makes it viable and safer for patients with kidney or heart problems who are unfit for general anaesthesia and on the same ground, face problems while undergoing regular surgeries.
The only problem may occur, Dr. Desai says, if a patient has undergone many surgeries in the past, as it would be difficult for the ultrasound rays to reach the tumor finding their way through scars. Scars get heated up when rays go through. We may not be able to do the MRgFUS procedure if we dont find a window for ultrasound rays. Say, if food pipe lies in front of the uterus, the ultrasound rays wont reach the uterus. We dont treat such cases because there is a danger that the food pipe can get burned by the ultrasound rays, He explains further. There are certain kinds of fibroids, like white fibroids, which do not take up contrast. We do not treat them as they are not fit for the machine, Dr. Desai adds.
We have done around 300 surgeries till date and soon planning to cross the 1000 mark.
Setting new records
As of now, there are 110 installations across the world. Jaslok Hospital is the first not only in India but in the entire SAARC and Middle East region to have this installation. The nearest MRgFUS machine from here is installed at St. Marys Hospital, London, Dr. Desai smiles with a shine. We have done around 300 surgeries till date and soon planning to cross the 1000 mark, says Dr. Desai optimistically.

Follow and connect with us on Facebook, Twitter, LinkedIn, Elets video