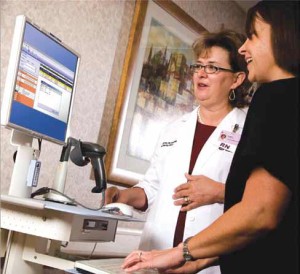 Todays laboratories are privileged to be able to take advantage of the latest Laboratory Information Management Solution (LIMS ) to operate with the highest level of efficiency, effectiveness, and quality By Shally Makin, Elets News Network (ENN)
If you have been in the business of running labs, you must have faced the need to manage larger volumes of data, while complying with stricter regulations and achieving higher quality and efficiency levels. In other words, your lab is a complex operation with many functions and priorities. It requires a Laboratory Information Management System (LIMS) that can multitask. LIMS is designed to help you meet all your information management objectives, manage complex processes, take the headache away from regulatory compliance and give users exactly the information they need, at the right time and in the right format. The past decade has seen an explosion in the number of samples generated for research and analysislargely due to the increased focus on translational medicine and epidemiology. In addition, a significant increase and focus on high quality sample yields and how they are accurately and efficiently managed is now a top concern for researchers who are often charged with managing enormous volumes of both samples and their relevant data. This sharp rise in the number of samples researchers are expected to handle along with cost pressures, regulatory compliance, tracking needs and limited storage space have led to significant laboratory streamlining initiatives, and often outsourcing of sample management activities to third-party biorepository or biobank networks, which can more efficiently manage samples and also free up researchers valuable time.
The real challenge is to find the right solution that meets both your immediate requirements and future needs. As your business grows, your operation must be continually supported without having to build in your new process needs, by painfully applying ad-hoc systems or hiring costly external consultants who may not fully understand your business, operation, and legacy systems.
What is Lims?
LIMS is designed for the process plants to help run the laboratory efficiently. A fully-featured lab management software makes lab data easily accessible, thereby improving the effectiveness of the laboratory, and meets demanding IT requirements for security, support, and low total cost of ownership.
LIMS manages lab samples from scheduling to analysis, manages test methods and product specifications, tracks qualifications to perform tests, records test results against specifications, handles historical data for as many years as desired, and makes lab data available to other systems. It is used by laboratory management staff and technicians, engineers, and operators.
LIMS manages lab data with customizable user interfaces designed specifically for laboratory staff. Lab data can be entered directly by technicians, interfaced from test equipment, or imported from another LIMS. Authorised laboratory personnel can record test results, reclassify products, issue certificates of analysis, and take other actions typical of any laboratory.
Benefits
LIMS is used for biobanks and biorepositories in advancing todays discoveries by providing relevant biospecimens to pharmaceutical, clinical, academic and biosciences research, as well as medical and contract research organizations. It is specifically designed to address the unique challenges of managing biospecimen collection, locations,
online requests, chain of custody and patient demographics. Organisations that take advantage of our rapidly growing set of informatics tools and technologies aimed at biobanks and biorepositories will realise the benefits of enhanced sample integrity, tracking and audit trail
Hundreds of labs and organisations rely on LIMS to guarantee regulatory compliance and adherence to SOPs. This software makes it more convenient than ever to:
Document that a sample was appropriately handled and that the analysis was performed by a properly trained, qualified technician
Store and manage equipment and maintain histories
Validate analytical methods
Enhance the credibility of testing practices and data quality to customers and regulatory authorities, and accelerate the validation process
Potential
Regardless of the range, volume and complexity of the data you produce, LIMS gives you a complete picture of the processes and products of your lab. There are software which present data in intuitive graphic formats, so users can quickly understand and respond to emerging trends and other essential information. The graphic utive dashboard shows the exact data and information that is relevant for each role. LIMS increases laboratory effectiveness and responsiveness to business requirements by making the lab part of the process plant automation solution. It improves the process plant efficiency through timely access to quality lab data for production management, product quality, advanced process control, and other essential functions. It has a specific functionality for pharmaceutical, bio-analytical, environmental and many other applications and dramatically reduces implementation, training, validation and maintenance costs for a lower total cost of ownership. Intuitive, application-focused interfaces create high end-user acceptance. Every process plant uses quality data, and most have a laboratory that analyzes samples to certify products for shipments, track
material properties, help balance the books, and aid analysis. A laboratory information management system, or LIMS, ensures that tests are performed properly and quality lab data is available for essential functions such as production management, advanced process control and performance monitoring.
The LIMS is designed to dramatically increase the efficiency of scientific processes and staff and to secure the future value of your data by properly archiving each and every data point that your organisation collects. One can accomplish these tasks by customising LIMS product to match the specific requirements, interests and workflows of the organization. In general, client system customizations account for an increase of only two to four weeks in delivery time and only 10 percent in price. Informatics solutions are tailored to manage your organisations critical information across multiple laboratory facilities in order to optimize productivity and share knowledge more effectively. Companies deliver configurable-offthe- shelf solutions for a variety of functional laboratories focused on research, development, quality management, biobanking and environmental monitoring just to name a few.LIMS products are power packed with innovative features presented in a simple, clean and enjoyable graphical interface. The software is easy to use, quickly learned, and can be modified to suit your preferences. LIMS products are designed by lab managers and coded by experts for reliable everyday use without compromising advanced features. Coding process has resulted in robust, flexible, and configurable software capable of supporting any lab type. Product design provides for rapid setup and configuration, an interface that allows users to save their settings, and the ability to keep clients up to date with the latest technology. This modular nature allows users to provide a truly integrated suite of products, or fully capable independent product modules. Individual modules can be updated or customised without impacting the entire program.LIMS continues to redefine enterprise laboratory informatics with its leading combination of functionality, flexibility, and technology in one platform. It helps organization model in specific workflows, seamlessly integrate with instruments and business applications and meet government regulations to increase productivity, reduce operating costs, and improve overall quality. With LIMS, your enterprise-wide information management is accomplished with intuitive data entry from any Internet or Intranet access device and easy integration to third party instruments and systems, workflow and process automation through a simple user interface, and compliance with internal standards and government regulations through programmable rules and electronic signature.LIMS helps laboratories meet their scientific, performance and business goals.
Apollo LIMS has been successfully implemented in toxicology, pain management, public health, clinical, environmental, and hospital laboratory environments in the United States and Caribbean. Its features include: Rules-Based, Configurable Off The Shelf (COTS) Application
Standard and Customizable Reporting
Instrument Interfaces
Foreign System Integration with HL7 and other protocols
Modular configuration for maximum flexibility
LIMS is committed to supporting your informatics needs both today and into the future. With flexible and easyto- use configuration tools, the solutions can be quickly tailored to specific roles within the enterprise, adapted to changing business needs, and extended to other areas of the organization, while also reducing ongoing validation costs. Moreover, for organizations with worldwide operations, LIMS combines a powerful informatics platform with support to deliver the most complete, versatile, multi-site and multi-language backbone for your laboratory enterprise.
Benefits of LIMS
Well organised, accurate and timely availability of data provides both scientific
and business users with meaningful information used in the discovery and in the
daily decision-making process
Preconfigured to facilitate data capture and specimen management
Facilitates chain-of-custody and handling assurance needs that improve operational
efficiencies
Supports organisation-wide inventory control—whether storing or tracking
whole blood, tissue, cellular lysates, DNA, RNA, or proteins
Web interface provides centralized global access in a secure environment
Built-in proprietary graphical workflow utility tool allows organizations to easily
extend capabilities and tailor the solution to the needs of each laboratorys
unique data capture, result management, storage and specimen handling requirements
Automated sample management module ensures that biological samples are
stored safely
Provides renowned analytical equipment, instruments, consumables, reagents,
media, services and informatics software
Sample management products and services address the scaling needs of
biobanking laboratories worldwide. The critical nature of biobank samples make
permanently-attached 2D barcodes for secure sample tracking and chain of
custody a superior choice over traditional labels.


Follow and connect with us on Facebook, Twitter, LinkedIn, Elets video