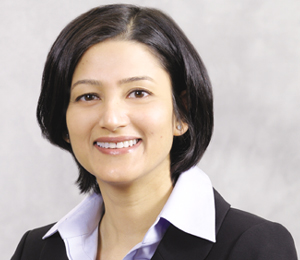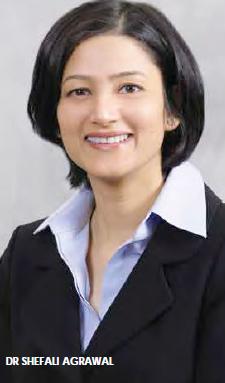 Dr Ravi Gupta and Shally Makin had a candid conversation with Dr Shefali Agrawal, Senior Consultant, Hepatobiliary & Pancreatic Surgery, Apollo Hospital, New Delhi on how her surgical skills are impacting medical care in India. She talks about the need in India for skilled physicians with specialty training in complex pancreatic surgery
Dr Shefali Agrawal, MS, FACS is a surgical oncologist who focuses on the surgical management of hepatobiliary, pancreatic and gastrointestinal cancers. She is trained in Hepatobiliary and Pancreatic Surgery from the world-renowned Johns Hopkins University School of Medicine, Baltimore, USA and prior to joining Apollo Hospitals she was an Assistant Professor of Surgery at Temple University of School of Medicine, Philadelphia, USA. Dr Agrawal has several publications in prestigious surgical journals including Annals of Surgery, Annals of Surgical Oncology, Cancer, Journal of Gastrointestinal Surgery Journal of Surgical Oncology and contributions to book chapters. She is a member of several professional societies including International Hepato-Pancreato-Biliary Association, Society of Surgical Oncology, Society for Surgery of the Alimentary Tract, Association of Academic Surgery and American College of Surgeons.
Tell us about the global magnitude of the problem of pancreatic cancer.
Pancreatic cancer is the fourth leading cause of cancer-related deaths. Surgical resection is the only potentially curative treatment. Estimated incidence and deaths from pancreatic cancer in the United States is 45,220 and 38,460, respectively for
the year 2013. Based on incidence from 2007-2009, 1.47 percent of men and women born today will be diagnosed with cancer of the pancreas at some time during their lifetime. This number can also be expressed as 1 in 68 men and women will be diagnosed with pancreatic cancer during their lifetime. These statistics are called the lifetime risk of developing cancer. Pancreatic cancer is usually diagnosed at a late stage when most patients are not candidates for curative surgery and the five-year survival for patients with inoperable tumors is less than five percent.
What are the techniques used to diagnose a tumour in the pancreas?
The most important investigation for the diagnosis of pancreatic cancer is a contrast – enhanced CT scan of the abdomen. All patients diagnosed with a pancreatic tumour require a pancreatic protocol triphasic CT scan to assess the characteristics of the tumor and the extent of its spread as it is highly accurate in the assessment of tumour resectability.
A Magnetic Resonance Cholangiopancreatography (MRCP) may be used for the uation of the pancreatobiliary ductal system or pancreatic cysts in addition to a CT scan.
Endoscopic retrograde cholangiopancreatography (ERCP) – ERCP may be used to visualise the ampulla, obtain biopsy or place endobiliary stents to relieve jaundice.
Endoscopic ultrasound (EUS) utilizes a thin tube with a camera and light on one end and maybe required to uate pancreatic abnormalities which remain indeterminate on CT scan or MRCP.
Laparoscopy may identify tumour deposits not seen on imaging and avoid major operative intervention in patients with unresectable pancreatic cancer.
Needle biopsy of the pancreatic tumor is required prior to the administration of chemotherapy or radiation therapy however, it is not necessary prior to potentially curative surgery.
How effective is the treatment for pancreatic cancer?
Multimodality therapy combining chemotherapy and radiation therapy with complete resection of the tumour prolongs survival in pancreatic cancer. Survival depends upon the stage of the pancreatic cancer at the time of diagnosis and the best outcomes are achieved with a multi-disciplinary approach utilising a combination of surgical removal of the tumour, chemotherapy and radiation therapy. Curative surgery involves resection or removal of the tumourbearing part of the pancreas with negative pathologic margins.
There are various types of pancreatic resections and the two most commonly performed operations for pancreatic  cancer are the Whipple surgery or pancreaticoduodenectomy and distal pancreatectomy depending on the location of the tumour. The Whipple surgery is performed for tumours located in the head of the pancreas and distal pancreatectomy for tumours in the pancreatic tail or body. As the head of the pancreas lies in close association with the first portion of the small intestine (duodenum), lower part of the stomach and bile duct, these structures need to be removed in continuity in a Whipple surgery to avoid tumour spillage.
Allen Old father Whipple (1881- 1963), Chair of Surgery, Columbia University Medical Center, New York reported the first three successful two-stage Whipple operations in 1935 and his biographers Johna and Schein state, To the abdominal surgeon a successful Whipple operation is what a first combat mission is to the fighter pilot: a symbol of competence- the fruits of prolonged training. The Whipple operation is a highly complex operation requiring skilled surgeons with specialty training in centers of excellence for the best post operative outcomes. The acceptable mortality for a Whipple operation is 2 percent worldwide.
As it sounds complicated and challenging, what should be the ideal protocol for performing a Whipple surgery?
Patients diagnosed with pancreatic cancer require uation and treatment at a tertiary referral hospital with multi-disciplinary excellence in surgery, anesthesia, radiology, pathology and gastroenterology for optimal outcomes. There may be a role for regulatory bodies like the Medical Council of India (MCI) to ensure that the patient is informed correctly of the operation performed and provide him with copies of the discharge summary, operative and surgical pathology reports. The patient should be made aware about the expected survival after a curative operation such as a Whipple versus a biliary bypass operation, which relieves the jaundice providing symptomatic improvement but does not remove the tumor and is therefore, associated with tumor progression and poor survival. The 5-year survival after a Whipple surgery and completion of postoperative chemoradiation is 25-30% and for unresected pancreatic cancer it is a few months. This is important because not infrequently, the patient may have the impression that a curative operation was performed whereas in reality only a biliary bypass had been performed.
About Pancreatic Cancer
Whipple surgery is performed for tumours located in the head  of the pancreas and distal pancreatectomy
for tumours in the pancreatic tail or body. As the head of the pancreas lies in close association with the first portion of the small intestine (duodenum), lower part of the stomach and bile duct these structures have to be removed in continuity in a Whipple surgery to avoid tumor spillage.
Health insurance companies of the patients are legally authorised to uate the medical records of the patient and audit bills submitted for financial reimbursement by the physician and hospitals to confirm that they are commensurate with the procedures performed.
Do we have trained physicians in developing countries to operate this deadly tumour? How do you help in spreading awareness about this disease?
Specialty training in the implementation of complex treatment algorithms of such a deadly cancer is imperative without which the treatment itself will be associated with high patient morbidity and mortality. In developing countries like India, there are three major areas where improvement is required to improve patient outcomes:
Avoidance of delay in diagnosis for example, persistent upper gastrointestinal (GI) symptoms should be uated with a CT scan as pancreatic cancer may present with non-specific abdominal symptoms.
Early referral to a pancreatic surgeon once the diagnosis of a pancreatic tumour has been established on imaging studies.
Limitations in resources include diagnostic facilities and specialised physicians particularly, pancreatic surgeons.
We have undertaken several initiatives dedicated to fighting pancreatic cancer in India including the website www.pancreatic-cancers.com the goal, of which is to serve as a portal for patients with a pancreatic cancer to gain a focused understanding of their diagnosis, treatment options and expected outcomes. We have launched the Pancreatic Cancer Network India on facebook for promoting awareness about early diagnosis and treatment options with the objective of improving patient outcomes in India.


Follow and connect with us on Facebook, Twitter, LinkedIn, Elets video