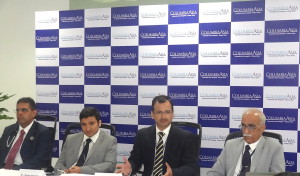 Columbia Asia Hospital in Gurgaon has announced the launch of its kidney transplant division to serve patients suffering from end-stage kidney ailments.
The hospital has already performed kidney transplant surgeries on some foreign patients, of which, some of them very complex and high-risk procedures.
During the official launch, a dedicated Kidney Transplant division  doctors discussed the recent complex case of 19-year-old Bangladeshi girl who had multiple issues with the kidney, heart, and lung and had been refused a kidney transplant back home in Bangladesh as well as in several hospitals in India, given the threat to her life. The Complex Renal Transplant surgery was performed first time using retroperitonescopic donor nephrectomy in Delhi/NCR region.
Such was her condition that she was actually gasping for breath when we first attended to her. The multiple organ problems put her life at a high risk in the event of surgery. However, it was important to replace her failing kidney, if we needed to give her hope of recovery. The young girl was admitted to the hospital and first treated for her heart and lung condition to stabilize her health. Once this was achieved, we decided to go ahead with the kidney transplant, says Dr Mohit Khirbat, Consultant Nephrologist, Columbia Asia Hospital, Gurgaon.
In this procedure, the surgery is done from the back instead of the front. The advantages of this method are that it only touches the main organ which is the kidney, unlike the traditional laparoscopic method in which one has to enter the abdomen from the front and have gone through other organs to reach the kidney. The procedure is much safer than the conventional method and aesthetically better since the scarring is on the back. The safety and postoperative comfort of the donor are of utmost importance. The donor was able to move out of bed and was able to eat on the first day after surgery, said Dr Sumit Sharma, Kidney Transplant Surgeon & Urologist.


Follow and connect with us on Facebook, Twitter, LinkedIn, Elets video