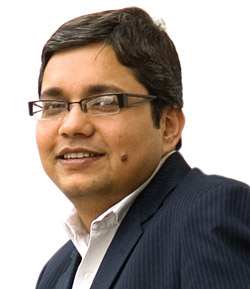 The medical devices market in India is gaining global acceptance and recognition that was long overdue. Today, India is ranked 4th in the medical devices market with over 700 medical devices makers in the country. In the global arena, India is rated among the top 20. A recent report by Grant Thornton predicts that the Indian market shall grow to around USD 5.8 billion by 2014 and USD 7.8 billion by 2016.
Also, health IT is a fast growing segment. As per a report by Gartner, healthcare providers in India will spend `57 billion on IT products and services by the end of 2013, an increase of seven percent from `53 billion in 2012.Telecommunications will remain the largest overall spending category that is likely to reach `17.2 billion in 2013 from `16.6 billion in 2012 at a growth rate of 3.9 percent.

Big data, cloud computing, social media, mobility, embedded systems and augmented reality are the technologies of the future that are set to revamp the face of the healthcare sector.
The October issue brings the 5th Annual Healthcare Technology Resource Guide 2013, which aims to showcase the latest products and solutions in Healthcare IT and Medical Technology segments. With exclusive company profiles and matrix, the Guide projects to act as the ultimate reference material for healthcare providers for all their planning and decision.
The current issue also showcases the growing concern for cancer " the leading cause of death worldwide. Indias cancer burden today stands at 3,300,000 and by 2020, 70 percent of the worlds cancer cases will be in poor countries, with a fifth in India. We talk to the organisers of the Indian Cancer Congress and leading experts in palliative care.
Our forthcoming mega event is the Global Conference on Financial Inclusion Payment Systems (FIPS 2013) scheduled for October 24-25, 2013. The conference will stress upon the financial inclusion initiatives in the Indian healthcare fraternity, especially addressing the issue of health insurance penetration in India. As per the World Health Organization (WHO) records, in 2011, India has spent only 3.9 percent of GDP on the health sector, which is comparatively quite lower than many other developing countries. There is a pressing need to increase the coverage of health insurance in the country as out-of-pocket expenditure on health needs is still among the highest in the world.
Dr. Ravi Gupta
ravi.gupta@elets.in

Follow and connect with us on Facebook, Twitter, LinkedIn, Elets video