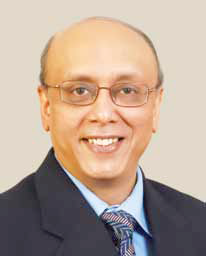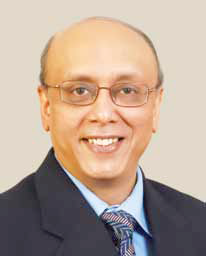 A believer in power of technology to offer advanced care to patients, Dr Sujit Chatterjee, CEO, Hiranandani Hospital, envisions investments in best-inclass & futuristic technologies at the heart of growth engine of the hospital
Tell us about the inspiration behind the launch of the hospital? What super/multi specialty & emergency services you offer?
The inspiration to commission the hospital was the ENT surgeon of the millennium, the illustrious, Padmabhushan Dr L H Hiranandani. We offer over 80 super-specialty services from Interventional Cardiology, Orthopedics, Oncology, Transplant surgery, Bariatric surgery, Human reproduction, Rheumatology Neurology and Neurosurgery among others. In addition, we have general specialities as General Medicine, Surgery, Obstetrics and Gynecology, Pediatrics, ENT, Ophthalmology, Dentistry, Dermatology and Anesthesiology. A quaternary care hospital like ours offers every conceivable form emergency care service. This will include from a lacerated wound to complex road traffic accidents, from heart attacks to bleeding inside the brain we tackle all of it.

Why do you think multi-specialty hospitals are gaining popularity these days? What are the advantages these types of hospitals cater?
These hospitals can provide holistic solutions in healthcare. Also in case of complications there is a multi-disciplinary team approach. The overall outcome for the patient is thus better. The hospital also will have a wider menu of investigations if required to be performed.
What are the technological advancements your hospital has introduced lately in the different verticals?
We have all the technological features that include EMR, HIS, PACS, LIS and online services for our patients. We have designed our own HMS, which reflects on the in-house technology capabilities at the hospital. We believe in complementing technology with outstanding human values.
What are the modern equipments you have deployed in diagnosis and treatment?
A hospital like ours has all possible investigative modalities from the intravascular ultrasound in Cardiology to computer navigated joint replacement surgery and from minimal access surgery to high definition optical systems for diagnosis. From automated anaesthesia stations to cardiac output monitors and from intelligent coagulations systems for surgery to the CUSA for the hepatic transplant surgery. From CT scanners that are ultra-high speed to high definition ultrasound to linear accelerators with rapid arc. Here we are arguably the first hospital in Mumbai to start with this modality of therapy.
Kindly update us on any of your landmark initiative on any treatment modality/department infrastructure?
We started a very successful programme in Primary Angioplasty in Myocardial Infarction (PAMI). Our data when presented prompted the US FDA to request us to be a part of their study for the Robotic arm utilisation in angioplasty. The programme is running from strength to strength. We started with Platelet Rich Plasma (PRP) which helps in sports medicine and we now have a fairly large patent following. The results have been outstanding as more and more sports persons have benefited from the same. As far as the PAMI procedure was concerned we have seen that there has been an increase in the number of youngsters getting severe heart attacks. Thus the team was trained and repeatedly on how to recognise an evolving heart attack or an ongoing even. Then we have the team arrange the cath lab and move the patient within 90 minute door to needle period and the Cardiologists have trained the staff to have the patient on the table and as soon as they arrive the procedure starts and this has prevented the heart from being damaged as is the usual case in heart attacks.

Follow and connect with us on Facebook, Twitter, LinkedIn, Elets video