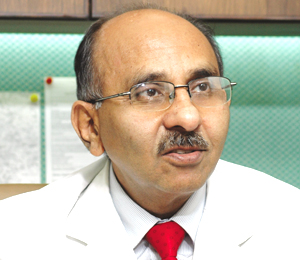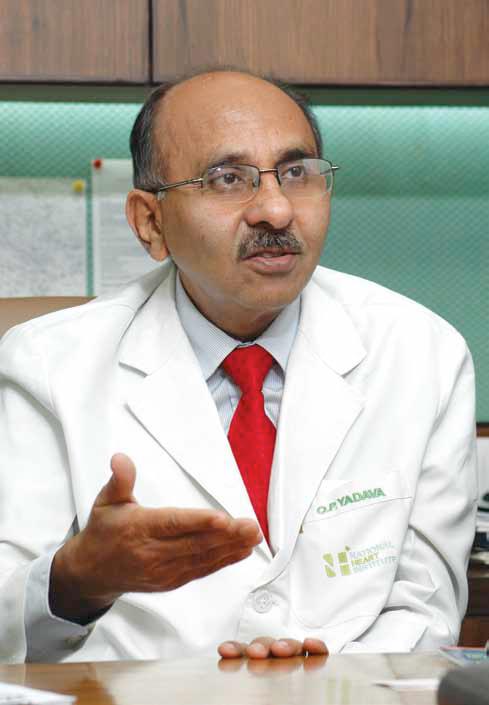 National Heart Institute is not owned by an individual, it is a society institute and we need to carry this legacy till this institute is alive, Dr OP Yadava, CEO, National Heart Institute proudly mentions in his interview with Shally Makin, ENN
What kind of facilities and services are you offering at National Heart Institute?

The National Heart Institute is the research and referral tertiary care heart hospital of the All India Heart Foundation, which acts as a nucleus for diagnosis and treatment of heart ailments and allied diseases and is equipped with state of the art equipments. Cardiac patients with other ailments are also admitted to this hospital, as specialists for diseases other than heart are available round the clock for consultation and treatment. Patients sometimes have associated sleep apnea and other lung and nephrological disorders along with cardiac disease. Therefore the hospital has a department of Pulmonology and Sleep Medicine which is equipped with sophisticated machines and is manned by dedicated Pulmonologists, Thoracic Surgeons and Physiotherapists. We also offer dialysis facilities, haemodiafiltration and other related services. Surgeries in cardiac patients like hip replacement, abdomen surgery is also provided along with cardiology cover. The focus of the centre however lies in heart and cardiac diseases. Though I am trained in cardio thoracic vascular surgery, I have confined myself to cardiac surgery exclusively.
What were the major challenges you faced as the new CEO of the centre?
Since I have taken over this role in the year 2004, we had to compete with corporate hospitals. We pumped in capital, upgraded from six to now 48 ICU beds, nuclear medicine and gamma camera, complete HIS entirely networked systems and digital archiving storage. Every bed has 4-6 channel monitoring integrated with telemonitoring systems. We are in a process for archiving medical records of at least, last five years and have started moving towards digitisation. This needed a lot of funds and restructuring of infrastructure from scratch. We have five critical care units now which consist of two gold standard set ups having entirely Philips technology with other three by L&T.
Cardiac services include all kinds of adult closed and open heart surgeries, congenital heart surgeries and modern cath lab facilities for percutaneous interventions. Infrastructure consists of 48 intensive care beds plus 56 non intensive care beds, state of art modular operation suites- Positive pressurisation-8-10 mm Hg, Laminar flow design (all micro-particles go to periphery and do not travel back to centre) and 100 percent exhaust with bacterial micro-filters.
What are the achievements witnessed by the institute so far?
The Institute has been recognised for specialised cardiac treatment by the CGHS, Employees State Insurance (ESI) and Employee Contributory Health Scheme (ECHS), besides the Governments of Himachal Pradesh, Haryana, Madhya Pradesh, Mizoram and Govt of NCT of Delhi. Ministry of Defence, Office of the Director General of Armed Forces Medical Services and Directorate General of Medical Services Naval Headquarters has recognised NHI for treatment of their employees and their families. Public sector bodies, almost all the TPAs and international organisations like World Health Organisation and UNICEF are also empanelled with the National Heart Institute.
National Heart Institute is recognised by National Boards for post doctoral training and runs a teaching and training programme in various speciality specialities. It is recognised as a Collaborative Centre of WHO in Preventive Cardiology since 1983. It is an affiliate of the World Hypertension League and Heart Beat International. We being a socially driven Heart Institute, we are running school health programme. We have signed MoU with Uttarakhand to set up cardiac units in remote hill areas through regular camps. We are planning to develop hospitals in remote areas and wish to excel in pediatric heart surgery.
How do you plan to provide affordable healthcare to all?
Ten percent of indoor beds are earmarked for poor patients having monthly income of `8000 and below and the hospital regularly provides free treatment to such patients and lots many at subsidised rates. The highest number of free surgeries is done here. The hospital also runs free OPDs for two hours on all working days. In collaboration with Heartbeat International, the hospital provides free Cardiac Pacemakers for needy patients. However we do not want patients to come to us thinking that we charge less for a treatment, come to us for we are good. We have published tariffs but there are many patients where we give above 50 percent discount. We do not discriminate between the discounted members and the other patients who have paid the whole amount. There is a committee which uates the family and the patient background who applies for a discount.
Apart from indoor treatment, keeping in tune with its ethos of service to the humanity, the Institute also provides comprehensive medical check-up, i.e. utive health checkups, at nominal rates with a view to ensuring good physical conditioning and health to all individuals.
About the Hospital

National Heart Institute, brain child of doyen of Cardiology in India, Dr S Padmavati, was inaugurated in 1981 by then Prime Minister of India, Indira Gandhi, as the Clinical Research and Medical Care Delivery wing of All India Heart Foundation, with the aim of providing state-ofart modern cardiac care technology to the financially impoverished section of the society. It was intended to be a self sufficient, stand alone facility and therefore it was decided that people with paying capacity should also be taken up and the surplus generated from them
be channelized for the treatment of the poor. The hospital was then operational in 1981, funded by Bennett Coleman then.

Follow and connect with us on Facebook, Twitter, LinkedIn, Elets video