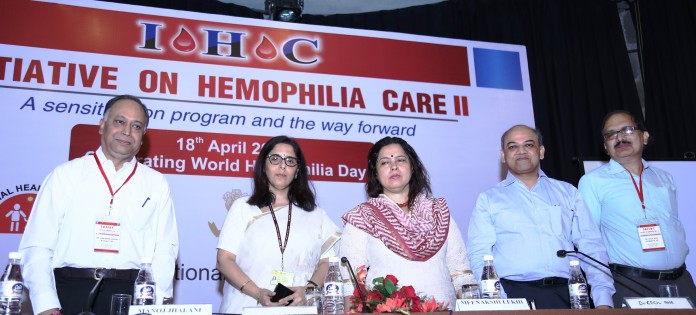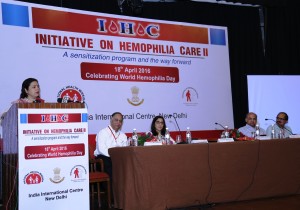 To mark the occasion of World Hemophilia Day, Hemophilia Federation (India) under the aegis of Ministry of Health & Family Welfare, Government of India and National Health Mission organised a workshop Initiative on Hemophilia Care II" A sensitisation programme and the way forward at India International Centre, New Delhi. Union Minister of Chemical and Fertilisers Ananth Kumar was invited as the chief guest while Meenakshi Lekhi, MP, Loksabha and C K Mishra, Additional Secretary, National Rural Health Mission was the guest of honour.
The event focussed on sensitisation on Hemophilia for the policy makers both at national and state level. The state secretaries of Health and the Mission Directors in addition to secretaries of Health Ministry were also a part of this one day sensitisation programme. Prominent doctors, Hematologists, physiotherapists and Hemophilia caregivers from various medical colleges and hospitals of the country also participated in the workshop. Joint Secretaries Manoj Jhalani and Vandana Gurnani, Ministry of Health and Family Welfare, Government of India attended the event that kicked off with the welcome address by Dr Kanjaksha Ghosh, President, Hemophilia Federation India.
The full day programme was aimed towards addressing Hemophilia as a disease and discussed the initiatives undertaken by the society and the government for treatment and management of this blood disorder while drawing references from Hemophilia management status in India (state wise) vis a vis other developing/ developed nations.
Discussing the current state of Hemophilia in India, Dr Kanjaksha Ghosh, President, Hemophilia Federation of India, said, At present, only 15 per cent of the total Hemophilia population has been identified in India and the rest lay undiagnosed. There are about 16,000 patients registered with Hemophilia in the country as yet, however, we suspect that the number of people suffering with Hemophilia in India could be ranging 7 times more than the current registered patients
Talking about the Hemophilia, the Guest of Honour, Meenakshi Lekhi, MP, Loksabha said, Health is a State subject but without the support of the Central Government, the State can hardly achieve the objectives. I am happy that our Government has been successful in waiving off the customs duty on Anti-Hemophilia Factors which will make the product fairly easy to obtain.
She also emphasised the need to develop a care system for which she is developing a database Hematological disorders in an around Delhi as a study.
While discussing on the issue, she emphasised the need to develop a unified management system for severe Hematological disorders. She further added, We are trying to get Hemophilia patients for getting sanctioned for benchmark disability or under a special category of disability. Considering the issue of Hemophilia in women, she hinted about launching a project investigating bleeding orders in women.
According to a study conducted by the World Federation of Hemophilia (Annual Global Survey), almost half of the worlds Hemophilia population lives in India and almost 70 per cent of PwH do not have adequate knowledge or access to treatment. Thus, it remains a concern that the risk of death from lack of basic knowledge and untreated Hemophilia is very high in the country.
Dr Alok Srivastava shared insights on the recent trend on Hemophilia Care with a national and international Perspective while discussions also held on disease burden and model of treatments in specific states like Tamil Nadu as well as Karnataka.
Talking about the disease management in Delhi region that focusses on providing treatment to patients in their vicinity, Dr Alok Srivastava, Professor, Department of Haematology, CMC Vellore said, In Delhi, there are 2,000 registered patients suffering from Hemophilia and the State is also witnessing cases coming from other states as they do not have basic facilities and management care in their region. Through this initiative, we are proposing to build more Hemophilia care centres in regions which would create effective mechanism for diagnosis, treatment and bringing timely comprehensive care for Hemophiliacs within their reach. We are committed to provide the treatment accessible and provide state-of-the-art facilities for the patients.
While talking about the state of Hemophilia in the country and the need of the hour to take appropriate initiatives in collaboration with the government, Dr. Kanjaksha Ghosh added, We thank the Government for their support in establishing infrastructure and providing good quality factors for the management of disease in some parts of the country. However, we need to address this issue at a national level and thus, we would request Government intervention at a macro level by means of funding, expanding infrastructural support, making free factors available and building trained workforce to control blood related disorders including Hemophilia.
The programme also witnessed panel discussion amongst eminent stakeholders like Vinita Srivastava, Coordinator, National Blood Cell, Ministry of Health and Family Welfare, Dr Cecil Ross, Vice President, Hemophilia Federation, India, Dr Alok Srivastava, Dr Girish Chowdhary and Dr Prantar Chakraborty and the patient representative, Premroop Alva. The session was concluded with vote of thanks addressed by Rtn Wg Cdr (Retd) SS Roy Choudhury, CEO of HFI and the closing remarks by Union Minister of Chemicals and Fertilizers, Government of India Ananth Kumar.
Patients with Hemophilia continue to be exposed and vulnerable to existing infectious diseases, due to greater use of conventional plasma products, elevated HIV/HCV levels amongst donors, poor screening and testing procedures, and unsafe injection practices. These viral transmissions are unlikely to reduce without universal use of high quality factor concentrates for Hemophilia care.

Follow and connect with us on Facebook, Twitter, LinkedIn, Elets video