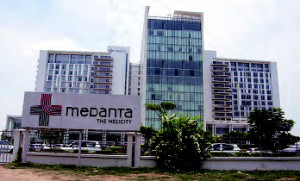 A rare combined transplant of liver and kidney by team of doctors at  Medanta Medicity, which has given a new lease of life to 45-year-old man in Gurgoan.
Agraj was suffering from liver and kidney failure. Doctors observed that he would not live long unless he could have a simultaneous liver and kidney transplant.

He did not have any suitable kidney donor in the family and waited for nearly six months.
"We decided to perform a unique combination of a live donor's liver and deceased donor kidney transplants on Agraj. This helped us to save Agraj's and two other lives – one with a liver and another with the second kidney of the deceased donor. If we had used both the liver and kidney from the deceased donor (DD), we could have only saved two people, Soin said.
Surgeons transplanted the liver in six-and-a-half hours, which usually takes upto 10 hours, and then the kidney was subsequently transplanted.
A team of 30 transplant experts including senior doctors – Vijay Vohra, Amit Rastogi, Sanjiv Saigal and Neeraj Saraf — made the rare surgery successful.
Medanta CMD Naresh Trehan said both organs worked well in Agraj and he made an excellent recovery
The deceased donor's liver and kidney were also successfully transplanted into separate recipients the same day. The heart valves were also retrieved and stored.

Follow and connect with us on Facebook, Twitter, LinkedIn, Elets video