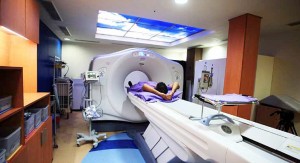 A Dual Energy CT Scanner with Cardiac Spectral Imaging capabilities Discovery CT750-HD FREEdom Editionby GE Healthcare is a fresh development in the heart scanning technology
New high definition CT Scanner improves Cardiac Imaging and reduces radiation exposure to patients by up to 50 percent; a fresh development in diagnosing heart disease

A Dual Energy CT Scanner with Cardiac Spectral Imaging capabilities Discovery CT750-HD FREEdom Editionby GE Healthcare is a fresh development in the heart scanning technology.
Brought to our nation by Mahajan Imaging, the scanner is designed to provide a new level of cardiac CT performance and to help physicians better serve patients. Based on exclusive (Fast Registered Energies & ECG) FREEdom technologies, this innovative system provides a three-pronged solution to the challenges in traditional cardiac CT.
First-motion FREEdom, with intelligent motion correction via SnapShot Freeze; Second- Calcium FREEdom, with enhanced coronary visualisation using Gemstone Spectral Imaging (GSI) Cardiac; and third- horizon free opportunities, going beyond todays clinical information with plaque material composition assessment and accurate perfusion calculations.
technological advancement in Discovery CT750 HD which allows physicians to immediately lower radiation by up to 50 percent for examinations in patients of all ages. Lowering patient radiation is important to all patients, especially infants and children, women, and patients getting follow up scans.
The installation of this machine is a statement to the world that there are no compromises in India when it comes to healthcare. There are only few of these machines in the world today and getting one of the first machines in India is testament to the economic growth of the country and the strides made in the healthcare sector, said, Dr Harsh Mahajan, Founder and Chief Radiologist, Mahajan Imaging; President of the Indian Radiological and Imaging Association and Honorary Radiologist to the President of India.
Coronary Heart Disease (CHD) is estimated to become the most common cause of death in India and globally by 2020. CHD occurs when the arteries (blood vessels) of the heart that normally provide blood and oxygen to the heart are narrowed or even completely blocked.
The narrowing is caused by deposition of fatty plaques and calcium in the vessels. It is blockage of these vessels and breaking of fatty deposits that leads to heart attacks.
With the advent of 16, 64, 128 and 256 slice CT scanners, diagnosis of coronary heart disease reached an all time high, since these machines enabled visualisation of the heart and its vessels in great detail non-invasively allowing to find out what the condition of the vessels was, but, this was not without its problems.
Many times with 16, 64, 128 and 256 slice CT scanners we would not be able to see the condition of the vessels because calcium deposits in them would obscure our view. Also, even if we were able to see the blockage, it was difficult to tell what kind of deposit the patient has. The Dual Energy Spectral CT scanner actually shifts the CT paradigm beyond slices and enables us to see the deposits  with dramatic clarity using much less radiation exposure, explained Dr Mahajan.
Most of the times if a patient has a heart attack, it is very difficult to tell whether or not a stent or a bypass surgery will help him or not, since we do not have a quick test to detect the viability of the heart muscles, said, Dr JPS Sawhney, Chairman, Department of Cardiology, Sir Ganga Ram Hospital, New Delhi.
Follow and connect with us on Facebook, Twitter, LinkedIn, Elets video