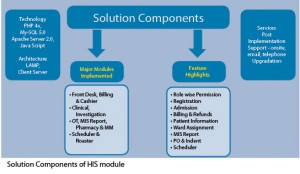 NextGen e-Solutions was founded in 2005 with a view of tapping the nascent healthcare IT market. With a committed team of software developers, and two years of dedicated product development, NGES went to market in India with a user-friendly HIS
New realities are placing pressures on the healthcare industry, and how patient care is delivered. Legacy systems, lengthy administration processes, rising hospital management costs, and inconsistent quality, are coupled with an influx of international patients, the rise of health insurance, the corporatisation of hospitals, and the emergence of the informed, middle-class patient. The industry has reached a point, where hospitals need to decide how services can be delivered more effectively to reduce costs, improve quality, and extend reach.

Healthcare Information Technology, which enables immediate, information-rich communications and provides easy-to-use collaborative tools, is increasingly becoming a vital part of todays healthcare.
NGES (previously known as NextGen), a Healthcare IT Solution Provider, is committed to preparing hospitals to meet future challenges – and to secure their attractiveness to patients, referral sources, and staff by means of long-term concepts. Leveraging a dedicated healthcare practice group, NGES has developed a next-generation HMIS that is powerful, flexible and easy-to-use and has been designed to deliver real benefits to hospitals.
Primus Super Specialty Hospital is a state of the art multi specialty hospital, with a capacity of 150 beds, prominent surgeons from across the globe, excellent infrastructure and state-of-art advanced technology. The hospital has set new benchmarks in Medical care. The hospital complies with international guidelines and strives to bring worldwide best practices to India.
NGES proposed a complete solution to meet their requirements and expectations by providing the HospiLogix TM, which was cost-effective and easily configurable to their day-to-day workflows in the hospital.
NGESs solution is particularly known for reducing waiting times and generating error free reports a critical feature for Primus Hospital, with their ever-increasing numbers of international and embassy patients.
The Challenge
The hospital wanted to manage scientific information as well as the treatment modalities offered by their departments. The need was to create an aesthetically pleasing yet practical system. In spite of the large volume of information, the structure and navigation needed to be simple and targeted to the audience perspective.
With multiple departments having multiple functionalities and information running into hundreds of pages, the hospital felt it was critical for the information to be organised systematically in an uncomplicated way.
The system needed to support audio as well as video files and integrate the Picture Archiving System seamlessly. The system also needed to support their pharmacy and material management system, which was running into losses because of pilferage. Since, the hospital was a very busy one, especially the OPD, they needed a system, which could handle a very heavy workload of the patients during the morning hours.
The hospital mentions, Being seven years in the field of Information Technology, several talented professionals and companies have been providing solution, with NextGen being one of them. But what sets NextGen and its people apart is a highly focused and efficient methodology that never fails to deliver, in-time and within-budget.
The breakthrough came in the form of an innovative project proposal that created a consolidated solution for the hospitals requirements and expectations.
(As contributed by NextGen e- Solutions)

Follow and connect with us on Facebook, Twitter, LinkedIn, Elets video