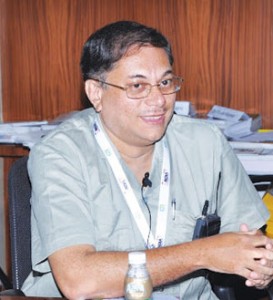 Regarded as a pioneer in spreading awareness on health informatics in India, Prof Suptendra Nath Sarbadhikari is the founder and Director of Supten Institute. In this freewheeling interview with Dhirendra Pratap Singh, he shares his perspectives on issues in medical education in India
What is the present medical education scenario in India?    
The Medical Council of India has recently made public the guidelines and regulations for Graduate Medical Education in India. The commendable revised curriculum for graduate medical education suggests many innovative and relevant changes.
However, unless the assessment of skills and competencies are well defined operationally, simply a change in curriculum will not bring about required changes in the way faculty members are likely to implement the GMR 2012. A good plan does not automatically translate into effective implementation.
Like the other competency based training models, the GMR 2012 appropriately emphasises the importance of training not only the science of medicine but also the art like providing holistic care, compassionate care, adequate communication, life long learning, professionalism and ethics. However, how are we going to ensure that the students have developed these competencies?
Barring the knowledge and skills part, none of the competencies listed in the document will be assessed at end-term examinations. All of them need to be followed for a long time through a robust system of internal assessment (IA).
The bottom line is that unless we change assessments, no curriculum change is going to be effectively implemented and the said document will serve only a cosmetic purpose.
What are the loopholes in the medical education system? How can they be removed?
It must be recognised that medical education has to be closely aligned to the needs of the healthcare system. The country needs to be provided with essential healthcare services, and it is the duty of the government to ensure this. The MCI did not permit the creation of new cadres such as nurse practitioners and nurse obstetricians. Also, the content of our undergraduate medical education courses must become more closely aligned to primary health-care needs rather than being attuned to tertiary care practice.
On the other hand, Physiotherapy profession is not regulated by a statutory body, so each and every other institution offering health courses has started physiotherapy in the recent years. As a result the quality is very much compromised. Physiotherapy courses were also run by technical and agricultural universities. After much outrage, such courses were stopped, thanks to UGC for their intervention. Adding to the adversity the opportunities for career progression, as well as post graduation training, are also very less and as a result there is much brain-drain.
What is your opinion about medical training in India? Why are we not able to retain talent?
The quality of medical or rather healthcare professional education is not uniform throughout India. While there are quite a few good colleges, both in the public and private sectors, the average product may not be considered as competent by all standards. Student teacher ratio is often dismal in many of the colleges. The answers to some of the following questions point as to why it is difficult to retain talent under such circumstances.
Rural India, today, faces a serious lack of doctors and healthcare facilities. What needs to be done with medical education to bridge the rural-urban healthcare divide?
A meeting of Parliamentary Consultative Committee on Health chaired by Health Minister, Ghulam Nabi Azad, was called on May 14, 2012 in New Delhi to discuss the scenario of medical infrastructure in the country. There it was announced that the target is to achieve 80,000 MBBS seats and 45,000 PG (MD/MS/Diploma) seats by 2021. However, unless the current imbalance among the regions is corrected, the problem of poor doctor/patient ratio, the magnitude of which is debatable, will remain.
Increasing the numbers of physician extenders (Physician Assistants, Nurse Practitioners, Advanced Nurse practitioners) might be an integral part of the overall solution. The basic infrastructure in the rural health centre should be commensurate with the demands of today for standard of primary care with facilities to transport patients to secondary and tertiary level institutions if needed. The set-up should be a reasonably large campus with the Health centre (water, electricity, telecommunications) manned by a team of at least four doctors (one CMO and a Physician, Surgeon/ Orthopedician and Obstetrician/Gynaecologist), 6 to 8 nurses and 10-12 support staff reporting to the CMO there.
We should raise a new army of rural healthcare delivery personnel and merge similar existing efforts like Aanganwadi workers, ANMs (Auxiliary Nurse Midwives), rural education and adult education schemes into this endeavour.
What is the role of ICT in improving medical education?
The efforts to introduce ICT in medical education will pay in long run, if we harness its potentials to fit to our needs. Of course, there is a definite need to continue research to find out the usefulness of any system designed (including cost effectiveness and cost benefit). While Id be personally very happy to go on elaborating on this particular question, let me be very brief. Web 2.0 tools like wikis, blogs, podcasts and webinars are now becoming regular modes of instruction. Further, the explosion of online social networks activities is giving us the opportunity to reach the students and patients (User-driven healthcare) at the place where they may be spending a considerable amount of their wakeful time. Virtual Learning Environments (VLEs) are now becoming part of mainstream learning activities.
What do we need to scale up our medical infrastructure?  
In the meeting of Parliamentary Consultative Committee on Health chaired by Health Minister Ghulam Nabi Azad called on May 14, 2012 in New Delhi it was announced that the target is to achieve 80,000 MBBS seats and 45,000 PG (MD/MS/Diploma) seats by 2021. The objective is also to improve the availability of doctors by ensuring a doctor-patient ratio of 1:1000 as against the current 1:2000 ratio. The Ministry of Health and Family Welfare is targeting additional 38,431 seats in the MBBS and 22,806 seats in the PG streams by 2021, representing a whopping rise of 92.45 per cent and 102.75 per cent respectively over the current availability. This ambitious plan will need about 20 medical colleges to open each year with an intake of 200 students.
Health system can be such a huge generator of jobs, besides improving the quality of life of our people. And hence such undersupply is incomprehensible. So, how can we improve the situation?
By opening more private medical colleges, all are winners. The Government wins " more private colleges means the responsibility and cost of the government towards providing healthcare to the poor or salaries to the employees is drastically reduced. Economy wins: the government earns a lot of money as fees/taxes for various things. Even different government sectors like telecom, electricity, municipality, registrars too earn a lot of money. Land around a college develops fast, increasing real estate costs, increasing small businesses around and movement of labour class from unorganised to organised sector. Parents win: as they are able to make their children doctors without much competition and to channelise their black money as well, their social standing goes up. Lastly, for the want of quality, patients die, population decreases and hence India wins.//
   " There is a definite need to continue research in medical education to find out the usefulness of any system designed including cost effectiveness and cost benefit


Follow and connect with us on Facebook, Twitter, LinkedIn, Elets video