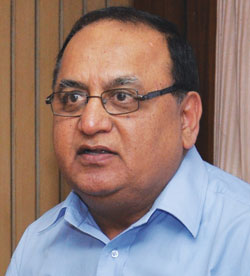 Dr Damodar Bachani
Director, Professor & Head, Department of Community Medicine, Lady Hardinge Medical College & Associated Hospitals, New Delhi
In context of medical education, technology based learning appears to be more effective than traditional methodsThe central mission of medical education is to improve the quality of healthcare delivered by doctors. As doctors, we must never fail to remember that our ultimate responsibility is to serve the patients. What doctors do, and how and when they do it, depends on the quality of medical education.
The need to ensure greater integration in the diverse streams of medical curriculum is now well recognised as a priority. Curriculum reforms are being implemented in medical schools worldwide.
In diverse medical education contexts, technology based learning appears to be more effective than traditional instructor-led methods such as lectures. A developing infrastructure to support such learning within medical education includes repositories, or digital libraries, to manage e-learning materials, consensus on technical standardisation, and methods for peer review of these resources.
The integration of digital learning into medical education can catalyse the shift toward applying adult learning theory, where educators will no longer serve mainly as the distributors of content, rather they will become involved as facilitators of learning and assessors of competency.
Through open and distance learning systems, short term certificate or diploma courses in integrated medicine and surgical needs can be developed. This will help in reaching out to more and more aspirants to meet the needs of our society. Continuing Medical Education and capacity building through blended learning system is the need of the hour. In India, we havent really reached out to the grassroots levels through conventional courses.
In the face of increasing demand for satellite-based connectivity, role of a dedicated HealthSAT and EduSAT to spearhead telemedicine, tele-education and remote disaster management activities in the country is beginning to be deeply felt.
Education & training in telemedicine
Physicians have acknowledged information technology (IT) efficiency and now utilise it in their professional practice and patient management. The benefits of incorporating IT in the healthcare space has now come to the notice of the academic community; however, existing literature currently pertains to limited areas.
Growing awareness of the potential benefits of advanced medicine, emerging democracies, growing middle classes and an ageing population world-wide are significant forces shaping future demand for world-class healthcare. Coupled with an increased awareness of the potential benefits of advanced modern medical technologies, these factors will have a dramatic impact on medical education systems.//

Follow and connect with us on Facebook, Twitter, LinkedIn, Elets video