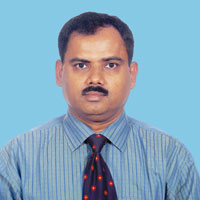 Som  Panicker, Vice President, Sanrad Medical Systems, believes that the Indian healthcare sector is poised for a massive investment from local investors as well as MNCs and this opens great opportunity for introducing new innovations in MR product range
Currently, the Indian MRI market is growing at the rate of 22-24 percent and this is an interesting development. In 2011 alone, more than 230 MRI systems were sold in India. Out of this, more than 75 percent are superconducting, mainly 1.5T and 3T. In 2011 there was a steep increase in the sale of 3T MRI making at least 25 percent of the total sale.
On the other hand, permanent magnet sales have declined considerably. This makes for less than six percent of the total sales.
A fast emerging application of MRI is its therapy use like HIFU (High Intensity Focused Ultrasound) presently used for  treatment of Fibroids and prostate cancer. This will open up therapy and interventional MRI applications.
The key factors for driving this growth are the rising focus on healthcare and increased demand from rural India. The awareness on MRI is increasing and there is a greater demand for 3T MRI in metros and 1.5T MRI in small cities and this will further increase the number of MRI units in 2012-2013.
There has been a reduction in average selling price (ASP) for the 1.5T MRI as well as 3T MRI in recent times making the units more affordable. Introduction of helium less technology by some MRI equipment vendors makes the cost difference between a superconducting  and a permanent MRI much lower compared to previous years.
Indian MRI market is dominated by MNCs like GE, Philips and Siemens.  The market share is divided equally among them and Sanrad is poised to become the fourth player in this space dealing in both 1.5T as well as permanent MRI models. Few other players like Blue Star, Trivitron and maesters are also in the league.
Sanrad has an ambitious plan to assemble the 1.5T MRI units in India in next few years with a technical collaboration  with ISOL corporation, South Korea. Sanrad recently introduced their helium less 1.5T MRI with Helium life of 10 years making it the longest helium refill frequency.
Today almost every customer is looking for multi channel MRI system and many of the present MR systems are equipped with 16 Channel as standard. Most of the MR systems are offering important specification high gradient strength and fast slew rate to handle high end applications like whole body diffusion.
Many MRI systems are now equipped with multiple voxel spectroscopy compared with the earlier single voxel spectroscopy and also some new scan techniques like DTS and SWI .
Innovative technology started from noiseless gradient switching, whole body imaging, MRI integrated with PET,  HIFU, embedded body coil in the patient table, pre amp and other signal processing in the table, ambience, noise reduction techniques, MR Elastography etc. Apart from this MRI is used for various interventional techniques like RF  ablation, HIFU and  even integrated  MR surgical theatres are being planned in the country today.
Sanrad was the first company to introduce a high definition OPEN  MRI system  with worlds highest 0.45T few years back  and till date no other system surpassing this field strength is available in India. After a successful track record with permanent MRI in India, we have recently launched our 1.5T MRI, CHORUS EX  in  technical collaboration with ISOL Corporation, South Korea. This unit is based on Mitsubishi Magnet with helium less technology making the original Helium last for 10 years.
The awareness on MRI is increasing and there is a greater demand for 3T MRI in metros and 1.5T MRI in small cities and this will further increase the number of MRI units in 2012-2013
This MRI is a 16 channel system with high power gradient and slew rate at the same time making a power consumption just 80 KVA.
One of the big challenges is to keep the prices lower while providing quality service. However, the regulations and tax structure are creating a conducive climate for vendors to start manufacturing these high value equipments in India.
In rural side, a reliable power is still a major issue. It makes the projects expensive to run and many customers want vendors to offer CMC with Helium included. But with unstable power the helium consumption can become very high and this entails frequent filling by the supplier.//


Follow and connect with us on Facebook, Twitter, LinkedIn, Elets video