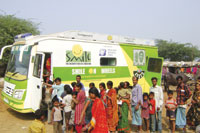 India has a scope of looking beyond the formal public healthcare focused medical education, says Santanu Mishra
India is the country with the highest number of medical colleges in the world. All 315 odd medical colleges in India produce some 30,000 doctors and 18,000 specialists. Yet we are almost at the bottom in terms of the number of doctors per people at one doctor per 2000 people.
There is a huge difference between private and government healthcare systems and a majority of the population remains always outside the healthcare coverage owing to various reasons and challenges. This holds true for a huge section of the rural general population and the urban poor. The challenge is for all of us " government, development sector and the medical fraternity alike " to build a healthy nation.
Smile On Wheels
Smile on Wheels is an innovative mobile hospital programme of Smile Foundation. This is a unique mobile healthcare unit that seeks to address problems of mobility, accessibility and availability of primary healthcare with a special focus on children and women, in urban slums and remote rural areas.
The Smile on Wheels programme at present has 15 operational projects targeting a population of 11,72,099. Since inception in 2006 this programme has directly benefitted 4,75,131 beneficiaries
The journey begins from medical education. India already boasts of a stringent and very respectful medical education system in the world. There are many countries including China which produce over 1000 doctors per medical college an average. On the other side, India has been focusing on training some 100 doctors per college.
The Medical Council of India (MCI) has an estimated 6.12 lakhs allopathic doctors registered with it as on 2011.The high-level expert group (HLEG) on universal health coverage (UHC) under the Planning Commission has recommended setting up of 187 more medical colleges across India. Once implemented, this makes one doctor available for 1000 people on an average. Nevertheless, we will still face the challenge of making healthcare available and accessible to a large section of the population.
The alternative and complementary medicines hold potential to reach the unreached. More work should be done in terms of standardisation of educational curriculum and of drugs, research and development and finding possibilities of integration in the medical education in allopathic and the alternative & complementary medicine systems. Such possibilities would make doctors from other approved medical education such as Ayurvedic, Homeopathic and Unani methods complement the efforts bringing more unreached population into the primary healthcare and beyond.
Secondly, we have a scope of looking beyond the formal public healthcare focused medical education and consider upgrading complementary solutions such as community medical practitioners. Half of our rural population is extremely poor and also healthcare is major concern in urban slums. The solution lies in developing a medical education system which can produce community medical practitioners who can solve the issue of affordability and geographical accessibility of vital healthcare for the poor. This will on the other hand help curb the quack menace prevailing amongst the low income group communities.
Innovation and integration of relevant information communication technology (ICT), affordable diagnostic techniques, more intense ethical education and orientation towards serving the unreached masses are the few the things which should be imparted to the future doctors. //

Follow and connect with us on Facebook, Twitter, LinkedIn, Elets video