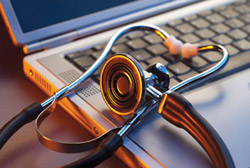 The healthcare industry is now looking at implementing systems which help streamlining records to create a framework which offers transparency to the patient, doctors and the administrators. The various enterprise solutions designed, act as basic units of healthcare organisation to access information with just as click, install and run format. The only reason why many software implementations shows discrete and incomplete, abandoned or over time procedures along with the overpriced implementation costs is lack of expertise to understand the hospital processes. The hospital  information systems (HIS) provide an organisational structure to improve clinical and financial processes. It is an interface to exchange information effectively in seconds inside and outside hospital. IT solutions allow hospitals with large areas and multiple locations to bridge distances, thus saving time and manpower. HIS can further be collaborated with various other IT applications such as EMR, RIS/PACS, LIS and more to effectively connect the requisite amount of information about the patient from every department.
We have opinions from various experts, vendors and healthcare professionals who discuss about the plethora of applications being used in the healthcare industry.

Health IT market in India is close to `1300 Crore
Mallika Kapoor, Director, New Gen eSolutionsThe Healthcare IT market in India is close to `1300 crore; it is projected to grow at 22 percent annually. The healthcare IT application market is currently pegged at `370 crore. Less than 5 percent of Indian hospitals have shifted to an IT based infrastructure so far. NextGen eSolutions has introduced a variety of new software systems in healthcare. The list of solutions includes Hospilogix, a flagship web-based enterprise. HIS/ EMR solution, with implementations in medium and large hospitals. Cardiologixs unique data analysis and reporting features aid rapid reporting and research. Schedulogix is an online scheduling and appointment management solution and Ambulogix is a multi-locational clinic, diet and personal health management solution.

Healthcare IT is redefining the way that care is delivered in hospitals. While the industry is in transition, hospitals face a number of challenges. Escalating IT costs, both for hardware and software, put a burden on hospital finances. The Indian courts are yet to admit an EMR as evidence in a medicolegal case " thus most hospitals must maintain both paper and electronic records. Until Indian hospitals confirm to quality standards, HIS/ EMR implementations will continue to be challenging and non-uniform.

The HIS cuts manpower costs, reduces the possibility of potentially fatal errors, allows faster delivery of medicines to the patient and helps prevent/ avoid stock outs. The HIS also enables efficiency in other hospital processes, such as purchase order and materials management, admissions, discharge, billing, etc.

In one Indian hospital, our HIS solution has reduced material cost by 18 percent, by eliminating pilferage. Barcoding and HIS solutions together can reduce medication errors by up to 86 percent. Adoption of EMR can free up space in hospitals. Patient privacy goes hand-in-hand with the adoption of Quality Accreditation, such as NABH or JCI. However, EMR adoption is yet to gain acceptance in India.
Implement Patient Interface Applications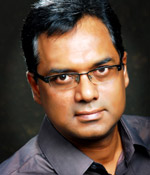 Sunil Boyini, Managing Director, Pluralsoft Limited
In India, primarily the focus has been on systems on patient centric applications. In order to make healthcare and care delivery more patient friendly, cost effective and accountable, the healthcare industry has to implement patient empowering and patient interface applications.
We have seen some growth in India in areas of patient portals and some hospitals are also adopting EMR applications; however, most of the EMR vendors in India are not growing at the expected rate due to sluggish adoption of these technologies by healthcare providers.
PluralSoft offers CareQuotient to track patient population identified as chronically ill or requiring specific wellness/prevention services over a period of time. ONTOS -Clinical Text Mining addresses the need of maximising value of all information by bridging the gap between structured and unstructured data. It enables information integration, retri and business intelligence with its unique, multi-tier, multi-platform operable flexible ontology-driven knowledge recognition-extraction-visualisation framework called ONTOS.
Insufficient data on consumers and disease patterns, absence of standardisation of healthcare costs and significant levels of frauds leading to under-pricing of insurance products and higher value of claims.
The opportunities are more on the programme management/administrative side of the healthcare business in areas such as HIS, billing and revenue management. India has huge potential for tele-medicine and chronic disease management that is not being tapped into for lack of infrastructure and quality standards.

Follow and connect with us on Facebook, Twitter, LinkedIn, Elets video