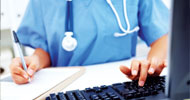 By Shally Makin, Elets News Network (ENN)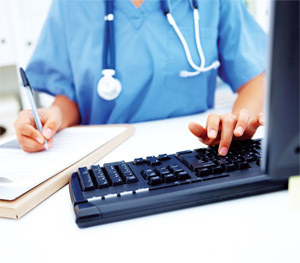 The go green format has penetrated greatly into healthcare with the introduction of systems which encourage paperless practices in the hospitals. With such initiatives, there are various systems devised such as client-server based EMR systems for hospitals and larger health systems, web-based EMR for smaller healthcare practices because of lower implementation costs are popular. The development of interoperable EMR systems is one of the largest focus areas for health IT vendors attracting a large number of healthcare professionals. The idea of going paperless has increased efficiency, streamlined processes, reduced the revenue leaks across the value chain. The long-term usage of EMR will lead to reduction in cost by reducing the administrative expenditure and increase in data accuracy. The steering committee on health, in its recent report to the Planning Commission, has proposed to adopt EMR in its 12th plan (2012-2017). They have proposed a biometric based health information system which will constantly update health records of every citizen-family. We see the EMR is increasingly accepted by the private hospitals unlike in the government organisations for the simple reason that it is not into the federal standards. Privacy is a major concern but we are sure that the technocrats can surely break the spell and design secure systems in the future.
Experts in the domain provide insights in the following pages about the industry, market, challenges, and its future.
We have opinions from various experts, vendors and healthcare professionals who discuss about the plethora of applications being used, challenged and implemented in the healthcare industry.
We are witnessing a steady increase in adoption of technology
In the coming years, the amount of data entry work will probably reduce as healthcare systems get more sophisticated and data transfer between various systems becomes seamless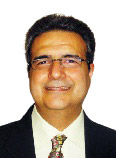 Darayus Bharucha, CEO, Vital Health
Healthcare is among one of Indias largest sectors, which is rapidly expanding in terms of revenue and employment. It is, however, largely driven by efficiency imparities, necessity to reduce costs, disorganised hospital systems and increase in healthcare awareness among the citizens. All these factors play a critical role in the growth of healthcare IT.
Based on World Health Organisation projections, over the next 10 years, 60 million people in India will die of chronic diseases. Overall deaths due to chronic disease will increase by 18 percent and deaths due to diabetes by 35 percent.
VitalHealth provides software collaborative health management solutions for chronic disease such as diabetes, COPD and CVRM, as well as web based, personalised health management solutions, all based on the generic VitalHealth platform. Healthcare IT is increasingly penetrating health delivery in India to meet the need for an efficient and convenient disease management tool.
Products offered
In India we offer, Vital for Diabetes Lite, a product which is based on evidence based protocol treatment resulting in improvement of quality of care to the patient. The solution provides individualised treatment plan specific to each patient, while also providing rich support to all care disciplines involved in the care process. Furthermore, the patient can actively participate in their own care process through an individualised patient portal experience.
VitalHealth EMR Lite is a web based electronic medical record solution for small and medium size primary care practices. The solution provides improved medical and economic outcomes, improved collaboration within care delivery teams, quality improvement through outcome management and increased patient satisfaction. On the other hand, in Europe and North America, we offer various products such as VitalHealth CHM Diabetes, VitalHealth CHM COPD, VitalHealth CHM CVRM, VitalHealth EHR, VitalHealth Quest Manager, Vital for Health Management and VitalHealth Platform.
Future and challenges
The clinical side of the healthcare industry faces numerous difficulties while adopting technology due to the absence of standardised formats. However, a steady increase in acceptance and adoption of technology for the administrative functions has been noticed. Today health IT vendors have focus on HIS and EMR/EHR solutions, the next opportunities are in the areas of collaborative health management and wellness management solutions.
According to consultancies like IDFC and McKinsey, Indian healthcare industry will be worth USD 125 billion in the next five years.
India presently falls short of approximately 30 lakh beds as per the WHO recommendation of four beds per 1000 population. Even if a basic consideration of a 250 bedded hospital is made, India will require almost 12,000 more hospitals in the near future. This definitely opens more doors for the healthcare IT industry.
The healthcare infrastructure in India is currently under invested, with more than a 50 percent gap compared to its global healthcare market. This highlights an urgent need to scale up the infrastructure to cater to a population of over a billion which in turn creates huge opportunities for SaaS models and paving the way for clinical data analysis. In this era of extensive social networking, patient portals are here to stay. They will aid in self-monitoring of chronic disease patients and allow patients to interact with healthcare providers.
The Indian government has launched patient awareness on NABH quality. Regulatory approaches based on functioning local institutions seem to work best in India. The discord between regulatory bodies and the private healthcare providers, and their inability or unwillingness to reveal relevant information, makes healthcare to function on their own.
Due to the information asymmetry concerning the appropriateness of healthcare, quality, price, the medical and financial effects on patients, healthcare markets depend highly on trust-based institutions to function well.
Healthcare IT is now a USD 3.5 billion industry
The usage of EMR is limited to select high end organised hospital chains and corporate hospitals in metro cities of India. With aim of standardising services and IT enabling clinical interactions have been adopted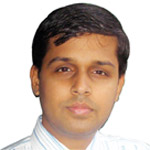 Vishal Ranjan, CEO, Asceplius Consulting
Healthcare IT is now a USD 3.5 billion industry, of which the software/application constitutes around USD 800 million – 1 billion size. Asclepius Consulting has done several studies for select financial institutions and the data is corroborated on the industry growth factors (healthcare software growth of 30 percent YoY).
EMR Software digitises the complete hospital processes, which can be classified as the administrative and clinical workflow. It assists the entire healthcare delivery process by reducing cost and maximises the profit.
Asclepius product Charak captures the patients entire medical information right from OPD to post discharge, including history, examination, diagnosis notes, ICD codes, OT notes, progress notes, ICU charts, bed head tickets, order details, medication administration records, radiology images etc. Such consolidated EMR allows a patient to have a visit wise analysis thereby making the medical software much more useful.
Such systems also address your need to be flexible on hardware interface and supports PDAs, pocket PC, mobile phone, graffiti boards, laptops, tablet PC, touch screens, keyboard and mouse and seamlessly integrates with standalone third party software for non-patient processes like accounting (Tally integration, SAP integration) and human resources (payroll integration).Multiple modules are built and can be configured based on individual hospital processes considerably reducing the customisation efforts. Records can be accessed by multiple independent entities like the physicians, hospitals, insurance companies, and patients.
Adoption rate of EMR is low due to lack of awareness about the benefits of having an EMR solution. There is a lot of resistance to change by doctors who are in general observed to be hesitant with the use of technology and they require an easy to use interface that they can deal with easily. Security and privacy are one of the major concerns when it comes to EMR. The known hospital chains Fortis and Apollo have been using EMR in a few of their hospitals. Comparatively, the adoption of IT in Indian mid-sized hospitals is prent in digitising the administrative services only. Depending on the criticality of the data, engineers can set backup processes for the data on tape, discs or another storage server.
EMR Market has Bright Future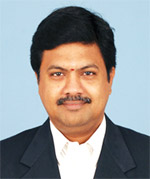 Siva Vageesan, CEO, Ambalsoft Infotech
Due to the challenges felt in the demanding healthcare delivery model, more importance is being given to the adoption of EMR/EHR. There are many disconnected or non-standard systems/devices and it is a challenge to get a complete EMR/EHR to go paperless. Full power of the system and cost savings are not realised because of this scenario. For the best result, vendors, modality, EMR/EHR and system integrators must work together to get a common standard and connected systems.
EMR market is believed to be valued at `150-200 crore in 2012. Hospitals are gradually migrating and seeing ROI in long run. Most Indian hospitals have no question of using HIS/HMS and the same will happen for EMR/EHR soon. We do not have enough rules/regulation to maintain privacy of the patient. We need similar bodies like US-FDA to regulate medical devices and medical systems/ICT in India. We also need custom standards (inline with IHE, HIPAA) to help create an excellent healthcare network and delivery model.
If such systems are in place, the value it can bring to medical community will be enormous.
Paper is being replaced by digital records
Paper clinical records are being replaced with digital records, e-prescriptions are being directly transmitted to pharmacies, and there is a greater emphasis on delivering more connected, value-focused healthcare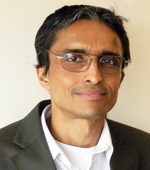 Raj Menon, Global Director Sales, Marlabs Software
With healthcare gaining mindshare in most countries, health IT has emerged as one of the fastest growing areas in technology today. The need to make quality healthcare available to all while lowering costs has attained a significant urgency. Driven by regulatory changes as well as market forces, healthcare players have been transforming at a rapid pace. Providers are in the middle of implementing new clinical and administrative systems. Health insurers have been moving to a more consumer-focused paradigm. All of this translates to significant IT changes.
Marlabs is a key player in the health IT consulting space for many years now. The company provides a number of healthcare IT services and solutions that enable providers and payers to accelerate their transition to the new integrated, digital context. For instance we support healthcare players in deploying and testing EMR systems, developing complex analytics that increases insight from data, modernising claims systems, raising efficiency of back office operations, and increasing regulatory compliance.
The opportunities to product vendors like the EMR players has been huge. The big EMR players have seen their business accelerate at a rapid clip with more and more providers signing on, motivated by the promise of stimulus funding. This has in turn led to increased demand for associated consulting services. Similarly the changes on the payer side have meant increased demand for the implementation of new products and services.
In terms of treatment procedures, the changes are nothing short of dramatic. The paper chart is fast disappearing and digital records are taking their place. Physicians make notes, enter data into EMR screens, and review past records on the computer as they are seeing patients. Health information is being shared across organisational boundaries, as more and more players come together to exchange digital data.
EMR adoptability in Government Hospitals is slow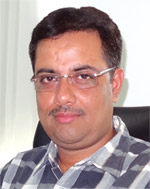 Arup Mukherjee, CEO, Binary Spectrum
Indian Healthcare industry is growing at a rapid pace and is expected to become USD 280 billion industry by 2020. The Indian healthcare market was estimated at USD 35 billion in 2007 and in expected to reach over USD 70 billion by 2012 and USD145 billion by 2017. According to the investment commission of India, healthcare sector has experienced phenomenal growth of 12 percent per annum in the last 5 years. In addition, changing demographics, disease profiles and the shift from chronic to lifestyle diseases in the country has led to increased spending in healthcare delivery.
Substantial growth rate (more than 16 percent) of global healthcare IT spending is expected to push EMR development all over the globe. It is estimated that healthcare IT (HCIT) market will exceed USD 23 billion in 2015, where EMR is the major segment that is driving its growth. Government initiatives, hospitals approach towards increasing efficiency, reducing cost, improving quality and fast access to patient data are some of the major drivers of EMR growth. EMR/EHR implementation and its usage are not mandated, its adoptability in public sector hospitals is very slow. The good news is that the Ministry of Health is turning its attention towards the issue and hopefully, publicly owned health sector will soon mandate for a quick widespread adoption of IT. Adaptation rate of EMR/EHR in privately owned hospitals is much higher. Private hospitals maintain much more patient records in the systems so that it can be readily available as soon as a universal interoperable EHR initiative is mandated by government.
With the increasing use of information technology in healthcare and the outsourcing of business processes to India, we need to reconsider the right to medical privacy and the protection of this right in terms of who can or cannot access sensitive health information.
Some of the key focus areas will be, a nation-wide system of electronic medical records system, cloud computing solutions in the EMR/EHR space, supporting Health Information Exchange (HIE) and Accountable Care Organisation (ACO).

Follow and connect with us on Facebook, Twitter, LinkedIn, Elets video