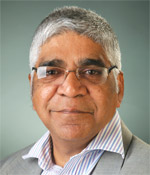 K. Ganapathy, M.Ch.(Neurosurgery), FACS, FICS, FAMS Ph.D,  a former Secretary and Past  President of the  Neurological Society of India and a former Secretary of the Asian Australasian Society of Neurological Surgery, is  currently President of the Indian Society of Stereotactic & Functional Neurosurgery. He is also the President of the Apollo Telemedicine Networking Foundation, the largest and oldest multi specialty Telemedicine network in South Asia. In an exclusive interview with eHEALTH, K Ganapathy talks about different issues in telemedicine.What according to you is the next milestone, as far as telemedicine is concerned?

Apollo Telemedicine Networking Foundation was conceptualised in 1999. On March 24, 2000, Bill Clinton, the then President of the USA, formally commissioned the worlds first VSAT enabled village hospital in Aragonda, (in Nellore district, Andhra Pradesh (the birth place of Dr. Prathap C. Reddy, founder Chairman of the Apollo Group)). Apollo has also contributed by creating the ATNF, a not for profit foundation, whose major objectives are to evangelise tele-health. With the formation of ATHS (Apollo Tele-health Services Ltd – the commercial arm of the Telemedicine Division of the Apollo group), Apollo has embarked on a major project to set up  1000 telemedicine centres in the next few years.  Today Apollo has 95 centres in India and 9 overseas.  This is in addition to the 42 countries of the African Union which are connected to the Telemedicine Department at Apollo Hospitals, Chennai through the Pan African eNetwork initiative of the Ministry of External Affairs, Government of India.   More tele-consultations have been given from Apollo Hospitals, Chennai to the African countries than all the other 10 super speciality hospitals in this network, put together. ATNF has also provided more than 71,000 tele-consultations in 25 different specialities besides having conducted about 500 inter Apollo grand rounds through multi point video conferencing.

Give us a brief overview of how telemedicine industry is evolving in India?

We now have almost one conference a month at the regional or nation level somewhere in India dealing with some aspect of telehealth.  Awareness of telehealth among the stakeholders is slowly but steadily increasing.  Invitations to Indians to participate in global telehealth meetings is now becoming routine.  In 2011, the American Telemedicine Association signed a formal MOU with the Telemedicine Society of India.  At the 10th National Conference of the TSI held in Mumbai in 2011, there were almost 650 participants. With the exponential increase in utilization of mobile phones and a rural penetration nearing 40 percent, we strongly feel that healthcare of the future will be based on mobile solutions. Mobile technology will help bridge the urban-rural health divide.  Mobile value added services like mBanking, mEntertainment and mCommerce are already being deployed in urban and suburban India " why not mHealth!

What kinds of telemedicine solutions are best suited for rural areas?

Telemedicine for rural India should primarily consist of mHealth solutions. This is because broadband internet penetration in rural India is very low. The availability of personal computers, laptops, tablets is also very low. Over the next few years wireless access to the internet in rural areas will primarily be through mobile phones. The challenge is to customise mHealth solutions for low level entry phones.  The cost of smartphones is progressively reducing.

What is the most important area of healthcare that telemedicine must focus on?

All areas of healthcare are equally important. Ideally the mobile phone should become a doctor in your pocket if not a hospital in your pocket.  Eventually there we will get access to all knds of sensors, miniaturised hardware and sophisticated cloud based software that can fit into our smartphone. A solution is not a solution unless it is universally available. Fancy video conferencing cameras, robotic tele-pathology or tele-mentoring or robotic tele-surgery make interesting news, but do not necessarily change health outcomes for the masses. Providing authenticated reliable health information at the right place, right time, at an affordable cost can do wonders. Knowledge empowerment in the local language will result in earlier referrals and avoidance of complications.

One of the most exciting areas where telemedicine might have a potential role to play is disaster responses. Your views on this.

The sine qua non in disaster management is immediate access to communication and availability of authenticated reliable health information and advice on what is to be done and not to be done.  The telemedicine network therefore will be most useful as the first step in a disaster response. This was very well demonstrated during the Tsunami outbreak at Port Blair, Cuddalore and particularly during the massive earthquake in Pakistan and Haiti.

How fast do you expect the telemedicine vertical to grow?

80 percent of Indias population lacks direct access to specialist healthcare. By most conservative estimates, the telemedicine market is for 800 million Indians. Even if half of these 800 million need to consult a specialist once a year, that still amounts to 400 million specialist consultations per year. Even if 10 percent of these are enabled through telemedicine, we are talking about 40 million consultations per year from rural India alone. The market potential for telemedicine is obviously enormous.

What kind of funding will telemedicine sector require over a period of next few years?

We have to look at setting up at least 10,000 new telemedicine units (for a population of 1300 million). In addition to the software, hardware, peripheral medical devices, real estate, we also need to include operational expenses, connectivity charges, salaries for personnel, obsolescence upgradation, EMR etc. An amount of at least Rs 500 crores will be required, assuming that the entire network will be self sustaining and revenue generating. Even if 10% of Indias rural mobile phones are used for mHealth, 30 million phones will get logged in. At Rs1000 per year an additional 300 crores will be required annually. A capital outlay of 2000 crores over the next 5 years can bring radical transformation in telehealth.


Follow and connect with us on Facebook, Twitter, LinkedIn, Elets video