The increase in willingness and acceptance of healthcare IT will drive the overall growth in this market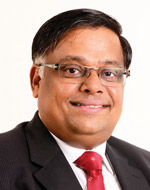 VasuKumar Nair, Director – Marketing Strategy & Sales, 21st Century Healthcare Soultions

Overall market
Studies show that the software segment of the healthcare IT market is valued at `150 to 200 crore in 2012. Our market share in this space is around seven to eight percent. Our flagship product is Apex Enterprise Health Information system, which comprises of hospital information system, clinic information system, laboratory information susyem and electronic medical records with clinical decision support system and advanced imaging solutions.
The industry should look at the intrinsic value of products and solutions rather than just looking at the number of modules and reports available in the application. Every healthcare organisation should have an IT roadmap with respect to their business goals that can help them assess their current IT maturity to decide the route to be taken. Top management should take initiatives to change their IT department from a cost centre to a profit centre and this is very much possible with the new innovative products coming in the market. Hospitals with more than 100 beds and above are moving towards IT based infrastructure.
Benefits of automation
Hospitals with higher levels of EMR adoption have higher direct benefits, when it comes to improving clinical efficiency and clinical service excellence.  While IT investment may initially appear to have a cost-increasing effect, due to high improvements in the business process efficiencies, there will be a visible result on actual reductions in hospital operating expenses. Our experience in HIS implementation of automating the revenue cycle management is that most hospitals show a decline in costs after two and three years.
On radiology information systems
RIS/PACS provide radiologists with the environment to perform their work smoothly and efficiently. IT Increases the quality of care with immediate access to specialists in the other end. It speeds up diagnosis and treatment with instant access to data and images. Consultations are sent via a secure Internet connection to specialists for online diagnosis.
Future plans
In future, we plan to focus on the clinical side, analytics, integrations and telemedicine. We also plan to penetrate into the mobile health market.

Follow and connect with us on Facebook, Twitter, LinkedIn, Elets video