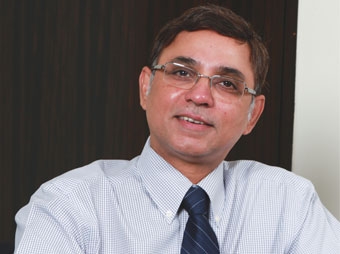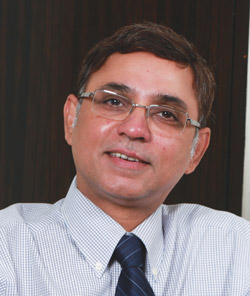 Annaswamy Vaidheesh   
Managing Director, Johnson & Johnson Medical India (JJMI) and Vice president, Asia-Pacific- Lifescan
Annaswamy Vaidheesh is the Managing Director of Johnson & Johnson Medical India (JJMI) and Vice president, Asia-Pacific- Lifescan.   He has more than 30 years of diverse and broad functional and business experience in FMCG, and healthcare industries. Commitment to talent development, innovation, strategic leadership and social contributions are his strengths. He holds a Masters Degree in Management Studies. He is an Honorary Fellow of The Association of Minimal Access Surgeons of India. Vaidheesh joined Johnson & Johnson India in July 1986 as Product Manager and over a period of time held various leadership positions of increasing responsibilities in Asia-Pacific Region. 
Annaswamy Vaidheesh, who is known as an exemplary business leader, talks about the innovative ideas through which he plans to drive the future prospects of J&J
From the age of Hippocrates, kindliness, concern and love of the art and science of healing have been considered to be the qualities that the healthcare community is expected to be brimful of. When the patient reaches out to the healthcare system at the time of sickness, this becomes a critical moment. It is cause of serious emotion, not only for patients loved ones, but also for the healthcare provider. It is the chance of experiencing such emotions that inspire Annaswamy Vaidheesh to remain a part of the healthcare sector. Starting career in a relatively high profile industry of those times, namely FMCG, and having worked for around for five years in handling some of the leading brands, there is lot of experience that Annaswamy Vaidheesh has brought to J&J.
He has been fortunate to have got regular breaks in Johnson & Johnson, gaining new competencies ranging from marketing, sales , new business development, supply chain, operations in India as well as in Asia-pacific and shaping the environment for the betterment of humanity like health insurance. He is proud of the fact that he is equipped to leave behind a legacy of having developed new brands, products, procedures, techniques, talents for the company as well as for the industry.
India is in the early stage of healthcare development. He believes that majority of the people in the country will have access to global standard of healthcare delivery in the next 10 years, irrespective of their economic status. Business model disruption is waiting to happen and India will become a role model.
Technology is enabling significant shifts in the approach to disease management. Convergence of embedded technology and IT is accelerating lab- to bed-side monitoring and also bringing shifts from traditional lab monitoring to home/ remote monitoring. Embedded technology applications are opening doors to breakthrough therapies; robotics is aiding shifts from open surgeries to minimally invasive surgery even for complex procedures. Nanotechnology advances are enabling superior sensor technology and body powered batteries. Advanced diagnostics is bringing shifts in how practitioners approach disease management. The possibilities are endless and countries like India and China will require enabling technologies more than any other country.
Create space for innovation and co-creation with the eco-system. We need Silicon Valley kind of environment for health care innovation. Quite obviously it is easier said than done but could be well within the realm of achievement if we put a think tank in place comprising of leaders from Government as well as from private space from all over the world who have had experience in innovation. Lets create innovation hubs and support them competitively.


Follow and connect with us on Facebook, Twitter, LinkedIn, Elets video