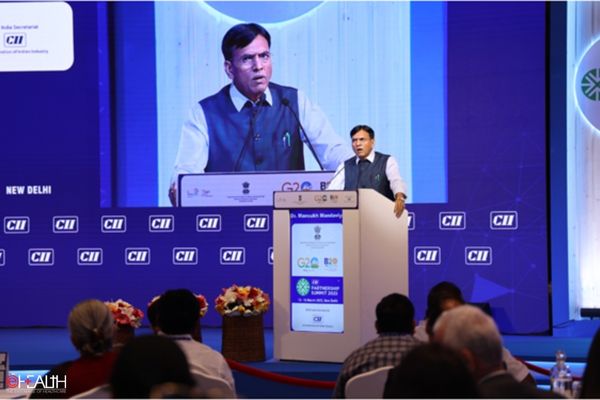 It is time that India takes the lead in realisation of "One Earth, One Health" vision with a holistic and integrative eco and nature-friendly policy-making environment, and aligns it with our philosophy of Vasudhaiva Kutumbakam for global health and wellbeing. India has a strong political determination to lead in creative research and technology-supported solutions that are commercially viable and have broad public acceptance under the direction of Prime Minister Shri Narendra Modi ji. In his speech to the Confederation of Indian Industry (CII) Partnership Summit 2023, Dr. Mansukh Mandaviya, Union Minister for Health & Family Welfare, emphasised the importance of an integrated, collaborative, and multisectoral approach to one's health.
The One Earth, One Health concept, he continued, "can only be realised through active international cooperation where countries don't think of themselves only but of collective global outcomes." The health sector "cannot be limited to one country as the health and wellness of one country impact the other," Dr. Mandaviya emphasised. The health of the human population is equally impacted by and influenced by the health of the surrounding environment and animals in our interdependent global society. The global pandemic has shown that no nation is immune to unfavourable events occurring in any nation and that our actions have an impact on the health and well-being of our ecosystem.
Applauding India's leading role in indigenous research and wealth of traditional therapies, Dr Mandaviya highlighted that each country can have its own model of ensuring "One Earth, One Health". It is however important to learn from each others' best practices to enrich our models and work in synergy with each other to ensure that our collective actions leave behind a healthier world than the one we inhabit, he stated. Further, the Health Minister added that "India's model of Integrative Medicine is an example of this, where it synergizes modern medicine with a focus on wellness incorporating the traditional principles of Ayurveda inherent in India."
Dr. Mandaviya praised the development of programmes like the Ayushman Bharat plan and the success of the Co-Win platform, which is now shared as a public digital good. She underlined that health is seen as "seva," or service to others. The nation's research institutions have the support of the health minister, who also urged the commercial sector and academic community to get involved in research.

Follow and connect with us on Facebook, Twitter, LinkedIn, Elets video