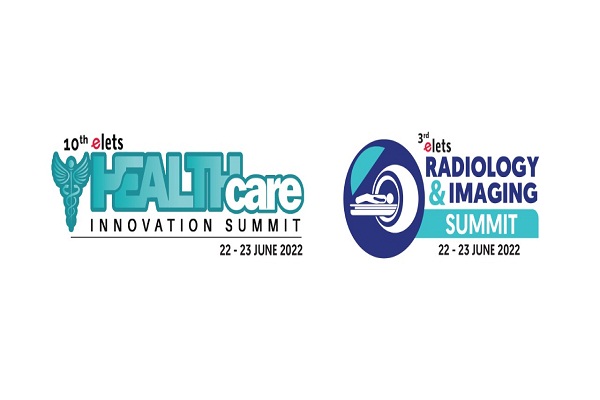 Elets Technomedia along with eHealth Magazine will be organising the 10th Healthcare Innovation Summit and 3rd Radiology & Imaging Summit on 22-23 June at Eros Hotel, New Delhi.
The Healthcare Innovation Summit will focus on the theme 'Technology Accelerating Healthcare Innovation', while the Radiology & Imaging Summit will put the spotlight on 'Disruptive Innovation Empowering Imaging'.
With the evolution of next-generation technologies over the years, the entire healthcare ecosystem has been witnessing drastic transformation leading to better diagnosis and treatment of patients. Moreover, the Covid-19 pandemic further underscored the need to accelerate technology adoption to prepare a future-proof healthcare system.
With a vision to create a robust roadmap to drive tech-led innovation in healthcare, the summits will bring key stakeholders under one roof for deliberation & collaboration.
10th Healthcare Innovation Summit & Awards: Quick Glance
Dr. RS Sharma, Chief Executive Officer, National Health Authority, will deliver the keynote address at the 10th edition of Healthcare Innovation Summit.
The power-packed summit will host a series of panel discussions on topics. The key topics are:
Digital Transformation – The CIO Perspective
Ayushman Bharat Digital Health Mission (ABDHM) Transforming Healthcare Spectrum
Innovative Technologies for Futuristic Healthcare
Digital Adoption & Transformation for the Future – CEO's Perspective
Transformation & Innovation Driving the Online Healthcare Ecosystem and Reshaping Health Infrastructure
Technology in Public Healthcare pushing the Atmanirbhar Bharat Mission
The Healthcare Leadership Awards will be held on 23 June to celebrate and recognise innovations which are playing an instrumental role in transforming the healthcare ecosystem.
3rd Radiology & Imaging Summit: Quick Glance
With the adoption of new-age technologies, the landscape of radiology & imaging has changed dramatically, making healthcare more efficient today.
Key Discussion Points:
Artificial Intelligence in Digital Radiography (DR) & Computer Radiography (CR): The global scenario
Role of CT Scan in growth of Imaging
Contemporary Ultrasound Technology – Transforming Imaging
Pandemic Transforming Radiology: Roadmap for Success
Emerging Technologies Redefining Critical Care and Digital Radiology – Easing Patient Experience
Role of MRI in growth of Radiology
The 10th Healthcare Innovation Summit and 3rd Radiology & Imaging Summit will witness the participation of senior policy-makers from the government sector, CEOs of leading hospitals in insightful knowledge sessions. Some of the prominent speakers at the event will be Sunil Kumar, Deputy Director-General, National Informatics Centre; Naveen Kumar, Special Secretary-Health & State Program Manager, National Health Mission (NHM), Government of Andhra Pradesh; Yasin M. Choudhary, Mission Director, National Health Mission (NHM), Jammu and Kashmir; Dr. Atul Mohan Kochhar, Chief Executive Officer, National Accreditation Board for Hospitals & Healthcare Providers (NABH); Dr. Heera Lal, IAS, Additional Mission Director, National Health Mission (NHM), Uttar Pradesh among others.
Also read: Succeeding the Art of Radiology – Deep Insights
More than 200 delegates will also attend the knowledge exchange forums.
Furthermore, industry experts from across the country will gather to showcase their innovative solutions for the healthcare sector.
About Elets Technomedia
Elets Technomedia, a premier technology and media research organisation of Asia and the Middle East, has been championing innovations & e-governance for a better future since 2003.
We have been building knowledge-sharing platforms and highlighting the importance of innovations for governance, health, education, urban development, and banking and finance sectors through conferences, publications, and knowledge portals.
For more information about the events:
10th Elets Healthcare Innovation Summit: https://events.eletsonline.com/his/
3rd Elets Radiology & Imaging Summit: https://ris.eletsonline.com/

Follow and connect with us on Facebook, Twitter, LinkedIn, Elets video