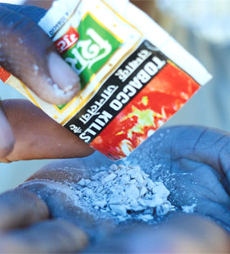 As part of the governments commitment to ensure healthcare and social safety for all Indians, the Ministry of Health and Family Welfare, with technical support from global health experts Vital Strategies, on 26 April launched a powerful outdoor campaign to raise awareness about the harms of smokeless tobacco.
According to the current statistics, India faces an increasing burden of non-communicable diseases, especially due to tobacco use. Additionally, economic burden due to tobacco-related diseases is more than 1.4 trillion rupees per year.
As part of this campaign, images and messages from Tears You Apart anti-tobacco campaign will be displayed on the exterior of 14 railway trains on major routes across eight states (Maharashtra, Uttar Pradesh, Chhattisgarh, Odisha, Karnataka, Tamil Nadu, Delhi and Punjab) until September 2016. This is a multichannel and geographically extensive health promotion campaign designed to warn low- and middle-income Indians across urban and rural areas about the socioeconomic and health repercussions of smokeless tobacco.
As smokeless tobacco is used by tens of millions of Indians every day, warning people about the dangers of tobacco through mass media campaigns is one of the objectives of the government. Hence, railway ads can play a crucial role in targeting people who had not previously seen the campaign on TV.
The Tears You Apart campaign features a Public Service Announcement (PSA) filmed in Dr. B. Borooah Cancer Institute in Guwahati, Assam and at the Tata Memorial Hospital in Mumbai, Maharashtra. It shows real victims suffering from horrific cancers and disfigurements as a result of their chewing addiction. It also includes the narratives of the victims relatives describing financial burdens due to smokeless tobacco.

Follow and connect with us on Facebook, Twitter, LinkedIn, Elets video