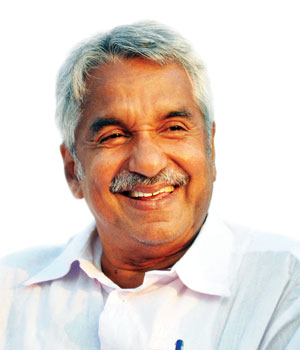 Starting his political career with Kerala Students Union, which he served as President from 1967 to 1969, Shri Oommen Chandy is now a 10-time legislator and currently serving his second term as the 21st Chief Minister of the State of Kerala. Prior to being sworn in as the Chief Minister first time in 2004, he was also part of four different governments holding diverse portfolios, apart from holding several constitutional positions. In an informal conversation with Elets Technomedia CEO and Editor-in-Chief, Dr Ravi Gupta, Nayana Singh and Kartik Sharma of ENN, the septuagenarian politician reflects on the strides Kerala has made in various fields, including healthcare
Tell us about the health of healthcare system in Kerala, and how do you intend to improve it?
Literacy in the state is cent-per-cent and there is no starvation. However, according to our assessment, healthcare is one of the most important issues in todays Kerala, as a large number of people require government assistance in this area. Although world-class healthcare facilities are available in Kerala, owing to financial problems, those are not available to everyone. A large number of families are yet to get access to health services in the state. So, we are planning a host of healthcare programmes. When we came to power in 2011, there were only five government medical colleges. We have decided to set up government medical colleges in all the 16 districts of the state. We intend to provide free healthcare services to the common people, including free medicines and other facilities.

The rate of overall development in Kerala has been remarkable. What are your future plans vis-a-vis infrastructure creation?
Our investment is very low that leads to unemployment and lots of development issues. This time round, we are putting thrust on social sectors like education and health to keep up the pace of development. We are also giving due importance to infrastructure development. The upcoming Kannur International Airport will be the forth international airport in a small state like ours. Kochi Metro will be another feather in the cap of the state. We have acquired almost 55 percent of the required land for the Metro project. Then, there is Millennium port a dream project of Kerala, which will be getting final clearance in the days to come. We want to commence actual construction work early next year. We had also been planning Monorail for Thiruvananthapuram and Kozhikode, but some feasibility issues cropped up. So, we have shifted to light metro now. The Detailed Project Report (DPR) is ready and plan approved, and the Cabinet will clear the project for the two important cities soon.
Coming to strengthening the national highway network in the state, the main problem is land acquisition. Land is very scarce and costly. Some people are not happy as they demand more, which is too costly for the state. So, we have worked out a different plan for acquiring land for the expansion of national highways. In short, we have commenced infrastructure development in Kerala in a big way.
Kerala has a large number of expatriates. Do you have any plan to retain the local talent?
In Kerala, youngsters have not been very keen entrepreneurs traditionally. They either go for degrees to get government jobs or seek visa to go abroad. But of late, we are witnessing a shift in the attitude of youngsters in the state. In September 2012, the Prime Minister unveiled the student-entrepreneurship policy and launched Emerging Kerala project. I also pushed the student entrepreneurship policy with a view to turning them into job-creators instead of jobseekers. The response was very encouraging, especially in the second year of the policy. We convened a big summit on September 12, 2014, named Young Entrepreneurship Summit (YES) and it was a great success. It was attended by some 4,500 delegates as against our expectations of 2,500. A new trend is here, and we are encouraging the startups.
Can you tell us something about the IT parks in the state?
Thiruvananthapuram Techno Park is best not only in India but in whole of Asia. As this Techno Park is full, we are planning another techno park city here. An info park in Ernakulam and a cyber park in Kozhikode are already under way. A smart city is also coming up, and a Dubai company has been provided 256 acres of land. The first stage of smart city is to be inaugurated in March 2015. We are fully satisfied from changes taking place in the development arena.
How do you think IT can help improve governance in Kerala?
We lost lot many opportunities to develop IT network in the state, as since the 1980s, CPM opposed computerisation. They said computer is enemy of the youth. And, it was the time when other states excelled in computerisation and IT sector. We top the literacy and education chart, but we are amongst the last in terms of introduction of IT in different sectors. Thats why, now we are keen to develop the IT sector. We lost our chances in the past, but we will make it up through expeditious implementation of e-governance in Kerala. The Government of India has decided to make 50 districts of India e-districts, and among those 50 are 14 districts of the state. We are giving adequate importance to e-governance to ensure better delivery of citizen services. Akshaya service, first started in Kerala, is a model to the country. People living in villages are also getting excellent services…we want to take it forward.
You are also directly looking after Science & Technology Department in the state. What are the notable interventions in these areas?
The Science & Technology Department in Kerala was established in 1972. Over the last three years, the department has added four premier institutions. To strengthen education and research in Basic Sciences, a new institution, Srinivas Ramanuja Institute of Basic Sciences (SRIBS), has been established at Kottayam. This is modeled on the lines of Tata Institute of Fundamental Research. For felicitating technology transfer, in collaboration with Science & Technology Department, Government of India, the State Centre Resource Institute of Partnerships in Technology (SCRIPT) started functioning in Trivandrum. To add value addition to the costly mineral sands of Kerala, a Research & Development Institution, namely Critical Minerals Research Institute (KSCAT), was established for felicitating education, empowerment and employability of differently-abled people, particularly the blind and visually challenged.

Follow and connect with us on Facebook, Twitter, LinkedIn, Elets video