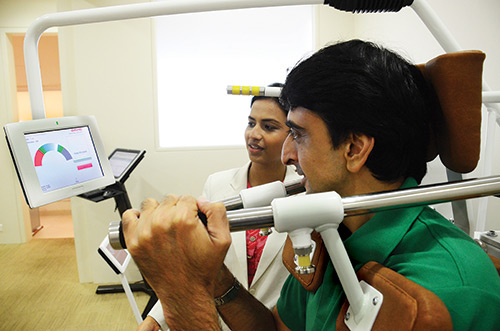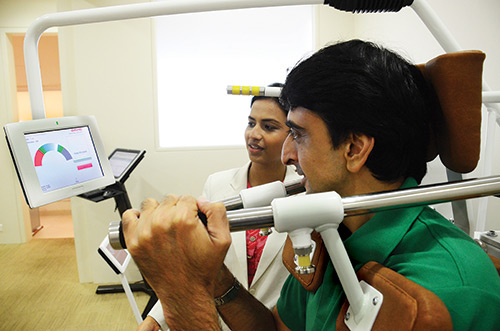 Navinder Dullat, Chief Operating Officer, Qi Lifecare, in conversation with Nikita Narvekar, talks through the advanced diagnosis and treatment protocol at Qi Spine Clinic which has proven extremely effective for the treatment of back and neck pain
Please tell us something about Qi Spine.

Qi Spine is Indias first clinic which specialises in treating spine ailments and injuries. Back pain is the most common complaint. So, there can be specific spine disorders like slip disc and also a lot of conditions are non-specific. About 85 percent of back pains fall into the latter category where diagnosing the root issue through X-Ray is difficult.
Also, in the Western countries, back pain is the second reason for sick leave after common influenza, but you do not find specific diagnosis for it.
So, we deal with diagnosis and treatment of spine disorders.
What is the next exciting phase for Qi Lifecare in 2014-15?
Due to increasing patient load and capacity utilization at our existing seven clinics across Delhi and Mumbai, the company has decided to rapidly expand its footprint of clinics to meet the needs of back- and neck-pain patients across major cities in India.
As part of this expansion strategy in 2014-15, we plan to open specialty spine clinics for diagnosis and treatment of back pain for the first time in the cities of Bangalore and Pune, besides opening more clinics in Delhi and Mumbai.
What are the latest specialty services that you have introduced for patients?
We have opened Indias first specialty clinics for diagnosis and treatment of back pain and spine disorders called Qi Spine Clinic. We address the need for a specialized solution for the increasing incidence of back pain in the general population due to sedentary lifestyles.
Qi Spine Clinic offers specialized diagnostic consultation services which help identify deficiencies in the pa- tients spine, which cannot be identi- fied by standard tests like X-Ray and MRI exams.
This diagnosis protocol is used to develop individualized treatment plans to eliminate the root cause of the patients back pain. Treatment plans are evidence-based and non-invasive, conservative in nature, with the goal of avoiding surgery and dependence on painkillers, or other symptom-man- agement methods.
What are your latest initiatives in medical education and training?
As Indias first specialty spine clinic chain, we have developed an intensive six-month Clinical Training Programme (CTP) to provide our in-house team of Spine Consultants with deeper understanding of diagnosis and treatment of various spine disorders. This Clinical Training Programme has been designed by our Head-Clinical Operations, in collaboration with leading European experts in the field of spinal rehabilitation.
The CTP comprises a mixture of theory classes, supervised practice, and clinical role-play exercises.
It provides spine consultants with exposure to the latest evidence-based methods of diagnosing and treatment of spine disorders, including Digital Spine Analysis, Machine-based exercise therapy, Functional testing of the Spine and specialised manual therapy techniques such as MDT, Mulligan technique, etc.
More than 65 spine consultants have successfully undertaken the CTP in the last two years.
What latest modern equipments you have deployed in diagnosis and treatment?
We are the first healthcare company in India to deploy the Digital Spine Analysis (DSA) " the worlds first accurate test to measure Spine function.
The DSA uses a combination of spe- cialised computer-controlled devices that can isolate, test and measure the functional ability of every element of the spines supporting musculature in a safe and accurate manner. This test of the spine, which is non-invasive and takes 45 minutes to complete, provides the doctor with an accurate and com- plete picture of the functional health of the patients spine " clearly identifying deficiencies which cannot be detected by imaging tests like X-Rays and MRIs.
The DSA is the equivalent of the stress test which a standard function test used to detect cardiac disorders. Qi Spine Clinic is the only facility in In- dia which has the DSA technology and know-how.
This diagnostic protocol using Dig- ital Spine Analysis has ensured a suc- cess rate of 93 percent in eliminating back pain for over 2,000 patients in the last two years.
Kindly update us on any of your landmark initiative on any treatment modality and department infrastructure.
We have recently opened doors in Delhi-NCR by opening two clinics " one each in West Delhi (Punjabi Bagh) and South Delhi (Greater Kailash).
Tell us about your initiatives on collaborations and partnerships, also accreditation strategies.
We have partnered with Dr Gautam Shetty, Co-Founder of the Indian Orthopedic Research Society, to start our medical research wing, Qi Spine Research Division, to conduct and publish original research on the prence of back and neck pain in the general population and specific population groups, and on the efficacy of treatment protocols and approaches for back pain cases.
We have partnered with health insurance companies like Bajaj Allianz and Future Generali to offer special- ised services for diagnosis and treat- ment of back and neck pain to health insurance customers.
What are the new opportunities in Tier-II and -III cities across India?
We see tremendous opportunity for Spine Clinic in Tier-II and Tier-III cities, primarily due to the latent unfulfilled demand for a specialised and effective solution for back pain across urban markets in India. (We have estimated that upwards of five million urban Indians seek treatment for back pain across India every year, and this is not limited to the top metro cities alone.
The poor state of healthcare infra- structure in Tier-II and Tier-III towns means that patients in these cities of- ten have to travel to the nearest large metro city to avail themselves of spe- cialised diagnostic/treatment services. These patients would prefer to save money and time, if these services were made available in their own cities.
"We are the first healthcare company in India to deploy the Digital Spine Analysis (DSA) " the worlds first accurate test to measure Spine function"
What are your expansion plans?
As part of our five-year expansion strategy in the next two years, we plan to expand our presence to 30 clinics across ten cities of India includingboth metros and Tier-I cities like Delhi-NCR, Mumbai, Chennai, Bangalore, Kolkata, Pune, Ahmedabad, and Tier- II and -III towns like Chandigarh, Luc- know, Ludhiana. As part of this plan, we plan to start ten new clinics in the current financial year across Mumbai, Delhi-NCR, Bangalore and Pune.
How do you look at the use of IT in healthcare sector?
When we talk about healthcare, there are a lot of applications and aspects of healthcare where IT can set up start- ing from the mere basics like record keeping. It is very important to keep the patient data in an organised way, and this is where most of the practices in India are lacking.
So, IT gives you the tools to start doing all this very efficiently, but then it is up to particular hospital and clinics. The type of data they keep will help determine as to how much of IT is being used.
On the front end, when it comes to the customer service element, there is a lot of IT support available today, which was not there ten years back. Also, there are applications to track the consumer from end-to-end basis, controlling the outcome, where IT helps you largely.
What are your expectations from the new government?
The past governments have kept ser- vice taxes applicable on many small players, and temporarily healthcare has been kept out of this net. So, what I expect is that the present government should permanently take it off as it only adds a burden on the patients pockets. When it comes to allied medi- cal services, there is a lot to be done.

Follow and connect with us on Facebook, Twitter, LinkedIn, Elets video