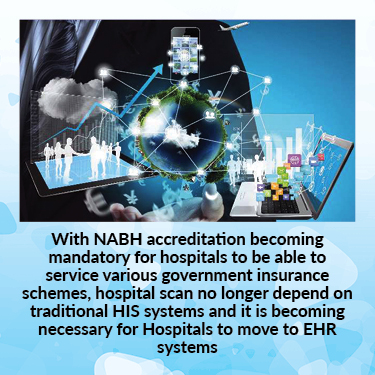 Three years back dWiseHealthcare launched its Lifetrenz EHR Platform for the Indian Market, and in this short period has been recognised as the most promising Healthcare IT platform in the country, say top company officials, in an interaction with Elets News Network (ENN)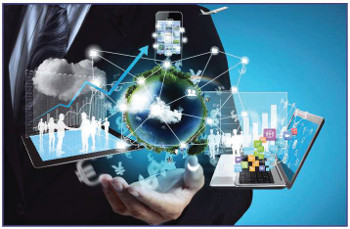 dWiseHealthcare, started its foray in Healthcare IT back in 2011 with a HIS & EHR product that was launched in the US market. Their product in the US market was certified by ONC for both hospitals and ambulatory (primary care) for meaningful use Stage 1 in 2011 and Stage 2 in 2013, and was the only Indian product to achieve all these certifications in the US back in 2013.

The product was well received in the US market and the clientele grew to 20 hospitals on the platform, before it was acquired in January 2015 by a leading Healthcare IT player in the US.
Three years back dWise launched its Lifetrenz EHR Platform for the Indian Market, and in this short period has been recognised as the most promising Healthcare IT platform in the country.
"On our EHR platform we have signed up clients of varying sizes, from 15 bedded hospital to 1,200 bedded hospital, and this shows the adaptability of our platform for very small to very large hospitals. With NABH accreditation becoming mandatory for hospitals to be able to service various government insurance schemes, hospital scan no longer depend on traditional HIS systems and it is becoming necessary for Hospitals to move to EHR systems. This need has been further compounded with IRDA also considering mandating NABH accreditation for Hospitals to be able to service even private insurance policies. This makes it mandatory, for providers wanting to service patients covered by health insurance, to get themselves NABH accredited. NABH on their part has come up with Pre-accreditation Entry level standards (which are different from full accreditation) to enable small & medium hospitals to get
accredited, says Wing Commander C K Babu (Retd) who is the Chief Operating Officer at dWise Healthcare. He continues, Hospitals can take help of NABH consultants for their initial assessment and get their accreditation the first time. However when its time for reassessment of their accreditation, it becomes unaffordable to bring in a fleet of consultants to help them with the renewal due to budget constraints and thats where the EHR comes in, capturing all the data elements automatically and providing hospitals the necessary dashboards and metrics to measure compliance to various standards & objective elements."
Dr. Pramod Jacob, the Chief Medical Officer of dWise Healthcare is an aluminous of CMC Vellore, and after practicing in India for few years, did his MS in Medical Informatics in the US and worked for EPIC in the USA, the largest Healthcare IT company in the world, and was part of EPICs first hospital in-patient rollout. He says, The biggest challenge dWise faced when we wanted to enter the Indian market with an EHR platform was the lack of a good Drug Information Framework and Knowledgebase for the Indian market, like the ones available in the US, without which you cannot build a Clinical Decision Support System (CDSS), which is an essential part of a good EHR Platform. We had to take it on ourselves to build a Drug Framework and CDSS Engine based on Indian Pharmacopeia and we are proud to say that we have built the first and only one of its kind product, covering more than 110,000 packaged drugs sold in this country and growing, and its on this strong foundation that our EHR platform resides.
"Hospitals are challenged with rising operational cost year on year, and profitability going to South. A simple comparison with the automobile industry will tell you that when a Maruti 800 Car cost Rs 56,000, an open heart surgery cost Rs 1,50,000. Today when the cheapest car costs Rs 3,00,000, an open heart surgery costs Rs 75,000, says Mr. Biswas, Chief Marketing Officer at dWise Healthcare. Biswas Continues, More and more hospitals today realise that attempting to reduce their operations cost further down to remain profitable will not work, as the operational costsof Indian Healthcare providers are the lowest in the world already. Rather they have to innovate and use technology and other means to get smarter to increase their revenue and improve profitability. One of the areas they have to re-look is the way they use technology today. Is the HIS software they use today smart enough
to make their hospital a smart hospital? Does the current HIS comply with the HIT & EHR standards published by the Government of India? Will it help them bring in new customers and improve Patient Engagement & Patient Safety concerns that they are trying to address? Will it automatically ensure no service ever goes unbilled & plug revenue leaks?
Sandeep Raizada, CTO at dWise Healthcare says, Some people use the terms Electronic Medical Record and Electronic Health Record (or EMR and EHR) interchangeably. But they are not the same, the difference between the two terms is actually quite significant. The EMR term came along first, and indeed, early EMRs were medical. They were for use by clinicians mostly for diagnosis and treatment. In contrast, health relates to the condition of being sound in body, mind, or spirit; especially freedom from physical disease or pain, the general condition of the body. The word health covers a lot more territory than the word medical and EHRs go a lot further than EMRs. EHR by definition and design is about health record of a Patient across their lifetime and across multiple providers/Hospitals. Continuity of Care and Longitudinal Care Record are cornerstones of its design and the big differentiator is standards compliance and portability of patients Health Records electronically.
With NABH accreditation becoming mandatory for hospitals to be able to service various government insurance schemes, hospital scan no longer depend on traditional HIS systems and it is becoming necessary for Hospitals to move to EHR systems.
Sandeep continues, A case in point is in the US, a legislation by the name Meaningful Use of IT in Healthcare, had to be passed for software vendors to move from EMR to EHR way back in 2009. What does the name of the Bill itself imply? It implies that the EMR was not a case of meaningful use of IT in Healthcare and a legislation was required to force them to change.
Smart Hospitals cant limit themselves with using IT only in their non-clinical functions. They need to implement standards compliant EHR Systems to ensure that their clinical workflows are also IT-enabled. An integrated HIS with EHR will ensure that cross departmental workflows are enabled, and disparate departments of a hospitals work together as one revenue generating engine, says Ramesh Sharma, Chief Strategy Officer at dWise Healthcare. He further says, EHR enabled clinical workflows will ensure that no clinical service rendered ever goes unbilled, and will plug revenue leakages in hospitals. With cross departmental workflows, the discharge process in a hospital can be reduced to just 15 Minutes, one of the ways to increase patient satisfaction and measure operational efficiency.
Sreejith P, Head of Product Development at dWise Healthcare says, The Lifetrenz EHR platform has been built keeping total cost of ownership for our Indian customers in mind. We have carefully chosen the technology stacks to ensure our customers dont need to pay for any licenses for RDBMS or Desktop OS etc. Our end user applications work on Ubuntu, Windows or Mac desktops apart from Android or IOS tablets. Our architecture provides hospitals the option to subscribe to a Multitenant Cloud Platform or Private Cloud platform or even opt for an onpremise installation based on their budget and needs.
The Lifetrenz EHR platform have enabled all our customers to improve operational efficiency both on their clinical and non-clinical workflows, reduce costs, and reduce clinical errors. The EHR platform has allowed our customers to be better engaged with their patients and experience improved patient satisfaction. Our Hospital customers have also been able to drastically reduce their capex on setting up the hospital. We have been extremely sensitive to the fact that most hospital projects experience budget and cost overruns by the time they are ready to go operational and we have supported them with very innovative financial models to work with us. concludes Joseph Alexander, CEO of dWise Healthcare.
For more information on dWise and their Lifetrenz suite of Healthcare IT products, please log on to www. lifetrenz.com

Follow and connect with us on Facebook, Twitter, LinkedIn, Elets video