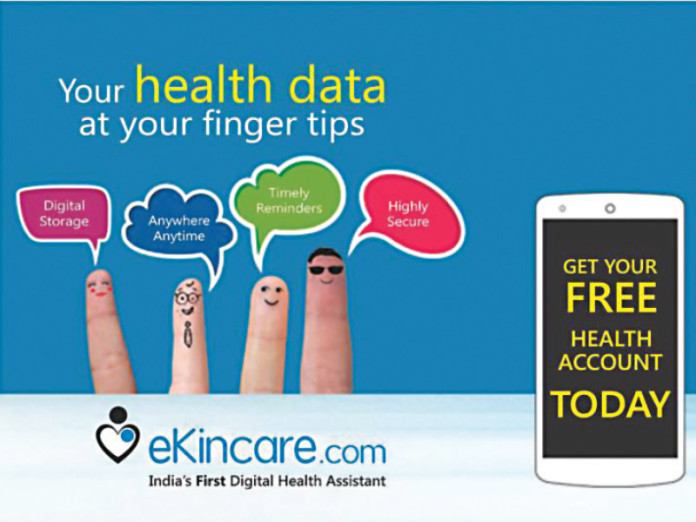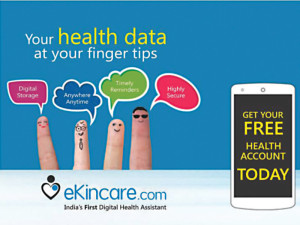 eKincare empowers you to take charge of your health by enabling you to monitor critical medical info and making it available anywhere, anytime. It provides you a user-friendly platform to view reports, says Kiran K Kalakuntla, Founder and CEO, eKincare, in an interview with Arpit Gupta of Elets News Network (ENN)
Brief us about eKincare, its products and services.
eKincare, is a Hyderabad based VC funded healthcare startup that uses patent pending technology to monitor their critical medical information and view it anywhere anytime. Consolidating your and your familys medical history with eKincare is as easy as taking selfie and its free! Just take a picture of your medical records using the eKincare app. It then helps spot health risks from your historic data before their onset, provides a personalised health plan to beat those risks and connects to the right service provider at the right time.
Below are the 3 core areas where we focus to make medical data meaningful.
Personal health record Now consolidating your and familys medical history with eKincare is as easy as taking a selfie and its free! Access them anywhere, anytime or share with a doctor with a simple click
Personalised health assessment eKincares proprietary algorithm and process extracts the info from those medical records to assess an individuals medical condition, spot health risks early and provide a personalized health score
Connecting to the right service provider eKincare intelligence provides personalised recommendations for follow ups " whether be a health check, vaccination, medication etc. and connects the right service provider.
What are the major challenges in EHR implementation and how important is it in todays scenario?
EHRs are great in the western scenarios where the hospital systems talk to each other and health expenses are borne by the health insurance company. Hence, the EHRs have been built for doctor and hospitals to collect patient data for insurance companies to better assess claims and medical history. The data entered in one hospital flows to another doctor.
But in Indian context, the end user is at the center of the universe and majority of the health expenses are paid out of pocket. Also, the health care system is fragmented and none of them are connected or talk to each other. Example: In several multiple speciality hospitals, they have multiple EHRs that dont talk to each other. Hence, the most critical need of health records – continuity of medical information is lost. Hence, PHR is the right approach in Indian ecosystem, where the user is given access to upload their medical records and is the owner of the data.
In addition to the above mentioned reasons, the other main issue with EHR is health history is stored in the form of documents and not in the form of data (0s and 1s) to be able to analyse the information and provide meaningful outcomes. This is the core of what we are trying to solve at eKincare.
How do you see the evolution of EHR market in coming days?
Today there are multiple modules like LIMS, HIS, EHR etc. which have their own standards and protocols. For example: The standard reference lab ranges vary from lab to lab. We believe this is going to evolve in the coming years, where there would be a single standard and protocols like in the west for capturing, storing the data (like ICD10, LOINC Codes, HL7 etc.) which helps for better population analysis.
EHRs are going to evolve into Personal Health Records (PHRs) for the above mentioned reasons, as today I might go into Apollo that has a EHR where my information is captured, but tomorrow if I go to a clinic close by house the continuity of information in Apollos EHR is lost since the information from the clinic is not flowing back.
How far EHR has been able to penetrate in Tire 2 & Tire 3 cities?
We have had customers from all over the country including Tier 2 and Tier 3. PHR adoption in these cities is directly proportional to the smartphone penetration as it is now easy consolidate ones medical history by just clicking picture from our app.


Follow and connect with us on Facebook, Twitter, LinkedIn, Elets video