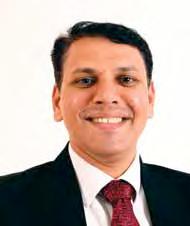 Dr Santosh Pawar
Head – Sales (India Pvt Sector) 21st century
With an experience of automating more than 200 labs-both private and public clinical labs, whether standalone or chain of labs in different cities of India and abroad- 21st century is upbeat on the LIS market in the Indian Laboratory space. We found that, irrespective of the market, size, geography, specialty and service offering, almost all
clinical laboratories recognize that their goal is to ensure the accuracy, turnaround time and quality of testing in order to be successful and they need to do better service. In addition to that, laboratories major challenges are patient privacy, referring physician satisfaction, regulation and compliance, time and logistics constraints,
operational efficiency and finally rising cost and competition. However, there are challenges, with respect to the mindset that some stakeholders still treat IT planning and implementation as a technology game, not as a clinical process improvement.
Need for lab process consulting
There are cases where LIS applications are procured and installed as it is and lab decision makers do not consider with the outcomes of automation and change management with respect to clinical process excellence. Rudimentary, duplicate, manual and administrative processes in the lab need to change to automatic and patientcentric
processes. If IT systems are implemented in alignment with the existing processes as it is, they will just bring an aura of pseudo-efficiencies. At the end of the implementation there should be a role to change management and a transformation in the care system should be felt by patients and users of the system.
Interface to equipments
Today, most of the popular lab instruments and analyzers are capable of being interfaced to a LIS.
Whether uni-directional or bi-directional, interface to the instruments definitely enhance data flow and elimination of transcription errors means faster and more accurate reporting of results. In addition to that, using one standard HL7 interface for the entire lab reduces implementation, training, maintenance cost and attains interoperability with any third party applications also. The application systems will make sure that the output of samples analysed , tracked, tested and results reported automatically.
It should generate reports that allow pathologist to track turnaround times of all the events and workflows, samples completed per unit of time, samples re-run or repeated, and if any exceptions. The scheduling feature increases efficiency of control routine sampling, analysis, and instrument calibration and maintenance tasks.
Here the objective is to develop an integrated workflow in the lab processing to data management for each clinical specializations such as Biochemistry, Haematology, cytology and microbiology and people/users attached to each specializations considering the hierarchy of users. Effective laboratory workflow with efficient amplification, sequencing, and analysis of samples greatly enhances throughput capabilities, decreases unit costs, and significantly impacts the amount of time. A significant advantage
can be derived if the workflows are designed in consideration of modern advances in technology like web booking/reporting with integration to payment gates or device like
pneumatic shoots for sample transport. This will further benefit laboratory processing and data review by the lab technicians and doctors sitting at geographically dispersed centres. Finally, a LIS application with capability of user definable configurable screens, workflows, policies, alerts-alarms, dashboard, documents and reports will be one best system for maximum end user satisfaction with the system.
Once the LIS application is deployed based on the business process mapping and improvement blue-print, implementations do have quick and visible benefits for the organisation, once the system is deployed and proper training is provided, it retrieves specific information from vast amount of data using the personalised reporting
for key users such a lab technicians, pathologist and lab administrators. The system should eliminate a significant amount of paper records (near to 100 percent), and thereby the occurrence of loss or misfiled data, files and worksheets.Once the LIS application is deployed based on the business process mapping and improvement blue-print, implementations do have quick and visible benefits for the organisation, once the system is deployed and proper training is provided, it retrieves specific information from vast amount of data using the personalised reporting for key users such a lab technicians, pathologist and lab administrators. The system should eliminate a significant amount of paper records (near to 100 percent), and thereby the occurrence of loss or misfiled data, files and worksheets.
---
A Need for Diagnostic Chains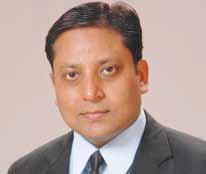 Naeem Ahmed
Manager – Projects, Healthcare IT Practice, Akhil systems
Laboratory Information System (LIS) streamlines workflow in the laboratory and eliminates time-consuming paperwork. A LIS is a complex system where it will integrate
with all instruments within the laboratory. It is also incorporated with other hospital based information systems such as Hospital Information Systems (HIS), Electronic Medical Record (EMR), Radiology Information Systems (RIS), and Picture Archiving and Communication Systems (PACS). As diagnostics chains are mushrooming in the country there is an increasing demand for LIS which can facilitate in carrying out sample collection and investigations in various centres. The patient can collect results from the various sample collection centres as well. LIS can provide facility to capture results to the computer System directly from diagnostic equipment through lab
interfacing. There is increasing trend of instant comparison and statistical analysis of tests like Turn Around Time (TAT) etc. Also, there is the facility of online appointment and registration, checking online lab results, SMS, E-mailing the lab results. Over years after gaining rich 17 plus years of experience Akhil Systems provides both client-
server based and web based LIS which can facilitate all these through a single solution.
The increasing trend for medical tourism, the demand for realtime web enabled LIS, considering the possibility of replacing barcodes with RFID at labs and incorporating
bioinformatics testing are all important factors that LIS vendors need to consider in the coming years. The diagnostic landscape in our country is highly fragmented. Still largely populated by unorganised players, approximately 10 percent is constituted by organised entities. Thus, in an effort to match the increasing demand, large players have endeavoured to increase pan-Indian presence, by building national networks, over the last few years which calls for growth in the demand for LIS. Also, small diagnostics centers with enough funds, now a days demanding LIS.
---
LIS Offer Real Time Analysis and Reports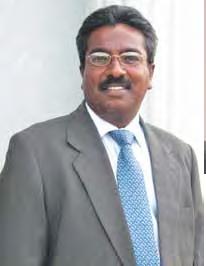 Suchet Singh
CEO, Srishti Software
The majority of LIMS solution available today in the market is point solution which takes care of various functions/departments of a laboratory, such as registration, billing, pharmacy solution etc. However the need is to have a complete integrated enterprise level solution which helps the laboratory to not only automate various processes but also helps to provide real time analysis and reports. The need for enterprise level system which includes modules like human resource, inventory management, finance management and activity-based costing combined, with need of having bi-directional information exchange between clinical and non-clinical activities is forcing laboratories to move away from traditional LIMS and opt for a completely integrated LIMS.
Today, most of the laboratories have branches spread across over different geographies and the key challenge they face are in the areas of standardization, optimization, and
control processes across the chain of Laboratories. LMIS with multi-location capability of handling the information/ data intelligently across the geographies can certainly bring about a change the way LIMS has been used till date. Adoption of LIMS is definitely on the rise and the current trends coupled with the future technologies in the pipeline could go a long way in defining the future of LIMS.
---
LIS is Imperative for Better Quality of Services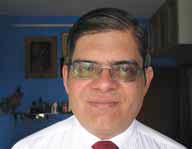 Ajit Dixit
VP-IT, Metropolis Healthcare Ltd
Increasing complexity of healthcare business and services as well as the increasing awareness and demand for quality services has become pressing. Quality demands better
operational efficiency, monitoring and control; and in real-time. With this fast evolving healthcare market, healthcare IT has also reflected developments. The concept of Enterprise Resource Management (ERP) has now advanced to healthcare in the forms of hospital, healthcare and lab information management systems. Indias market is ripe for healthcare IT and it is the fastest growing market in Asia with an expected growth rate of 22 percent. As far as the LIS is concerned, one needs to look into the market of diagnostics itself. As against hospitals or pharmaceutical industry; the diagnostic industry is fragmented to a large extent. For the smaller labs the processes that are to be managed through an LIS are much simpler, whereas for larger organised diagnostic companies the complexity is ever increasing. In most cases the smaller labs wouldnt even want to invest in any kind of LIS. This scenario is set to change, as the concept of accreditation of diagnostics labs strengthens. As accreditation becomes increasingly
important, along with all other developments, healthcare IT will emerge further and so will its demand. Similarly, as the regulations related to patient healthcare records are made stringent, healthcare IT will have a major role in data confidentiality and transfer.
Healthcare ITs growth is dependent on sector growth of hospitals and labs. The sectors want for quality and control will be a great booster for the demand for healthcare IT.
---
LIMS Needs to Be Well Integrated
Shailesh Kulkarni
Head—LIS—PCS Technology
Not many years ago, barring few, most of labs and diagnostics centres were stand alone, operating individually. These labs were well equipped with processes and complied with necessary standards. LIMS was built either around them or upgraded to their needs. With the take-over syndrome catching up, bigger labs have started acquiring labs that are either sick or want to grow with a merger. This has given the birth to the ever increasing need for real time data and information.
Most of the LIMS providers follow the decentralised approach, where the data is merged at the end of the day. This approach has lot of lacunae in terms of providing the information to the providers real-time. There are lots of issues viz: source of the sample , where it is registered, where it is processed, change of processing centres etc. Tracking of samples real- time becomes a big challenge that gives birth to other issues like missing samples, timely services, customer queries etc.
Current LIMS should accommodate local differences while retaining the ability to analyse at global level. It should be able to provide similar interfaces but different levels of access throughout the organisation. It should be compliant to standards like NABL, CAP etc, accommodate Nation-Wide Patient ID, seamlessly integrate the new mergers and acquisitions, accommodate different analysers at different locations performing same tests.


Follow and connect with us on Facebook, Twitter, LinkedIn, Elets video