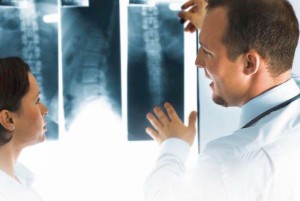 What began from a simple X-ray has now evolved into more sophisticated modalities like ultrasound, CT, MRI and 2D Echo and it doesnt stop here. A perspective on the journey of radiology. By Nikita Apraj, Elets News Network (ENN)
Technology has helped radiology in making diagnoses faster, much safer and as close to surgical gross findings and pathology as possible. Emergence of newer imaging modalities like CT angiograms have almost replaced diagnostic catheter angiograms, intraoperative ultrasound and MRI, emergence of fusion imaging like PET-CT
and more recently PET " MRI.
Radiology to Interventional Radiology
Radiology has come a long way today. From the gloomy days of dark room radiography where a radiologist had to spend hours in a dark room developing films, to the present day where brand new advances are happening almost every month in various modalities like CT, MRI, PET and Interventional Radiology.
Interventional radiology has  come to stay and we see the presence of interventional radiologists in most big hospitals in the country, doing excellent and life saving work, obviating difficult surgeries in most cases. The advent of teleradiology has increased the reach of radiologist services to remote places and in non office hours. This has been made possible by improved bandwidths, widespread penetration of internet and willingness of the clinicians and radiologists alike to upgrade to the new technology,
says Dr. Eshwar Chandra, Consultant Radiologist, Kamineni Hospital, Hyderabad.
There are multidetector slice CTs which quickly scan a patient with less radiation and enable multiplanar viewing. There are also newer advances in MRI with functional imaging and fusion imaging catching up in a big way. Advances in radiology include elastography, microbubble, ultrasound contrast study and 4D imaging. Many centres with their own mini cyclotron are doing PET scans in India.
Interventional Radiology is an exciting new field. Various aneurysms, fistulae, varicose veins can be treated in a minimally invasive way. Newer modifications in terms of catheter design, coils, embolising materials are coming up every day. It really is a challenge for a radiologist to keep abreast of the various changes that are happening, says
Dr (Prof) Kishore Taori, Chairman, Maharashtra Medical Council.
Challenges ahead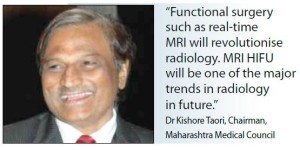 Dr Eshwar Chandra feels the need for Public Private Partnerships in delivering radiology services to rural and underserved areas is also need of time. Technologists need to be trained in accordance with the latest advancements in ultrasound, CT and MRI in addition to already existing X-rays. Accreditation board for technologists and accreditation for diagnostic centres on the lines of NABL (National Accreditation Board for Testing and Calibration Laboratories) should also be set up, adds Dr Chandra.
Dr Taori expresses need to make the MRI procedure more patient friendly in terms of reducing claustrophobia, reducing scan time and newer sequences. Ground level studies need to be carried out to gauge the implementation of PC-PNDT (Pre- Conception and Pre-Natal Diagnostic Techniques) act and to find any loopholes and seal them, Dr Taori raises another important point.
Future trends
With continuing shortage of radiologists, Dr Eshwar Chandra forecast that teleradiology will continue to play an important role. We have always followed the West in terms of acquiring technology and the way we practice. New technology will find takers in India almost as simultaneously as in the rest of the world. As the costs come down, we can see technological advances reaching smaller cities much earlier than the present, Adds Dr Chandra.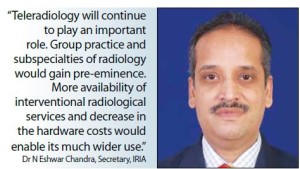 MRI HIFU (High Intensity Focused Ultrasound) will be one of the major trends in radiology in future, as Dr Taori observes. At present, MRI HIFU is available only at a few centres in India and is used in treatment of uterine fibroids, adenomyosis, various prostatic conditions, benign tumors of the bones, etc.
Dr Taori expects teleradiology catching up in a big time. Functional surgery – using imaging while operating " such as real time MRI in surgery of pituitary tumors, using elastography to predict tissue composition, detecting and analysing fetal lung maturity, and brain maturity in uterus would also be an important future trend. Fusion imaging – PET CT and PET MRI and robotic intervention would also be future trends in radiology.
As the time marches ahead, radiology will evolve into more sub-specialties like teleradiology and MRI HIFU. Technology will take radiology beyond existing limitations of medicinal science and geographies, making it more patient-friendly.
Technological advancements in radiology have increased the opportunities and, at the same time have created new challenges:
Developing low cost radiology techniques
Serving underserved areas through Public- Private partnership
Training technologists for latest advancements
Making MRI machines more patient-friendly to reduce claustrophobia
Setting up an accreditation board for radiology
Sealing loopholes in PCPNDT


Follow and connect with us on Facebook, Twitter, LinkedIn, Elets video