By Baskaran A, Managing Director, Dhii Health Tech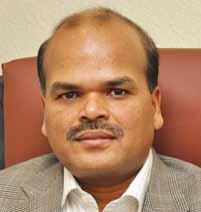 In the current globalised scenario, Laboratory Information System (LIS) has to cater to global requirements by making the system adhere to many international standards
including CLIA, CCHIT, ANSI, HL7, HITSP, and LOINC and the continual pressure to reduce costs, customisable functionality, scalability and a high level of adaptable connectivity for both institutional EMRs and physician access. Laboratory informatics has evolved as a solution to these healthcare challenges by providing an information technology based application aimed at optimising laboratory operations.
LIS
The technology applications in diagnostic laboratories are required to achieve quality and accurate clinical outcome. LIS is a software-based multi-disciplinary strategy to research, develop, optimise and capitalise on technologies  in the laboratory and information management system. It offers a set of key features to support modern laboratorys operations enabling new and improved processes. The research conducted by laboratory automation professionals help in developing new technologies to increase productivity, elevate experimental data quality, reduce lab process cycle times, or enable experimentation that otherwise would be very difficult. The existence of diagnostic laboratories that are committed to activities such as high-throughput screening, clinical chemistry, automated analytical testing, large scale bio repositories,
etc., is made more convenient with the advancements in LIS.
Current trends in LIS
LIS has evolved with great features from simple sample tracking to an enterprise resource planning tool that manages multiple aspects of laboratory informatics. Some of the basic functions of LIS include order entry for lab tests, specimen/sample collection, entry and reporting of results, sharing/transferring data to other information systems, and verification of results. Existing LIS employs barcode labels to track specimens. Errors may arise with sample identification by barcode due to human or if the
optical reader fails to read the barcode. Radio frequency identification tags are newly developed as a new approach to overcome this limitation. These tags serve as an aid to read/analyse several samples simultaneously then sequential analysis as with barcode are also cheaper to implement  due to lowered production costs. Research is in pipeline to integrate these tags with micro-sensors to give realtime, detailed physical and chemical composition of a sample, in addition to the sample identification for clinical applications.
The key features of LIS include workflow and data tracking support, flexible architecture, and smart data exchange interfaces, which fully support its use in regulated environments. LIS in diagnostics not only integrates all instruments within the laboratory, but is also incorporated with other hospital  based information systems such as hospital information systems, electronic medical record, radiology information systems, and picture archiving and communication systems. Apart from sample management, instrument and application integration, and electronic data exchange, there are numerous other LIS manageable operations that include audit management, customer relationship management, compliance, manual and electronic data entry, instrument calibration and maintenance, personnel and work load management, quality assurance and quality control reports management, time tracking, traceability and workflows.
As a technology advancement cloud based web LIS with effective communication standards so that the history of patients clinical tests can be accessed by authorised hospitals across the country. If an individual undergoes two different parametric tests at two different diagnostic labs, with the help of the web-enabled LIS, both the diagnostic labs will update the patients results. On the approach of a patient, these reports can be accessed by a physician at different hospitals at some other location through web-enabled LIS, conserving both the patients time and money. The increased medical tourism, in the aim to get the good medical facilities at affordable costs, forces the LIS to be capable of transferring patient data across different nations, a need for speeding the turnaround of data and increased access to information resources.


Follow and connect with us on Facebook, Twitter, LinkedIn, Elets video