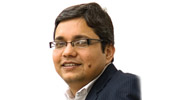 Like any rainbow shining out of the mists of the horizon, the ultrasound technology has started spreading its true colours. The journey from the Black and White era to the vibrant colour Doppler system is now complete. A favourite with healthcare professionals, the ultrasound system has become an inseparable part of the medical industry. Such is the demand for ultrasound systems, that the growth of this sector remains completely unaffected by the economic downturn in foreign nations. The Indian ultrasound market is on a high growth path. It is expected to clock US$ 200 million by 2015 and is forecast to grow at a Compound Annual Growth Rate (CAGR) of 13 percent. Today analysts are valuing the Ultrasound Market in India to approximately ` 500 crore.
Digital radiology is one of the greatest technological advancements in medical imaging during the last decade. Enormous benefits are accrued from this technology. The use of radiographic films in x-ray imaging is on its way to becoming obsolete. In digital radiology images are no longer held in a single location, they can be viewed simultaneously by physicians who are kilometres apart. In addition, the patient can have the x ray images on a compact disk to take to another physician or hospital.
In the current issue of eHEALTH we have conducted an in depth exploration of the Digital and Computed Radiography industry.
A profound determination, spirit of working together backed by the enthusiasm of a can-do spirit can assure the success of mission. There are some personalities in the field of healthcare who have made the impossible possible through their vision and spirit. The March issue of eHEALTH is also dedicated to action heroes in healthcare sector during last decade.
Dr Prathap C Reddy, the founder of the Apollo Hospital Group, Indias first corporate hospital group has revolutionised the whole health care scenario of India. In an interaction with eHealth, Dr Reddy talked about his journey. Other leaders featured in this issue are Rajendra Pratap Gupta, Krishan Gupta, Annaswamy Vaidheesh and Kewal Handa.
We hope you like this compilation!


Follow and connect with us on Facebook, Twitter, LinkedIn, Elets video