Background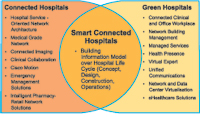 As the population in India and around the world age and there is increased acuity, it presents an opportunity and a challenge to healthcare administrators. The challenge is that over 35,000 new hospitals or expansions will be required in India, low income countries (e.g. Sub-Saharan Africa), middle income countries (e.g. Asia-Pacific and Latin America) and high-income countries (e.g. The Middle East). This is a once in a lifetime opportunity for hospital administrators in India and around the world to plan for reducing the total cost of ownership of their proposed hospital buildings, such that critical information around the building, campus and the community is available over a secure network to provide safer, faster, better and cheaper delivery of healthcare, improve patient safety and increase efficiency and savings. Empirically, if planned correctly, a smart connected hospital building can reduce capital expenditure by 8-10% and increase the operational efficiency by over 10% per annum over its lifetime, thus accelerating the break even for the investment in newer hospitals as well as enlarging the pie of the healthcare access in these regions.
Conceptual Framework and Solutions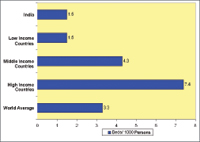 Cisco creates virtualisation of healthcare services, increases collaboration and converges voice, video, and clinical and operational data through several solutions that are offered over the life cycle of the hospital from conceptualisation to post-construction and operations of the hospital buildings.
Hospital Service-oriented Network Architecture (Hospital SONA): The framework guides the hospital's transformation to a Smart Connected Hospital. This ensures that the hospital's ICT plans are aligned with the clinical and business processes and provides a medium to long-term implementation road map, saleable technology architecture, enables financial planning, operational and governance modeling and ensures change management over the life cycle of the hospital building.
Medical Grade Network (MGN): The network provides the resilient, responsive, protected and interactive infrastructure required for the healthcare environment. It provides communications and collaboration, secure transmission of sensitive patient data, mobility for busy nurses and doctors as well as fulfilling the storage needs of image-heavy environments. This results in patient and clinical staff satisfaction, enhanced quality of care, reduced cost and regulatory compliance.
Key learnings with three-quarters of the total expense of a hospital building occurring during the Maintain and Operate phase, rather than as initial capital expenditure, reveal that decisions taken in the Design and Construct phases can have far reaching financial and operational impact.
Connected Imaging: Connected Imaging enables secure, scalable imaging services which improve productivity, collaboration and cost optimisation across the workflow. The solution includes several modules and uses a Digital Imaging and Communications in Medicine (DICOM) standard services layer from its partners to provide intelligent image routing and access to grid-based images. Cisco's integrated load balancing and virtualisation ensures that images are stored and retrieved quickly. The result is that a technologist can send a CT scan to PACS in less time, and radiologists can retrieve the study more quickly because the storage virtualisation services deliver the images from the most accessible source.
Clinical Collaboration: Clinical Collaboration solutions which include Mobile Care, Mobile Collaboration and Context Aware Services, leverages the network to offer healthcare customers to improve the quality of patient experience. The network thus becomes an intelligent building infrastructure and the foundation for integration and transformation of the medical facility and processes. This 'intelligent hospital' infrastructure creates an unprecedented opportunity for improved services, enhanced processes, and cost-effective operations. Embedding information networks as the fourth utility – as fundamental as physical plumbing, piping and wiring.
Clinical Collaboration Solutions can take advantage of the
following benefits:
Streamlined communications systems with applications being supported on a secure, wireless Medical-Grade Network
Improved staff collaboration

Increased efficiency of hospital services such as bed management

Improved patient satisfaction and care

Enhanced employee satisfaction

More efficient use of resources, leading to financial savings

Cisco Motion: Cisco Motion introduces a practical approach to managing complex mobility networks. This innovative mobility architecture empowers enterprises to move beyond basic wireless networking into the next generation of business mobility. The Cisco Motion vision offers a holistic approach to business mobility that combines applications, devices and the network as the platform.

Emergency Management Solution: It not only provides the unique Internet-protocol contact center (IPCC)-based emergency management solutions that track patients and information in any incident. The fast-paced environment of emergency rooms requires systems that help improve triage (classification of patients according to severity of condition), improve access to patient information, and can track patients within the department as well as coordinate services between separate departments throughout the organisation. Cisco's Unified Communications and Medical Grade Network facilitate this.

Intelligent Pharmacy/Retail Network: Cisco Intelligent Pharmacy/Retail network provides essential infrastructure and applications that enable retailers to achieve their primary business goals. Such objectives include driving increases in same-store sales, enhancing customer satisfaction and loyalty, meeting regulatory and compliance standards (e.g., pharma industry compliance), and improving employee productivity. The key benefits include:

Improving patient satisfaction by enhancing the shopping experience

Boosting productivity by connecting people, places, and information (even in shop-in-shop situations)

Increasing revenue by improving decision-making through utilisation and delivery of prescription data online

Green Hospital Solutions

Connected Clinical and Office Workspace: Cisco IT and Workplace Resources have begun to deploy a new office design to support better collaboration among employees and improve productivity. The new design leverages IP telephony and wireless technology to enable this environment. While improving collaboration, it also saves money by increasing office space utilisation by 40% and reducing the total number of per-capita IT-related hardware devices by 22%. Total per capita IT equipment wattage has been reduced by 44%, lowering greenhouse gas emissions. Less hardware reduces consumption of materials and eventual e-waste. Customers can draw upon Cisco IT's real world experience in this area to help support similar clinical and workplace needs.This ensures that critical hospital building functions could be virtualised or even outsourced to an external services provider saving on manpower, space in the core hospital building.

Health Presence: Cisco Health Presence is the foundation for High-end Third-generation Telemedicine. It enables exchange of high definition Video, Audio and Medical Data over the network, enabling real time remote diagnostic capability by integrating Cisco Telepresence technology with third party medical devices.

Unified Communications (over Wireless LAN/Medical Grade
Network): Healthcare providers must contend with a variety of communications environments featuring a wide array of communications methods. These combinations may include phones, voice messaging, e-mail, fax, mobile clients, and rich media conferencing. However, having to switch between methods to access different type of information may result in information overload and misdirected communications that delay decisions, slow down processes, and reduce productivity. A unified communications platform is designed to carry any combination of voice, video, and data across the same links and through the same devices. It allows users to benefit from timely alerts, enhanced collaboration during consultancies, improve patient response, and enhance reporting capabilities.

Network and Data Centre Virtualisation: Cisco offers to the healthcare industry a virtual network a highly efficient platform for delivering data center services-accelerating, providing security, and orchestrating application delivery networks, servers, virtualised computing, and storage, while providing greater responsiveness and resource conservation.

eHealthcare Solutions: While Cisco has been the leader in Internet, its Web 2.0 solutions and WebEx solutions for healthcare enable multiple eHealthcare solutions to ensure collaboration and better patient and clinician experience. Cisco Smart Connected Hospital Solutions offers a range of services and solutions across the whole life cycle of the smart connected hospital. These include:

Design Phase: During the design phase, architects and engineers plan the detailed layout and the structure of the hospital. Cisco provides services such as high-level design of the hospital IT, network consulting, IT strategic sourcing.

Construction Phase: In the construct phase the building is erected to its design specifications. Together, the design and construct phases account for some 20% of the total costs of the building life cycle. Cisco provides services such as program management, sourcing and installation of IT and networking equipment, integration of IT systems as well as review of strategic plans

Maintain and Operate Phase: This phase represents the time during which the building is used, typically 25 to 30 years in today's fast moving environment. It accounts for 75% of the total costs of the hospital's life cycle. Cisco provides the full range of healthcare ICT consulting and solutions, facilities maintenance consulting, ongoing smart hospital building management.

Retrofitting Phase: This phase occurs when various elements of the building's infrastructure need to be upgraded to cope with new demands, deliver new services, or to renew or improve the operational efficiency of outdated assets. Cisco provides services such as project management, building management planning, IT refresh and upgrade planning. The impact on the total cost of ownership of the smart connected hospital would be typically illustrated in the figure 3.

Smart Connected Hospital

Cisco and its partners have taken up the construction of USD 811 million Palomar Medical Centre West campus, in San Diego, California, which is due to be completed in 2011. The new facility is designed to positively transform the traditional healthcare experience that is normally associated with staying or working in a hospital. In addition to embracing the latest connected health technologies, Palomar West has been physically designed to provide a high-performance healing environment through a constant connection with nature. Outdoor features of the campus showcased in the "Second Life" simulation include garden spaces, areas for dining, meeting or relaxing; a pedestrian path and garden connecting all buildings; a green roof bringing gardens up onto the building, with views from patient rooms; and garden terraces on the nursing floor. Key learnings with three-quarters of the total expense of a hospital building occurring during the Maintain and Operate phase, rather than as initial capital expenditure, reveal that decisions taken in the Design and Construct phases can have far reaching financial and operational impact. Therefore, during planning and design phases key stakeholders should carefully consider a hospital complex's underlying network and ICT technologies. Decisions made during the early stages can effectively create the levers that reduce ongoing operations costs over the life cycle of the hospital buildings.

For the healthcare industry, the IP network is the transformational agent that transforms hospitals and medical facilities into the Smart Connected Hospital. In the IT world, convergence combines data, voice, and video onto a common network. This network becomes the fourth utility alongside water, electricity, and gas. From the building-systems perspective, systems which include HVAC, lighting, physical security and access control, fire safety, elevator and electrical controls, are connected together using a single network, running on a centralised management interface. The building can be thought of as the embodiment of the network – the physical framework in which it is deployed.

Follow and connect with us on Facebook, Twitter, LinkedIn, Elets video