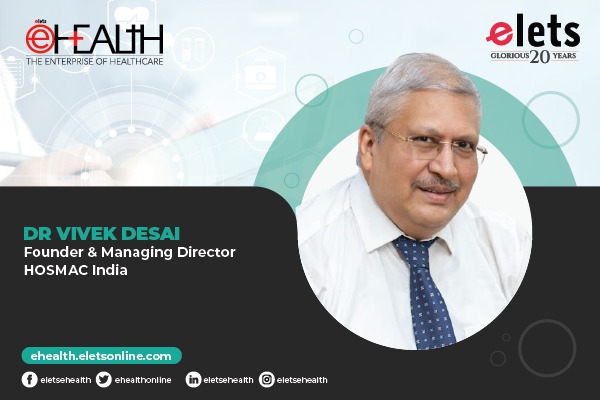 Hospitals are guzzlers of electricity as they are centrally air-conditioned buildings operating 24x7x365 days. Hence, prioritising energy efficiency in hospital design and operation is crucial shared Dr Vivek Desai, Founder & Managing Director, HOSMAC India with Kaanchi Chawla of Elets News Network (ENN). Edited excerpts:
Please share your journey in the healthcare world and what inspired you to enter healthcare planning and designing?

After completing my MBBS, I started practicing my residency at Shishrusha Hospital in Mumbai. However, my passion for healthcare extended beyond general practice, leading me to enroll in courses on health & hospital systems at Tata Institute of Social Sciences (TISS), Mumbai, and BITS Pilani. It was during this period that I became aware of the existing gaps and untapped potential for improvement within hospital settings which prompted me to leave my role as an intensivist and venture into the field of consultancy. Following a year of valuable experience at a consultancy firm, I founded HOSMAC in 1996.
HOSMAC was established with the objective of developing project reports and assisting hospitals in addressing operational challenges. During these assignments, it became evident that promoters and architects both did not understand the intricate nuances of hospital planning. Initially, we started to help architects to understand hospital needs, make space programs, review drawings, etc, but soon realised that it takes much more effort as there is a lot of interface with engineering needs in departments like operation theatres, labs, radiology, etc. This motivated me to start an all-round hospital consultancy and I was lucky to get on board some quality talent, out of which some are still working with me.
What are the services that your company provides?
HOSMAC specialises in hospital planning, management, and designing. Our services are primarily divided into two categories, namely management consulting services and project consulting.
Management Consulting Services:
Market intelligence surveys
Preparing Detailed Project Reports (DPR)
Due Diligence on behalf of Lenders/Investors/PE funds
Performance Audits
Consulting for IT solutions
Turnkey Design services including architecture, structure, MEP, and interior design services
Construction management
Equipment Planning & Procurement Assistance
What are the factors that contribute to the success of a healthcare project and how do you ensure that those factors are prioritised in your work?
While planning a hospital project, the most important aspect is to be realistic, mainly financially. Most promoters make the mistake of undersized infrastructure and low budgeting thereby landing up in a problematic situation midway through the project. It is imperative to consider operational costs during the project planning along with keeping an adequate budget for doctors and loss funding.
With the increasing focus on sustainability and environmental responsibility, there seems to be a growing need to incorporate sustainable design principles in hospital projects too. How has HOSMAC contributed to this?
Hospitals are guzzlers of electricity as they are centrally air-conditioned buildings operating 24x7x365 days. Hence, prioritising energy efficiency in hospital design and operation is crucial. Today, government hospitals are required to comply with GRIHA (Green Rating for Integrated Habitat Assessment) norms and several corporate hospitals are also voluntarily seeking Green Building certification.
At HOSMAC, we ensure that all the hospitals we work with achieve a minimum silver rating, regardless of whether the client requests Green Building certification or not. By implementing energy-efficient measures and incorporating sustainable technologies, we strive to minimise the ecological footprint of hospitals.
What role do you see data and analytics play in the healthcare field, and how does HOSMAC utilise these tools?
Analytics is currently the bane of the healthcare industry with very little data available in the public domain. HOSMAC is a member of most industry forums like CII, NatHealth, and FICCI, which helps us to network and we also encourage our senior staff to be associated with academics for teaching and guiding students. We also keep ourselves updated with the latest technology in engineering design so that we are able to design optimally for our clients.
As the healthcare industry continues to evolve, what trends do you foresee in healthcare infrastructure, planning, and design, and how is HOSMAC adapting to stay ahead of the curve?
Current statistics highlight that India has nearly 1.2 beds for every 1000 individuals. It is essential to obtain as many as 3 beds every thousand and that is a tall order.
The government is taking the required initiatives by investing in medical colleges that will help us to prepare for staffing the rapid growth in the number of hospitals. Additionally, we have Ayushman Bharat which is the public health insurance scheme for Indians below the poverty line.
In terms of hospital design & infrastructure, future hospitals are being designed to be more environment-friendly, compact, and have a value-for-money infrastructure. Considering the fact that hospitals are one of the most complex built forms, HOSMAC is building an in-house design engineering team and has also adopted the BIM software technology that enables us to design and build structures in 3D for easy execution. The entire building model of architecture, structure, MEP, and interior gets coordinated using this software which brings down the scope of errors.
Collaboration and partnerships are crucial in the healthcare sector. How does HOSMAC foster strong relationships with clients, architects, and other stakeholders to deliver successful projects?
In our practice for the last 25+ years, HOSMAC has built/ designed 30 million+ sq. ft. of healthcare spaces across India, the Middle East, and Africa. Some of our notable projects include Apollo Hospitals, CMC Vellore, Hinduja Hospital, Medanta – The Medicity, Asian Heart Institute, Narayana Health, Tata Memorial Centre, and Emirates Hospital (Dubai), among others.
All of this has been possible due to the hard work put in by the team and the strong relationships that we have built with our clients, service providers, and other stakeholders. We strongly believe in 'empathy' and 'integrity' that allows us to think of solutions and work accordingly. No two projects are the same and require differentiated planning and implementation, hence we try to focus on specific client requirements in order to deliver successful projects.

Follow and connect with us on Facebook, Twitter, LinkedIn, Elets video