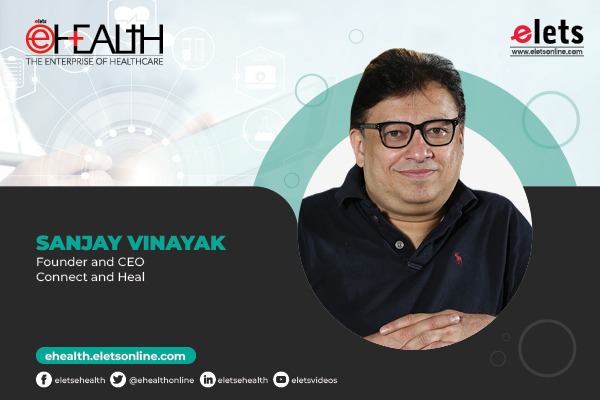 India's healthcare infrastructure is very diverse. In terms of healthtech, it is anticipated to perform comparatively favourably to the rest of the world. The healthcare industry has seen a significant transformation in recent years. Start-ups in the healthcare industry are creating technological advancement. Sanjay Vinayak, Founder and CEO, Connect and Heal shares with Kaanchi Chawla of Elets News Network (ENN). Edited excerpts:
What position do you think Indian healthcare start-ups are in right now, and how are they doing?

Healthcare startups in India are currently vertical-focused. There is a huge opportunity to bring all healthcare together for patients/ caregivers. Fueled by ABDM (Ayushman Bharat Digital Mission), there is a catalyst that can push the digitisation of longitudinal records by allowing patients the power and control to share it with various service providers. Just like the digitisation of payments evolved and brought about a big change, healthcare is sitting on the verge of a similar disruption.
Over the past few years, healthcare has seen a dramatic evolution. New developments and trends in the healthcare sector are being developed by start-ups in that sector. Do you believe the healthcare services offered by start-ups to patients are of high quality?
Providing quality is a journey, Currently, startups that are providing healthcare services online or offline are going through a learning process. The expectations of customers are changing as they experience these services. At the same time, startups are learning with ever evolving user feedback and changing workflows to improve overall quality. Connect and Heal aims to address the challenges in the traditional healthcare ecosystem using technology. It offers comprehensive care solutions including virtual and inperson care anywhere, anytime, making sure a care continuum. We are aiming to create a 10/10 experience.
Do you believe Artificial Intelligence is making a sufficient contribution to the expansion of start-up healthcare companies in India?
The adoption of Artificial Intelligence (AI) is definitely growing. The key applications involve diagnosis and treatment recommendations, patient engagement and adherence, and administrative activities. While AI can make a significant contribution in a few areas, such as preventive care or early detection of anomalies, we are still some time away from a point where we can rely on it to make critical healthcare interventions.
Hospitals and doctors may streamline operations, engage patients, streamline procurement procedures, and more with the help of digital care ecosystems provided by health tech start-ups. What are your thoughts on it?
Yes, there's definitely a lot that new-age startups can bring to the table. In the process, they will also learn from healthcare providers. However, the ideal setup is one where a user can seamlessly transition from one to another, which can become a reality with ABDM (Ayushman Bharat Digital Mission). Moreover, using technology will help all stakeholders by providing the user a seamless experience and transparent process. It would also help in the standardisation of care protocols across the entire healthcare ecosystem.
What opportunities and threats do you think Indian start-ups in the healthcare industry face?
India has a highly diversified healthcare infrastructure. However, it is not standardised yet. An average user finds it difficult to navigate it. It is an opportunity ripe for disruption. There is an opportunity to bring down cost of care and improve the quality of health outcomes by leveraging technology. Disruption is also possible across multiple touch points, ranging from diagnostics to insurance, to surgeries and postoperative care. That said, the digitisation of healthcare is in its infancy. It will mature over the coming years and so will regulations around it.
How did this year go for Indian healthcare start-ups? What are their expectations for the future and where do they envision themselves as 2023 draws closer?
India is projected to be doing relatively well compared to the rest of the world in healthtech. It is mostly attributable to the growing adoption of telemedicine. In 2023, we are likely to witness major developments in product as more and more healthcare providers switch to digital care delivery models.
What do you think about the current state and prospects for your organization in the digitally driven healthcare ecosystem?
The biggest challenge is fragmented healthcare services hindering the seamless delivery of healthcare services. To address this, we are building a more patient-centric ecosystem and an outcome-based approach. As an end-to-end healthcare management services company, we aim to deliver superior health outcomes transparently and affordably with a patient-centric approach. We currently touch over six million lives and growing. All of this would be impossible without a great team. We pride ourselves on putting together a team that has proven expertise in delivering the benefits of our offering to our users more seamlessly than ever.

Follow and connect with us on Facebook, Twitter, LinkedIn, Elets video