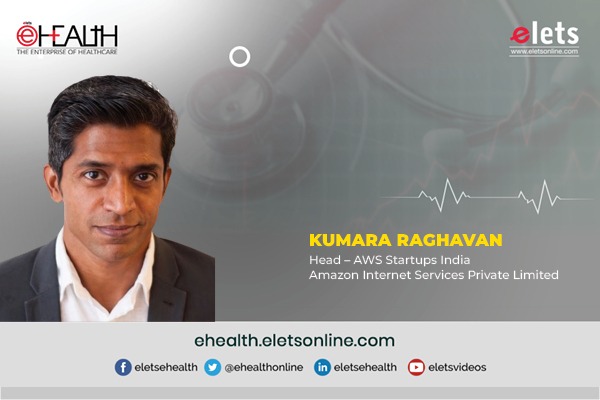 Healthcare is the most important sector in the economy. Artificial Intelligence offers an unprecedented opportunity and reshapes the practice of healthcare. Of the many ways in which AI will transform our lives in the coming years, its impact may be more profound and far-reaching in healthcare than in any other field. Shedding light on this, Kumara Raghavan, Head – AWS Startups India, Amazon Internet Services Private Limited interacted with Garima Pant of Elets News Network (ENN). Edited Excerpts:
Which are the healthcare segments that are witnessing augmented use of AI in delivering efficient healthcare?
From the largest healthcare providers, to the newest startups, companies across the globe are applying AWS's machine learning services to store, transform, and analyse health data. There are many use cases for AI in healthcare, and one of the areas where we're seeing AI workloads being used across healthcare segments is to derive important insights and trends from healthcare and patient data. Be it precision, diagnosis using genomic sequencing, early-state cancer detection, or advanced cardiac visualisation, medical specialists are using AI to make better and quicker decisions. Another area where we are seeing demand from healthcare and life science customers is use of AI to uncover new insights from scientific research and data by enabling researchers to quickly and easily search thousands of research papers and documents using natural language questions.
An example of this is how AI was used for remote patient monitoring amid the pandemic. During COVID-19, the lack of physical healthcare infrastructure and trained professionals, especially in rural India, was magnified. Remote Patient Monitoring (RPM), which uses sensors to monitor patient vitals remotely and raise an alarm in case of any deterioration, was used by many to manage chronic conditions such as diabetes and asthma, with connected devices to capture data, and a personalised mobile application to show progress, set pill reminders, book appointments, and generate alarms. During COVID, RPM became all the more useful due to an acute shortage of staff and the risk of infection from in-person contact with a COVID-19 patient.
AWS customer Dozee, provides remote patient monitoring devices to over 230 hospitals in India, addressing the shortage of nurses in India. Using Dozee's contactless sensor, hospitals can upgrade normal beds into Step-Down Intensive Care Units (ICUs) in under five minutes, and enable remote and central monitoring of patients at ward level. Dozee streams data from over 5,000 devices monitoring vitals such as heart rate, oxygen saturation, and blood pressure to Amazon's Aurora database. This data is monitored for adverse events by custom ML models running on AWS compute instances. Dozee estimates it has saved over 75,000 nursing hours so far.
How has AI transformed healthcare delivery? What are some of the notable use cases that you recall?
We see startups leveraging cloud and AI workloads in healthcare across the value chain. Startups in India are using machine learning in diagnostics to accurately and quickly interpret various scans, blood tests, eye check-ups, and medical images such as X-Ray, CT scans, and MRI Scans. Startups storing electronic patient data have started running predictive analytics on the data to alert patients of a potential adverse event and provide personalised care or wellness tips. The technology is also being used by startups to extract information in standard medical terminology, from discharge summaries, prescriptions, doctor's notes and more. Hospitals are also looking at using clinical decision support tools built using ML to screen large amounts of digital data to suggest future treatment steps and detect potential issues such as adverse medicine interactions.
An exciting example of this is HealthifyMe. The startups's latest offering is HealthifyPro, which is its most advanced personalised metabolic health program. With HealthifyPro, the company is also pioneering a "virtual Continuous Glucose Monitor" to predict glucose values without having a physical device by using Amazon SageMaker to build machine learning (ML) models for prediction. Amazon Sagemaker helps build, train, and deploy ML models for any use case with fully managed infrastructure, tools, and workflows. HealthifyPro also uses AWS services like Amazon OpenSearch, Amazon Elastic Container Service (ECS) and Amazon RDS to deliver superior health outcomes. Another example is Cult. fit which uses ML models trained on Amazon EC2 P3 instances, to aid in tracking user movement during exercises, display how accurately users are performing the exercises, and calculate how much energy they are burning.
What according to you could be the growing potential of AI-based tools for healthcare delivery?
We see healthtech startups continue to innovate using cloud based technologies, analytics, and machine learning to deliver preventive healthcare solutions and better patient outcomes. With more machine-readable data generated for analysis and ML model building, I foresee this innovation to increase exponentially. This can open new channels to monitor health and wellness, decrease cost of care, improve collaboration, make data-driven clinical and operational decisions, and enable faster development of new therapeutics and treatment paths. Whether our customers are building telemedicine, remote monitoring, diagnostics, fitness, or personalised wellness solutions, we are committed in providing the tools that healthtech startups require, as well as the expertise and services that founders can rely on to build transformative healthcare solutions to enhance the health and well being of individuals.
At AWS, our team is dedicated to working with our startup customers to help them determine which services are best for them. No matter what a startup wants to do, we have the tools and applications that enable them to do it. With 200 products and services, we have the broadest and deepest set of capabilities of any cloud provider, ranging from basic compute and storage through to advanced database and architecture options, through to pre-built solutions. Artificial Intelligence and Machine Learning are technologies that we're particularly excited about right now.


Follow and connect with us on Facebook, Twitter, LinkedIn, Elets video