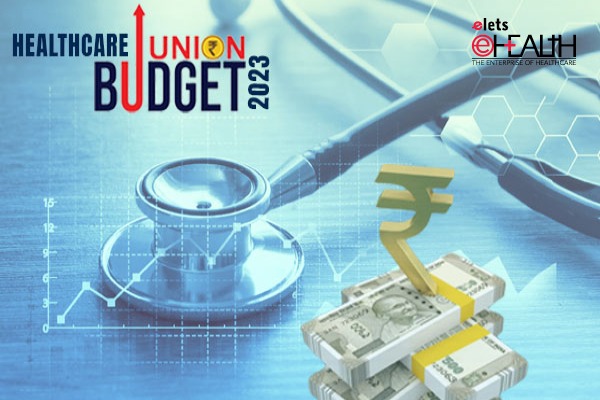 As the government gets ready to unveil the budget for the year 2023, the healthcare sector is one of the critical areas that is expected to get a lot of attention. The Covid-19 catastrophe underscored the need to accelerate and amplify innovation in healthcare while making affordable care an absolute need.
The 2022 budget resonated the government's commitment to build a robust digital healthcare ecosystem. This year it is expected to give the health sector a must-needed boost, building a resilient and stronger healthcare system in the new normal.  

In the year 2023, healthcare spending is expected to reach $6 trillion, accounting for almost one-third of the global economy. This is due to the ageing population, increased prevalence of chronic diseases, and rising healthcare costs. 
The government is likely to fund programmes that will lower the price of healthcare. Additionally, the focus is on strengthening research and development that will result in newer, and better ways to treat a variety of illnesses.
The healthcare sector is expected to grow at a rate of 6 per cent and to be worth $3.5 trillion by 2023. The growth is expected to benefit a lot of industries, including pharmaceuticals, medical devices, and health insurance. 
It is anticipated that the sector will add more than 1,00,000 new jobs, with demand for nurses, doctors, and other healthcare professionals fueling this sector's expansion. 
Healthcare, which  is expected to be one of the fastest-growing sectors in the economy over the next five years, is likely to make significant investments in cutting-edge technology, which will raise the standard of care and lower the cost of healthcare. However, the increase in healthcare spending will put pressure on government budgets and increase the burden on consumers.
Industry Speaks 
Dr. Simmardeep Singh Gill, MD & CEO, Sterling Hospitals 
The 2022 Budget was a powerful step taken by the government to build towards a digital healthcare ecosystem. The overall health sector saw a 16 per cent hike with the allocation of Rs 86,200.65 crores in the Union Budget of 2022 as compared to Rs 73,931 crore in 2021-22. The introduction of the National Digital Health ecosystem was a revolutionary step that will positively affect the processes and functioning of the healthcare system in the years to come. To support this initiative, we are expecting the Government to allocate funds towards encouraging and strengthening the start-up segment of the healthcare sector that is focused on researching and introducing new technologically driven innovations within the healthcare industry. Additionally, we are expecting an increase in the GDP budget allocation to the healthcare sector. In the 2023 Budget, the Government needs to focus on strengthening the primary healthcare system of the nation and place a strong focus on preventive healthcare and nutritional education for children. The Government also needs to encourage private and public sector partnerships and open-end communication channels to ensure self-reliance for the overall healthcare sector. Additionally, with Covid cases rising again, the Government should focus on introducing a fund dedicated to Covid prevention, emergency, and vaccination initiatives
Shanay Shah, President, Shalby Ltd.
The budget presented in 2022 was a strong step by the Government of India to move towards a digitalised future. The introduction of an open platform for the National Digital Health ecosystem that would consist of unique health identities, digital registries, and access to health facilities was a futuristic approach to strengthen the healthcare ecosystem.
With these steps taken by the government, the 2023 Budget needs to reflect the continued support of the Government in building the healthcare sector stronger. Some of the expectations are as below:
 Policy Support:
Medical tourism: Since India aspires to be a top medical tourism destination, increased policy support, and better connectivity can drive medical tourism beyond the metro cities in India, which also have state-of-art medical infrastructure and medical services.
Reclassification and incentives: Since hospitals are a long gestation business, if healthcare is classified as a priority sector for the government, it can attract funding for a longer duration and attractive rates. Also, long-term tax holidays for new investments in healthcare will also give a big boost to investments in the sector.
GST in Healthcare: Enforcing GST on the output healthcare services for hospitals with the option to claim complete input tax credits will be useful to reduce the burden on hospitals. This will help the sector to derive benefits of the GST transition which many sectors have received.
Concerns while transitioning to the new income tax regime: Hospitals which have unutilised MAT credit are unable to move to the reduced corporate tax regime of 25 per cent. Due to this, most of these hospitals are still under the 35 per cent corporate tax regime. The government can make it easier for such hospitals to move to the 25 per cent corporate tax regime, as these are the hospitals that have undergone a major greenfield capacity expansion.
Clearing of past dues under central government schemes: Hospitals empanelled under such schemes, often face major working capital and cash flow concerns as the reimbursements for these patients often take 18-36 months. If the budget is allocated to these schemes based on the good outstanding due to hospitals, it will not only improve the cash crunch at these hospitals but also reinforce a lot of confidence to invest in healthcare."
Sanjay Vinayak Founder, Connect and Heal 
It is admirable that the Government of India has operationalised over 1.5 lakh health and wellness centers under Ayushman Bharat Mission at the end of 2022. Along similar lines, it would be great if the 2023 budget provisions for incentives to expedite the adoption of the Ayushman Bharat tech stack. It will be a transformational move for the Indian healthcare ecosystem, enabling high-quality health outcomes for everyone.
We also expect the budget to focus on making access to healthcare easy and affordable. Encouraging the digital delivery of healthcare can do it. So, we hope to see specific provisions for building digital infrastructure. It demands investment in improved connectivity, power supply, and other healthcare infrastructure.
Talking about the OPD insurance that needs greater attention from an affordability perspective, he said, "Making OPDs cashless will ensure more people consider preventive healthcare as a priority. It will encourage people to consult providers earlier to avoid health complications. Provisions towards the same are something we are looking forward to."
While Ayushman Bharat could make all of it possible, the execution requires greater/improved private-public partnership (PPP). We look forward to announcements in Budget 2023 towards making this a reality.
Harshit Jain MD, Founder and Global CEO of Doceree 
In the year 2022-23, there has been a significant focus of the government towards strengthening the healthcare systems in India. Positive measures like ABHA (Ayushman Bharat Health Account), National Digital Health Mission (NDHM) under the Prime Minister's Ayushman Bharat Scheme and NITI Aayog's report release on "Reimagining Healthcare in India through Blended Finance," opened doors for improving accessibility and affordability in the healthcare system through digital amalgamation in the healthcare segment and enhanced influx of budgets, respectively. In the 2023-24 budget announcement, we expect the government to continue to build such initiatives and lay special focus on implementing the same on-ground with the support of even private players."
 As smart healthcare initiatives such as telemedicine and e-health gain popularity in the country, the government can also look at giving financial impetus to the start-ups/service providers in this category, to further aid the adoption and enablement of new-age technologies like AI and programmatic. This support can potentially boost the healthcare industry while making the entire process more stable, efficient, affordable, and accessible. As a pioneer in this segment, Doceree is grateful to the government for its recent schemes and initiatives that support the healthcare and pharma-marketing sector and is looking forward to taking Indian pharma advertising to the next level (making it at par with the industries in other global markets) this year.
Vidyasagar Diyavath, Sales Head, Carin Life Sciences 
The COVID-19 pandemic has exposed the fragmented nature of the healthcare industry. In the budget for 2022–2023, it was evident that necessary steps had been taken toward improving healthcare infrastructure. With this, we are slowly moving towards creating a better healthcare ecosystem; however, to strengthen it further, technological adoption, especially in rural areas, should be the focus of this year's budget. The current burden on rural healthcare infrastructure can be significantly reduced with technology adoption and policies that allow current players and neo-healthcare start-ups to invest in Bharat, rural India where more than 60 per cent of the population lives. Additionally, the budget for 2023–24 should focus on human capital in rural healthcare, by having more healthcare professionals in tier II, tier III & IV towns, and also creating policies to have a steady flow of this capital by having more medical & nursing colleges in rural India. The budget for 2023–24 should also focus not only on spending in order  to maintain the current healthcare infrastructure but also invest in increasing the number of healthcare units, such as doubling the number of PHCs, so as to decrease the load on secondary and tertiary healthcare units.
Dr. Santy Sajan, Group COO, Paras Healthcare 
India's healthcare market has been developing at a compound annual growth rate (CAGR) of 22 per cent, propelled by a variety of causes including population demographics, a rising middle class, rising incomes, increased health awareness, and an increase in lifestyle illnesses. According to INC42, the Indian healthcare sector, which had a 2016 valuation of $86 billion, is now expected to grow to $367 billion by 2023 and $638 billion by 2025. Improvements in healthcare services, coverage, and spending by both public and private participants support the sector's quick expansion. The Indian healthcare sector is actually under increasing pressure to become self-sufficient since the Covid-19 outbreak, with priority being dedicated to innovation and research, the production of pharmaceuticals and medical equipment, the digitalisation of health services, and better access to Healthcare solutions, mental health, and wellness. The ability to improve the healthcare system, a stronger emphasis on non-communicable diseases, and improved government and academic collaboration to address the skilled labour shortage will be crucial for success in 2023. If healthcare organisations want to survive in this cutthroat environment, they must invest in employee talent and change. Proactivity and resiliency are essential for healthcare's future if we're going to progress value-based care and improve population health outcomes. In order to avoid potentially unnecessary hospital stays and the worsening of chronic diseases, remote patient monitoring (RPM) devices will be crucial in the management of multimorbid patients. Additionally, it is anticipated that in 2023, when health systems fail to match retail's improved patient experiences as a result of scarce resources, patients will pick retail health for their primary care requirements."
Vikram Thaploo, CEO, Apollo Telehealth 
The government's efforts in rolling out an open platform for the National Digital Health Ecosystem (also known as Ayushman Bharat Digital Mission or ABDM) and launching the National Tele Mental Health Program are genuinely noteworthy. However, additional funding allocations are required to further accelerate the expansion of the healthcare sector, particularly telemedicine.
The 15th Finance Commission recommended the Centre increase healthcare spending and indicated that public health spending in India should account for 2.5 per cent of GDP by 2025. The Center is expected to spend around Rs 86,000 crore in FY23, somewhat higher than the Rs 84,000 crore authorised in FY22. The Indian health tech market had a $1.9 billion market value in 2020. With a 39 per cent CAGR, it is projected to reach $5 billion by 2023. From 2019 to 2024, the digital healthcare market in India, which was valued at INR 116.61 billion in 2018, is expected to grow at a CAGR of 27.41 per cent, reaching INR 485.43 billion. The industry is growing at a spectacular rate as a result of its expanding coverage, services, and rising investment by both public and private participants.
With more technological innovations expected to revolutionise the healthcare industry in the years to come, it is imperative that the budget must be well allocated to initiate new innovations. This is especially important in a country like India where digital technology can help bridge the gap in healthcare. Increased allocation of funds for home-based care, promotion of telemedicine services, and national digital health mission implementation will further help build a strong healthcare ecosystem in India. There should also be a renewed focus on R&D in different medical fields to strengthen the present standing. Overall, we are anticipating a rise in fund allocation of 2.5-3 per cent of the GDP with regards to the healthcare sector".
Nikkhil K Masurkar, CEO, Entod Pharmaceuticals 
From quickly boosting up production to help satisfy local and global demands for therapeutics and vaccines to fueling research and development in the field, the pandemic has emphasised the pharmaceutical industry's capabilities and capacity in meeting the country's healthcare needs. The upcoming budget will play a pivotal role in sustaining its growth and momentum. Additional budget should be allocated by the government to the Production Linked Incentive (PLI) scheme which will encourage investments, attract core knowledge competency, promote employment and make the country a competitive player in global markets. Additionally, budgetary allocation for R&D in the bio-pharmaceutical sector must also be increased. The government could explore various options to augment innovation in the sector such as through innovation bonds and R&D incentives. While the government has been very supportive to aid the growth of the industry through various schemes and policies, further support is required to establish R&D and innovation ecosystem in a country. To establish India as an innovation-based economy, it is crucial to provide risk-free and affordable funding support because innovation in the industry has a long lead time and depends largely on capital-intensive R&D. Additional steps should be taken in the direction of "Ease of Doing Business," with a focus on simplification and making the procedure industry-friendly, and with provisions specifically designed to remove bottlenecks and other practical difficulties experienced by taxpayers.
Sanjeev Jain, Managing Director, Akums Drugs & Pharmaceuticals 
 The year 2023 holds a positive outlook for India's pharmaceutical industry. While the healthcare sector acquired a 16 per cent hike in the budget allocation last year due to the pandemic crisis, the increase in the share of healthcare and pharma spending in the upcoming budget is imperative. It is essential to allocate separate funds for R&D, formulation, and API. Additionally, it needs to put a deeper focus on quality manufacturing, and the adoption of innovation and technology in terms of formulation manufacturing, diagnostics, packaging, and medical devices among others. The upcoming budget is also likely to focus on preventive healthcare, given the significant rise in non-communicable and lifestyle diseases in the country. Government incentives and grants for cost-intensive research are also anticipated. Moreover, offering incentives to domestic API manufacturers and bringing about a reduction in GST and import duty on APIs is the need of the hour. The 2023-24 budget needs to continue focussing on strengthening the infrastructure of the healthcare sector and shift direction towards promoting Make in India pharmaceuticals for making India truly 'Atmanirbhar'. We must work together to ensure that Indian pharmacopeia is acknowledged and appreciated worldwide. The government should make a roadmap and move forward so that more countries accept Indian pharmacopeia.
Deepak Sharma, CEO, MedLern 
While the government's push in the last budget on Ayushman Bharat Digital Mission as also augmenting overall healthcare infrastructure is indeed welcome, the pandemic battle has further exposed the acute deficit in terms of the availability of trained healthcare workforce in the country. As such, we hope that the government in the upcoming budget suitably incentivizes online and specialist medical learning and training providers by way of a range of financial and tax subsidies. This would help the latter to bring in the most advanced and sophisticated training programmes for not only doctors and nursing staff in the country but also paramedics and others who are usually present on the ground in emergencies and critical care situations. In addition to catalysing access to top-class learning and skill sets in smaller towns and the hinterland, it would also help the cause of Continuous Medical Education (CME), an integral part of the upskilling of healthcare professionals. In fact, we hope that online and digital educational platforms providing both basic and niche training services for medical students and professionals are completely exempted from GST. In the budget, while the finance minister is likely to focus on chronic care, expanding health insurance, and further accelerating ABDM, it would also continue with and expand the scope of PLI-type financial support and clustering programmes for infrastructure support for pharma and medical device segments with a view to achieving Atmanirbharta for the country.
Senu Sam, Founder and Chief Executive Officer of Mykare Health  
Healthcare providers have embraced technology with virtual consultations, new age asset-light models, wearable technology, and many more innovations that aid smooth delivery of healthcare. Government must focus on healthcare innovation by supporting startups. We are hopeful and looking forward to tax benefits including GST exemption for New Age Asset Light HealthTech Startups; allowing startups to collaborate with Govt Insurance, Govt Doctors, and Govt Hospitals; tax benefits to HNIs investing in startups; the smooth process of foreign payment collection for Indian healthcare startups and incentivizing companies promoting Heal in India Project.
Rahul Misra, Founder Vesta Elder Care  
In a country where 70 per cent of the citizens do not have access to a single doctor and only 17 per cent of people have insurance coverage, the government has taken a step forward to ensure the availability of quality medical services for all. Under the National Digital Health Mission, patients can opt-in to create a Health ID allowing them to share their medical records with healthcare providers including doctor's appointments, diagnosis of an ailment, line of treatment, hospitalization for any treatment, and drugs taken to provide high-quality healthcare for all is commendable.
The major challenge India is about to face is providing healthcare services to the ageing population in near future. By the year 2050, it is expected that the number of elderly in the country will reach 324 million. We are now an ageing country, and the factors responsible for this include decreasing fertility and mortality rates as an outcome of better healthcare services. While a lot of initiatives are already taken towards maternal and child health to control infectious and non-communicable diseases, elderly care in India continues to face medical, social, and economic challenges – in particular, healthcare. We do expect that this issue will get addressed in the coming budget session, and the Finance Ministry will take some positive action towards it.
Shyatto Raha, Founder and CEO of MyHealthcare 
India's healthcare system was put to test during and post the pandemic – in terms of the financial and the need for adoption of technology across the sector to manage their patients. The recent announcement of financial incentives (Digital Health Incentive Scheme) by the Government of India, will help in strengthening the digital health infrastructure through its ABDM (Ayushman Bharat Digital Mission) and provide a much-needed focus on healthcare digitisation in India. The Ayushman Bharat insurance programme has also helped Indian's get access to quality healthcare and helped push private healthcare providers to deliver care to a wider population. With pressured hospital operating margins, the recently applied GST for in-patient billing has added to the margin pressure. We would request the government to consider providing tax rebates, subsidies, or any form of an incentive scheme that would ease the financial burden for health facilities that are looking towards digital transformation for better healthcare delivery. Furthermore, to fuel start-ups who are supporting the digitalisation of healthcare, we seek the government's support in the removal or reduction of GST applicability, making our services more effective for healthcare providers. This will help boost the adoption and accessibility of  digital healthcare and accelerate India's digital health agenda including data interoperability, personalised healthcare, and improve the quality of healthcare deliver in India.
Vivek Srivastava, Co-founder & CEO, HCAH 
Government should encourage Out-of-Hospital Care services for both preventive, curative and rehabilitative care (including preventive care), covering it under the government schemes like Ayushman Bharat, to cut the heavy expenses on medical bills at the hospitals during the recovery process. Revaluation of the GST applicable to healthcare services, for instance, reducing the expenses on hospitalisation. For healthcare services, the government should consider making the GST "zero-rated" as it would lessen the financial strain on patients and their families. There are ambiguities in some of the services in the out-of-hospital space. The government should provide them with the same status for such services as they are delivered within the hospital, thus reducing the cost of recovery for the patients."
Abhishek Ghosh, Co-founder & Director, Medisage  
More budgetary allocation needs to be made towards the skill development of healthcare professionals with larger focus on primary healthcare centres in rural India. With the growth of medical colleges, India is on the path to have sufficient doctors by the next decade & we need governmental measures to support last-mile reach digitally.
Namit Chugh, Investment Lead, W Health Ventures
The increase in the allocation of the budget for National Health Mission (NHM) and the launch of the 'National tele-mental health programme' in the last Union Budget 2022, was a step forward in the right direction. We expect this budget to increase the allocation for mental health and further build resilience of national mental health infrastructure, as well as incentivise strengthening of the talent pool of counselors and mental health professionals – to handle the massive mental health challenge we are facing. We need additional investment in skilling other healthcare personnel such as nurses and lab technicians as well.
On the digital front, now that a robust platform and infrastructure for managing digital registries of healthcare providers and patients is created, there is a dire need to boost adoption and accessibility. The government should allocate more budget for rolling out this initiative. The creation of longitudinal data for masses will unlock several use cases such as data interoperability, personalised healthcare recommendations, hyperlocal pharmacy data, etc., and will further accelerate India's digital health agenda.

Follow and connect with us on Facebook, Twitter, LinkedIn, Elets video