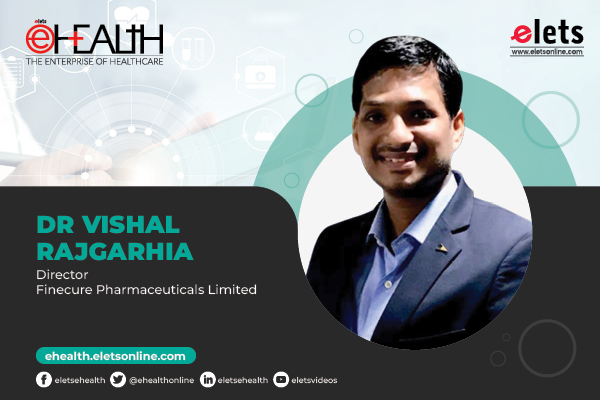 There is a constant tussle between the need to innovate and the need to mitigate the risk in the pharma sector. The digital process needs to gain momentum in the pharmaceutical industry, shares Dr Vishal Rajgarhia, Director, Finecure Pharmaceuticals Limited in an interaction with Kaanchi Chawla of Elets News Network (ENN). Edited excerpts:
With the growing technology penetration in the industry, what are the trends and innovations taking place in the Indian pharmaceutical industry?
There are many new trends that have greatly impacted the pharma industry, especially since the advent of Covid, virtually changing its face forever. Prime among them is, the use of Artificial Intelligence has hastened the discovery and production of new medications and therapies at considerably reduced costs, which help in increasing productivity and improving efficiency. Artificial Intelligence is also a great help in designing marketing strategies and practical accessibility to hitherto unexplored markets. Big data is an information treasure trove, an asset for developing new solutions. Pharmaceutical companies can use the power of unlimited data to make more remarkable strides in discovering and developing new drugs, as well as new applications for existing compounds. Blockchain technology is another innovation that has helped the industry evolve and grow. Thanks to this modernisation, it is now possible to set up efficient production and distribution of medicines. Second, it helps with data analysis and, as a result, will lead to better results in drug development. Furthermore, it offers a high level of security and transparency. With it, pharmaceutical companies can fight against counterfeit and poorquality drugs.
What are the factors driving the growth of the Indian pharma industry?
The prime growth drives the pharma industry support from the Government, digital transformation, cost-effectiveness, improved and low-cost production, and a huge and qualified workforce. Reeling under the impact of covid, the Government helped streamline pharmaceutical manufacturing through innovative and generous policies and initiatives. Financial incentives were also provided. Latest technologies and the expansive use of Artificial Intelligence helped to improve the R&D process, thereby leading to the discovery of newer and better medicines. The availability of a huge workforce ensured that at no manufacturing stage work was hampered and today the Indian Pharma industry has successfully become the third-largest in the world in terms of volume and among the top ten by value.
The rapid increase in technology augments risks. What is the biggest challenge faced by the pharmaceutical industry today?
While the increase in technology helped in coping with the challenges presented by two years of covid, the rapid increase also brought in its fair share of problems. Since these changes are so far-reaching and so comprehensive, it's a major challenge for pharma companies to keep pace. Digital technology in the pharma industry helped to increase the efficiency, quality, and speed of drug development, but often it was hard to keep pace with its rapid development. Furthermore, data breaches and cyber security threats have made it a challenge to safeguard valuable consumer data. Big industry organisations normally have the wherewithal essential to embrace new digital solutions. However, notso-large manufacturers often lack the means to pursue those same objectives, and the cost of installing such systems could become a hindrance. Furthermore, the pharma industry is still somewhat new to the digital game. Many manufacturing leaders may not understand the inner workings of some of the latest developments like Artificial Intelligence, Cloud Computing, and Advanced Data Analytics, and finally, employees who are used to the traditional style of working may resist the changes as they may not be too comfortable with it. However, slowly but surely the digital landscape invasion will change the face of the industry totally and for the better.
Artificial Intelligence is becoming popular across all industries. Do you think AI is playing an imperative role in the pharma sector? If yes, how?
Artificial Intelligence is the future of pharma and it is here to stay. It can bring down costs, enhance patient care, foster profitable innovation, and improve business outcomes across the value chain. Nearly all pharma companies are leveraging the power of AI to help them face many challenges. AI helps in efficiently accessing and analysing vast amounts of data to ultimately improve business processes and outcomes. It provides critical insights into how to improve the designing, optimising, and synthesising of drugs. It cuts out human errors and accelerates the working processes leading to affordable yet profitable drugs. Furthermore, Artificial intelligence tools can improve the success rate of new drugs by performing quality control and fixing supply chain issues within the production line, and reducing the wastage of materials. A singularly great benefit of AI is its ability to perform predictive maintenance that helps in reducing operational costs.
Digital processes are gaining momentum in the pharmaceutical industry. Do you think it enhances transparency and mitigates the loss of data?
There is a constant tussle between the need to innovate and the need to mitigate the risk that this brings in its wake. The digital process needs to gain momentum in the pharmaceutical industry. All manual methods exist simply because they have become the norm.
For instance, digital processes, which have enhanced operational efficiency and facilitated adherence to standard operating procedures with greater ease have replaced many paper processes. This is a trend that will continue. It will also help drive regulatory compliance. Many pharmaceutical companies appreciate implementing digital processes because the benefits far outweigh the costs. They are constantly on the lookout for any technology-driven advantage that can help them adapt to new and better ways of working. However, the same digital innovations can also lead to risks such as security breaches, regulatory compliance failures, and similar setbacks. It also improves transparency and has the potential to mitigate the loss of data. However, the pluses far outweigh the minuses, and technology has put the industry on a pedestal it had never strutted before.
The cluster-based approach is increasingly being recognized as an effective and sustainable strategy for the competitive enhancement of the pharmaceutical industry. What are your thoughts on the contribution of cluster-based manufacturing to the pharma sector's growth?
The cluster-based approach is a praiseworthy government initiative that has proved a blessing for all micro, small and medium enterprises. The format put forward a plan of bunching together all these enterprises for enhancing productivity and competitiveness and building the capability and competence of SMEs located in clusters. This would not have been viable for individual industries as they would require world-class quality manufacturing facilities with high levels of productivity and innovative capabilities along with a lot of financial capital. Cluster-based strategy is more and more acknowledged as an effectual and sustainable strategy for competitive enhancement of the pharmaceutical industry. One feels that this cluster development programme for the pharma sector (CDP-PS) of the government has single handedly managed to enhance quality, productivity, and innovative capabilities of the SME Pharma sector in the country giving it worth and value and a position to face all challenges that the industry faces. Common facilities that are provided include calibrating and validating important equipment, providing common testing facilities like an analytical laboratory, toxicology centre, process, and product validation laboratory, raw material testing, standardisation laboratory that lead to better quality assurance and control. Setting up an environmental friendly common incinerator and common ETP (Effluent Treatment Plant) for safe disposal of waste material both hazardous and non-hazardous and setting up a training centre for imparting training for appropriate documentation which is a very important part of the Pharma industry. In a nutshell, the cluster based approach has led to increased productivity, lower operational costs, and a competitive advantage in the market.


Follow and connect with us on Facebook, Twitter, LinkedIn, Elets video